Boston Logan Airport is one of the country's 20 busiest airports, serving tens of millions of travelers each year. The airport is in East Boston, about four miles from the city's center. It's one of the main hubs for Delta Air Lines on the East Coast and operates as a key airport for JetBlue.
If you're flying out of Boston Logan, you may wonder how you'll get there and where you'll park. Maybe you worry you won't find a space in time, and you'll miss your flight, adding to pre-travel stress. That's 100% normal — parking is one of the most stressful parts of flying for travelers. But you can set these concerns aside. In our parking guide for Logan Airport, we'll share everything you need to know for a smooth, seamless experience.
Table of Contents:
Parking On-Site at Boston's Logan Airport
Parking Off-Site Near Boston's Logan Airport
24 Boston Logan Airport FAQs
Want to Avoid Parking Hassles at Logan? Try Park Shuttle & Fly
Parking On-Site at Boston Logan Airport
Whether you're flying out of Boston's Logan Airport or picking someone up, you need to know where to park and how much it'll cost in advance. Planning will eliminate some stress at the airport and let you focus on reuniting with friends and family or heading out on your travels.
Logan Airport has two parking areas — the central parking garage and the economy parking lot. Look at the Logan Airport parking map to plan your visit. As you explore the map, it helps to know what terminal you're picking someone up from or flying out of. You can also research whether any on-site parking options are temporarily closed. With that in mind, you can pick which parking area would be best for you from the on-site locations below.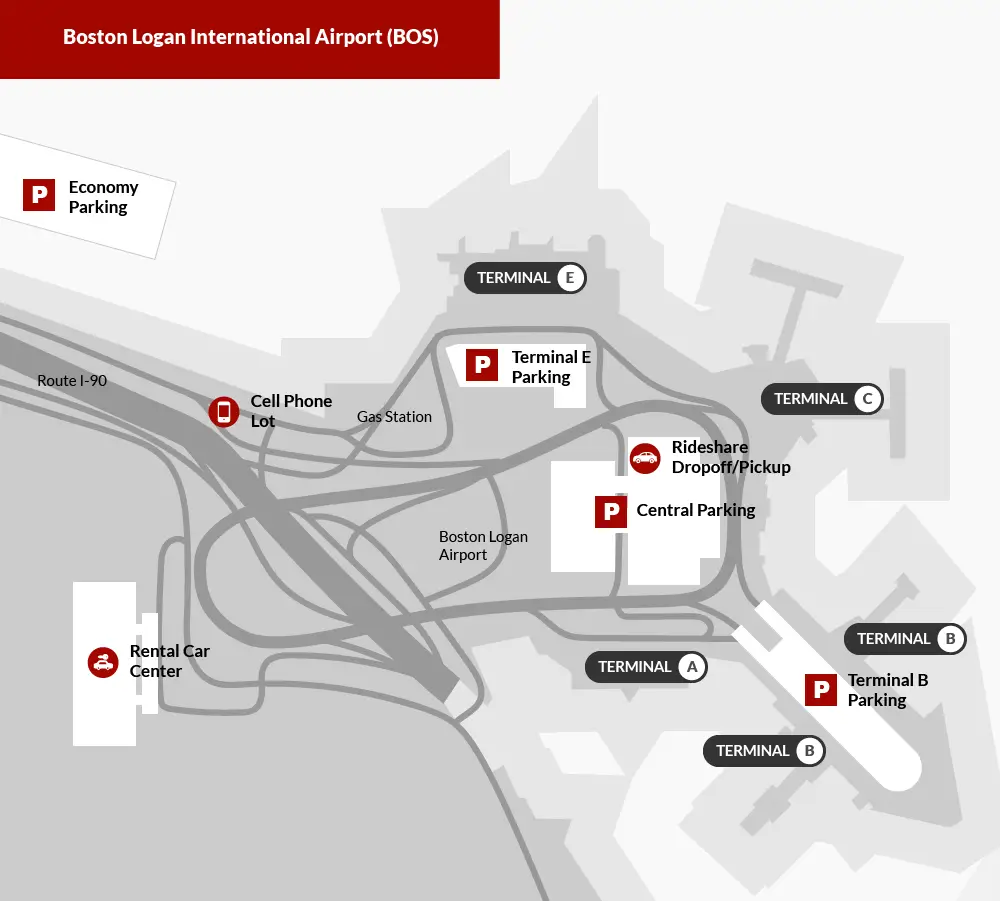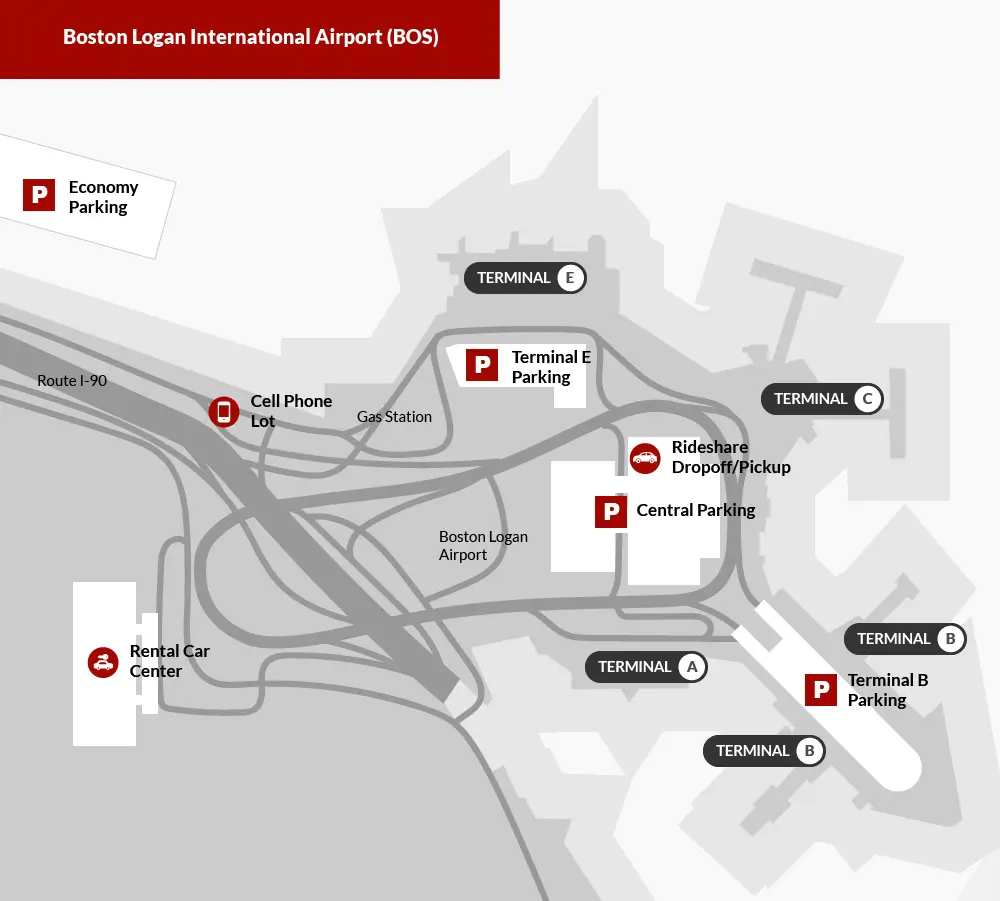 The Central Parking Garage
You can reach all terminals from the central parking garage. Inside the garage, you'll find signs directing you where to park to be closest to your terminal. Parking is also available in the Terminal B garage and in a smaller lot next to Terminal E.
If you choose the central parking option, anticipate walking with your luggage to the nearest terminal, as there is no provided shuttle service. The rate for parking in the central parking garage for one day is $41/day. Anything over 24 hours, up to 1 day + 6hrs, is $62.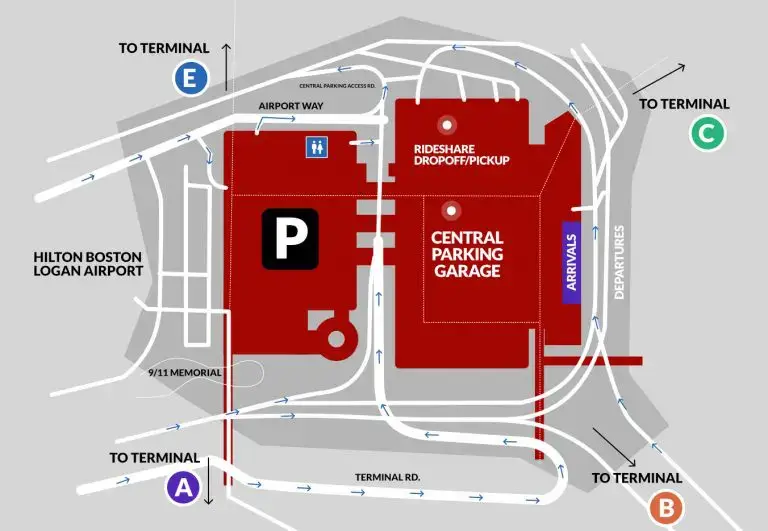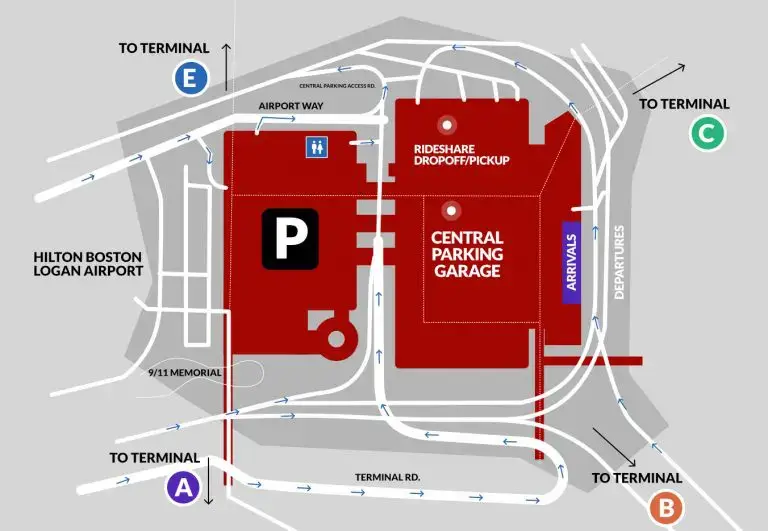 The Economy Parking Lot
The Logan Airport economy parking garage is on-site but away from the airport's terminals. You'll find the two-deck garage at the intersection of Service Road and Prescott Street. Follow the signs for this parking option from the inbound roadway.
Economy parking for one day is $32. Anything over 24 hours, Up to 1 day + 6 hrs is $48, along with a shuttle service every 15 to 20 minutes and is available 24 hours a day. Walking from the economy parking garage to Terminal E would take around 20 minutes. If you plan to travel alone, this option can pose some safety concerns due to its distance from the main terminals.
The economy parking facility has more than 2,700 spaces, which can fill up quickly, so you'll want to reserve your spot in advance.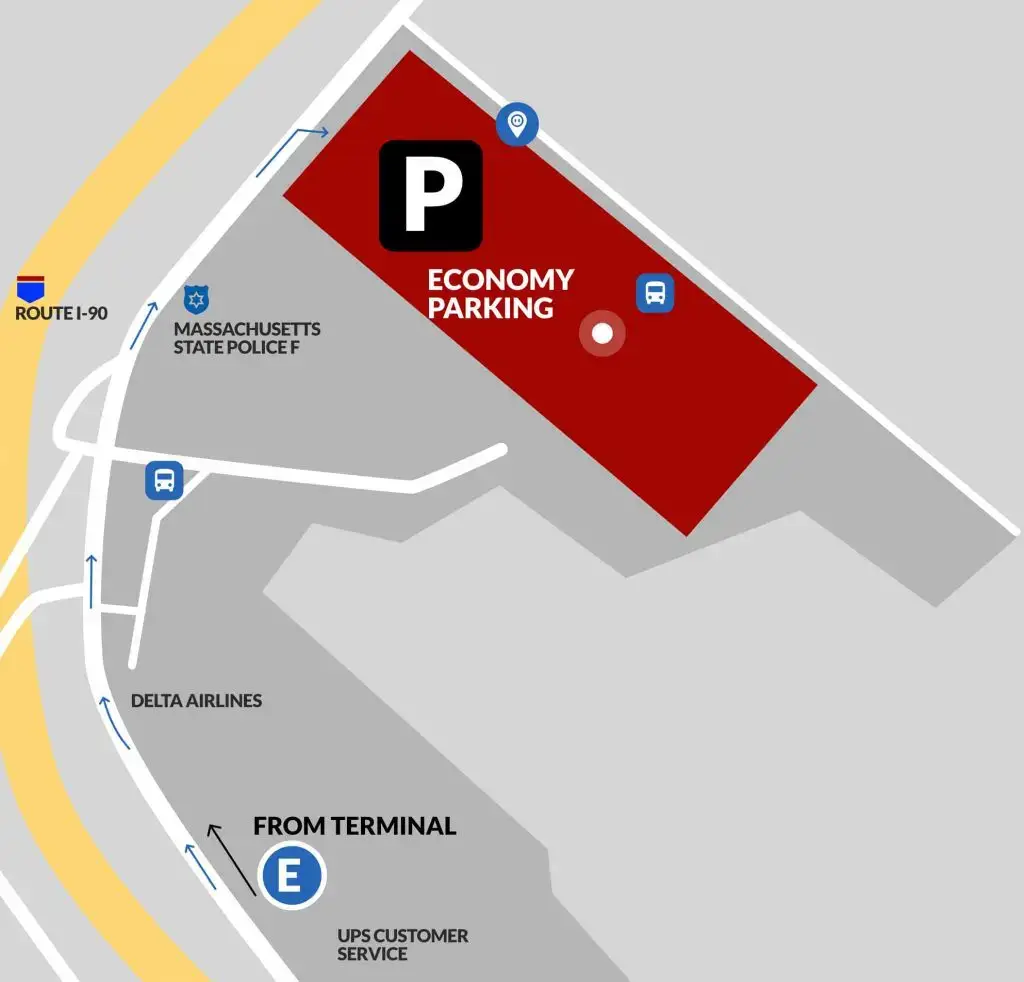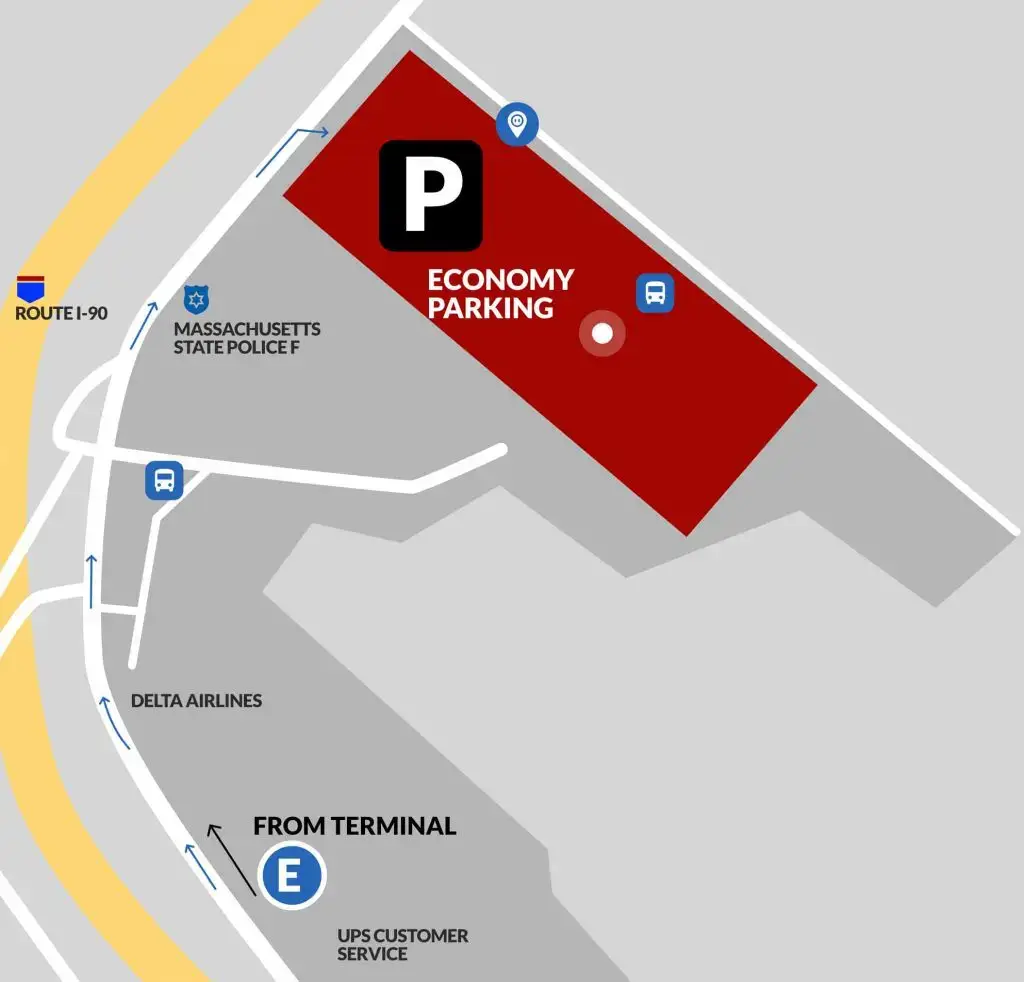 Boston Logan Terminals
Boston Logan has four terminals in operation — A, B, C and E. You'll find a list of all the airlines located at each terminal here.
Logan Airport is quite large but is relatively easy to navigate. Walkways connect the terminals, and regular shuttle buses help visitors get around. The airport shuttles operate 24 hours a day and stop at every terminal every 15 to 20 minutes.
Terminal C is probably the busiest of all Logan terminals, and Terminal E services only international flights and includes U.S. Customs and Immigration facilities. Familiarizing yourself with the airline terminals and the Logan Airport pickup spot is vital for your safety. Check out our Logan airport parking map below for more details.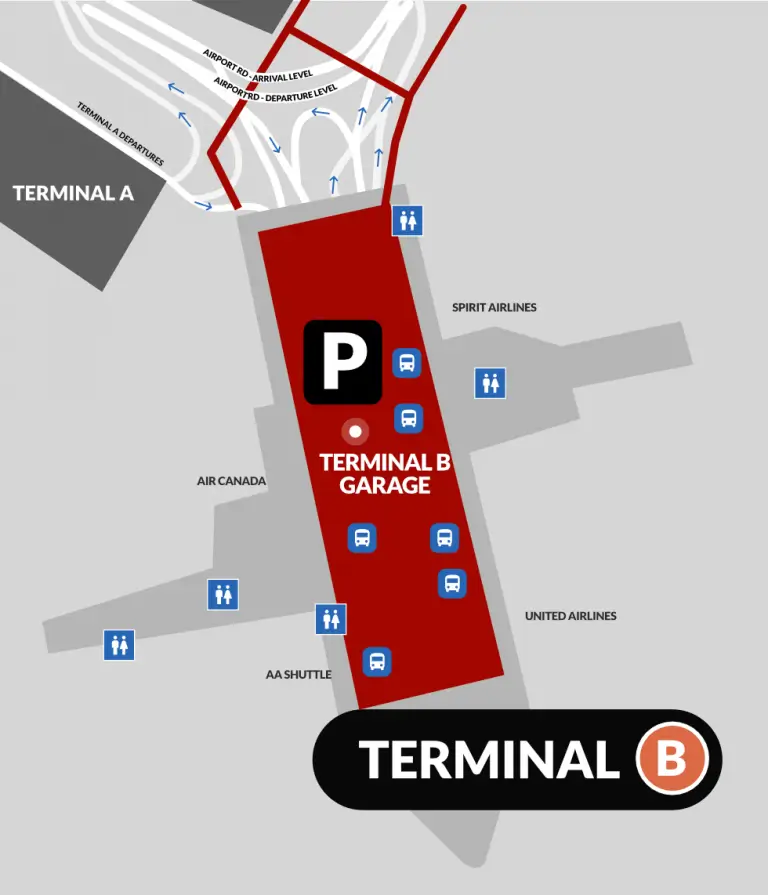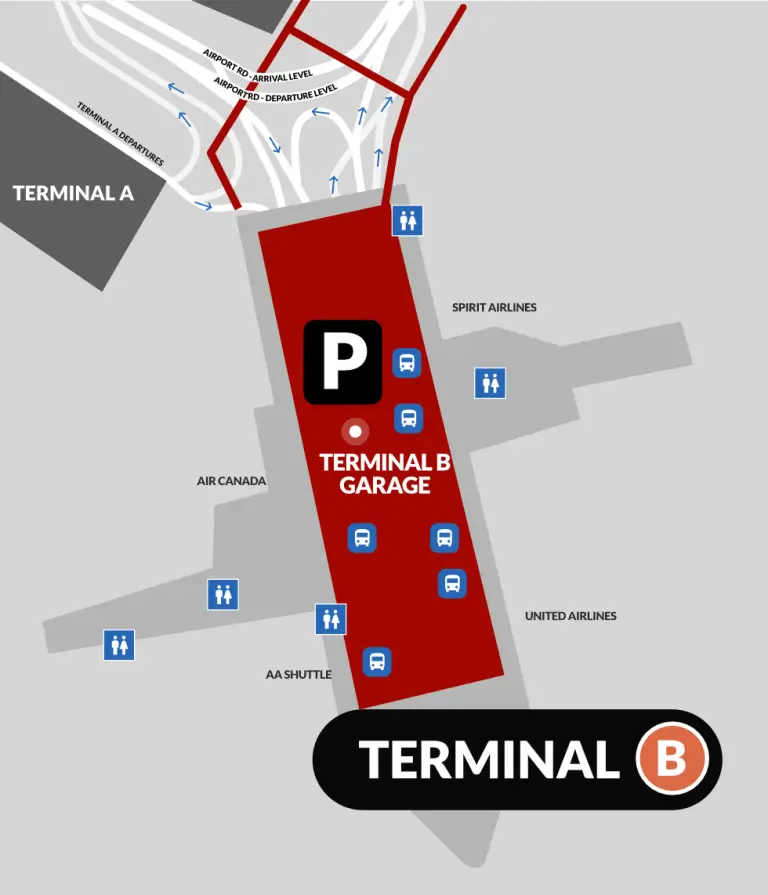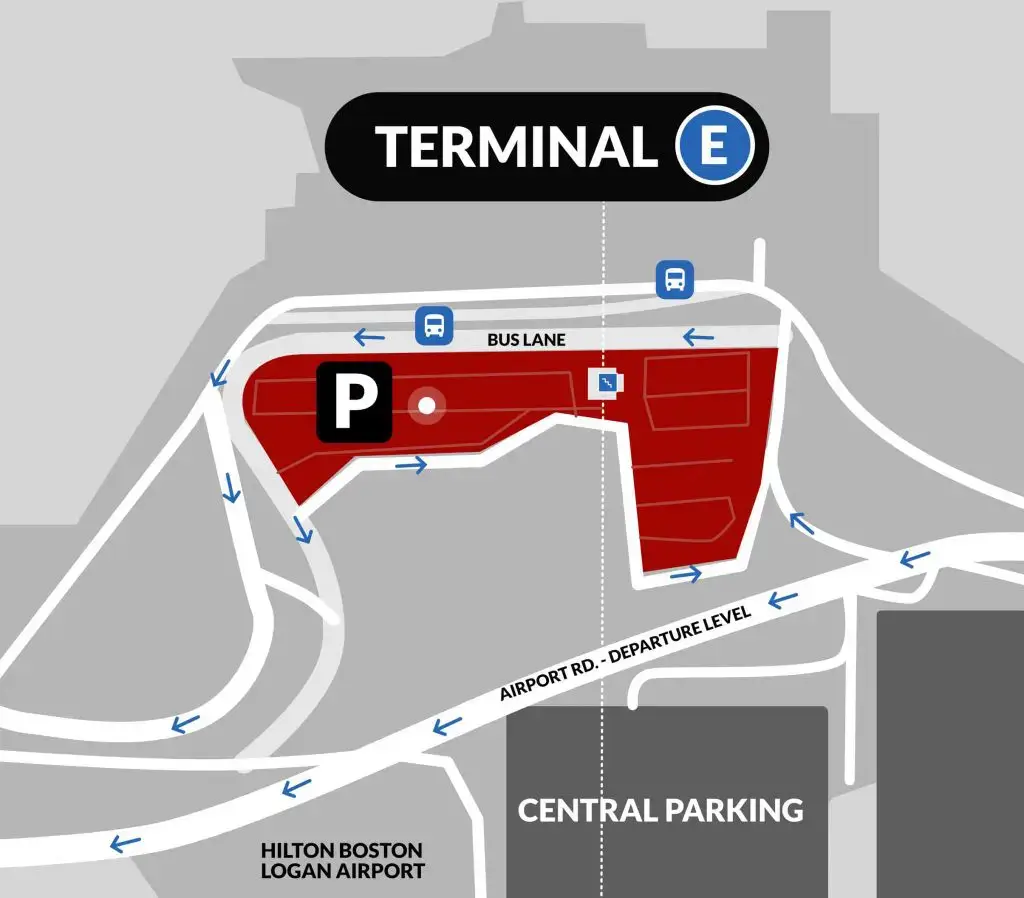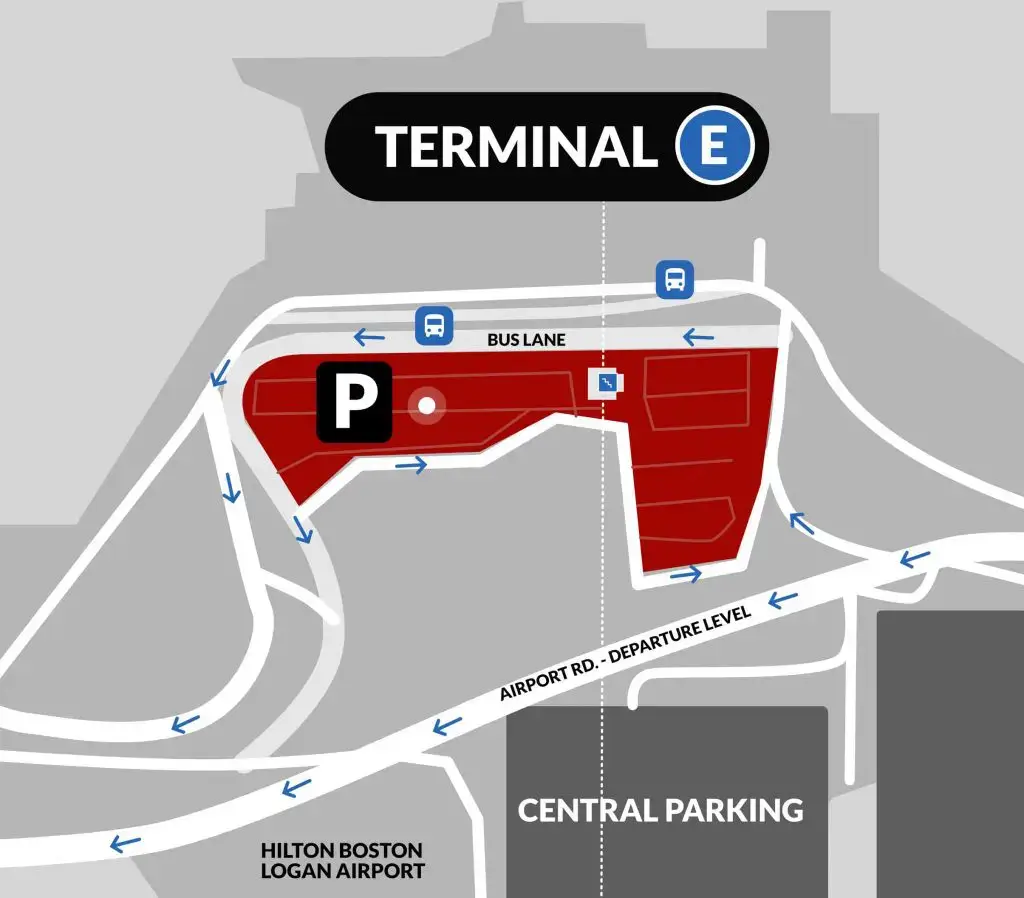 BOSTON LOGAN AIRPORT PARKING RATES
As you plan your trip, you may wonder how much you will pay for parking throughout your journey. Remember that these prices may change, and the airport can offer the most up-to-date details. Find Boston Logan Airport rates for parking long-term, short-term and economy below.
Long-Term Parking
If you'll be away for a while, you'll need to park your car for at least a day, likely longer. Boston airport parking rates for long-term parking are as follows:
One day and one to six hours cost $62.
One day and six to 24 hours cost $82.
Additional days cost $41.
One to six hours on an additional day costs $21.
Short-Term Parking
You may need short-term parking if you're bringing someone to their flight. Boston Logan Airport parking prices for short-term parking are as follows:
The first hour costs $9.
One to two hours cost $23.
Two to three hours cost $28.
Three to four hours cost $32.
Four to seven hours cost $36.
Seven to 24 hours cost $41.
Economy Parking
Consider economy options for more affordable parking at Logan Airport. The costs for economy parking at Boston Logan Airport are as follows:
The first hour costs $9.
One to two hours cost $22.
Two to three hours cost $24.
Three to four hours cost $27.
One day costs $32.
One day and one to six hours cost $48.
Additional days cost $32.
One to six hours on an additional day costs $16.
Boston Logan Airport Parking Tips
Here are a few more tips to help plan your travels or pickup for a better on-site parking experience.
Keep track of your ticket: The airport charges a lost parking ticket fee of the applicable parking charges, plus $5.
Don't park at the curb: None of the terminals at Boston Logan Airport allow curbside parking. However, you can temporarily use a curbside parking space to pick up passengers at their terminal.
Ask for help: If you're parking at the airport, attendants are available 24 hours a day to answer your questions, so don't be afraid to ask for assistance. You can contact parking attendants at 617-561-1673 if you have parking questions.
Consider frequent flyer programs: If you frequently fly out of Boston Airport, you might consider joining its Gold Parking Express program. Gold Parking Express gives you parking privileges, even if the garage is full.
Parking Off-Site Near Boston's Logan Airport
To avoid airport traffic congestion upon arrival and departure, consider the handful of off-site parking options near Logan Airport. When you park somewhere off-site, facilities often offer a lower fee, a shuttle to the terminals and other services.
The Closest Off-Site Parking Lot to Boston Logan
Park Shuttle & Fly is the closest off-site parking choice for Boston Logan Airport. Due to our convenient location, you can expect no drawbridge delays on your shuttle ride to the airport. Our free, 24/7 shuttle ride takes about five to 10 minutes. That's quicker than parking in some on-site spots and walking to your terminal.
You can reserve parking ahead of time and even take advantage of car detailing services so your departure day is stress-free and you have a beautifully clean car when you return.
Off-Site Parking Rates
Off-site parking rates vary depending on the location, but they are almost always cheaper than parking at the airport. At Park Shuttle & Fly, we currently charge $32 a day. We also offer discounted parking for our rewards members.
Take advantage of our affordable weekly rates if you need a long-term parking option for Logan Airport. Choose your date and reservation time online for a quote and see how much you'll save parking with us.
Getting to the Airport
While shuttle services from Logan's economy parking garage at the airport run on a 15- to 20-minute rotation, shuttles with Park Shuttle & Fly are on demand. That means you can request a shuttle to take you directly to your terminal once you're ready.
Most of the time, we have shuttles available to transport you. If not, your ride will only be a five- to 10-minute wait.
Along with a short wait for your shuttle, we also offer the following.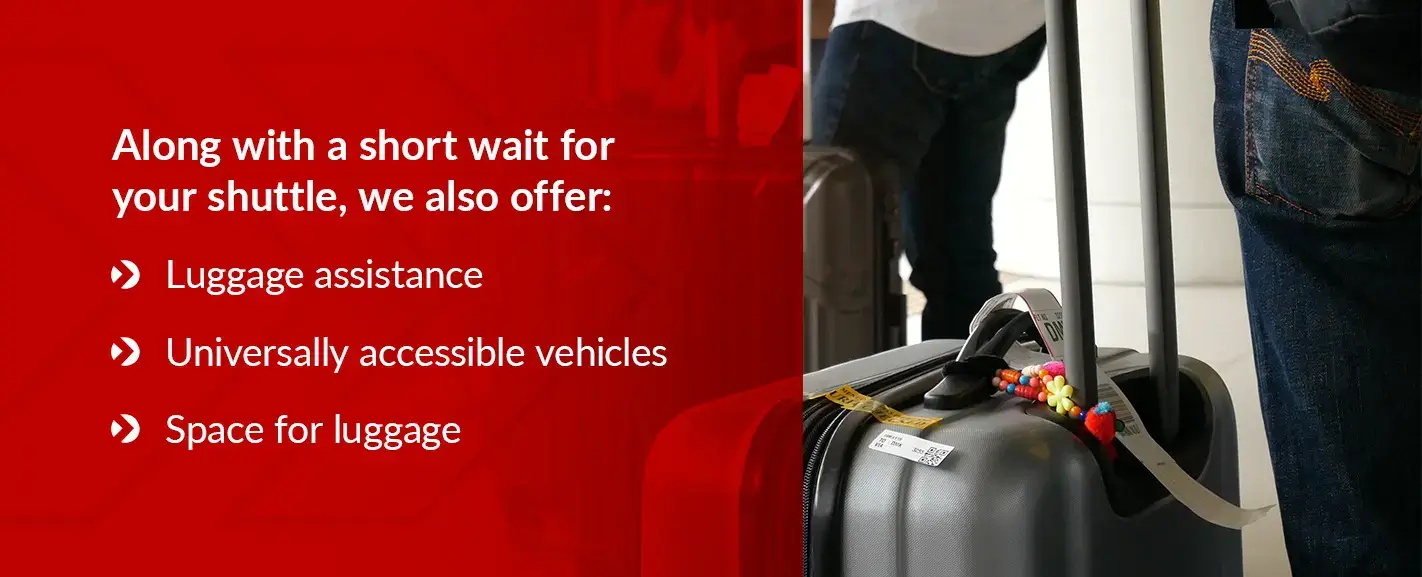 Free valet parking: Our staff takes care of you as soon as you arrive. All you need to do is drive to the service window, provide some information and board the shuttle bus. We'll handle parking for you.
Luggage assistance: Do you have a heavy bag or multiple suitcases to manage? Let us help you load your luggage on board. That's only one way we provide you with a convenient and comfortable ride.
Universally accessible vehicles: If you or your traveling companion has specific needs, we can arrange an adaptive vehicle to transport you.
Space for luggage: No need to cram into a crowded shuttle when you park with us. Our roomy shuttles provide a quick and comfortable ride.
Reasons to Park Off-Site
Parking at the airport might seem like the best option, since you'll be close to your terminal when you park. However, parking off-site is the way to go if you want to save money and enjoy less stress.
Here are reasons to consider off-site parking for your trip to Logan Airport.
It's less expensive: The best advantage of parking off-site is the amount of money you'll save. For example, parking in Logan's central garage for a day costs more than double the amount to park at Park Shuttle & Fly.
You won't have to walk far: You won't have to walk from a parking garage to your terminal when you park off-site because these facilities offer shuttle services. When you park with us, we'll drive you right to your terminal, saving you the trouble of hauling luggage through a busy lot.
You won't have to navigate a busy airport parking lot: Logan Airport is a maze of travelers hurrying to make their flights. When you park off-site, you can avoid navigating crowded, busy and complicated parking garages, and you never have to worry about studying a parking map before your trip. You can relax on your shuttle ride, knowing you're in good hands.
You'll enjoy personal service: You might not have the best luck finding an attendant to help with luggage as you trek through a parking garage. But, when you park off-site, you'll have employees' attention. At Park Shuttle & Fly, our friendly staff is happy to help you however they can.
It's easy to reserve a space: It's easy to reserve a parking space online with a trustworthy off-site service like Park Shuttle & Fly. If you choose not to prepay, you can use a simple kiosk at our lot or have an attendant assist you.
Your car will be secure: Car theft, vandalism and break-ins happen in vast, unattended airport parking lots — even with security cameras. Parking in a fenced-in, off-site lot where attendants always keep an eye on things offers excellent safety and peace of mind.
24 Boston Logan Airport FAQs
If you want to prepare more for your trip out of Boston Logan Airport, explore the frequently asked questions below and find answers to your concerns.
1. Is Boston Airport the Same as Boston Logan Airport?
Yes. Boston Airport, Boston Logan Airport and Logan Airport all refer to the same place.
2. Do I Need a Reservation to Park at Logan Airport?
No, you do not need to reserve a parking spot to park at Logan Airport. However, it's wise to make a reservation to ensure you'll have a space, especially during busy seasons, such as around holidays.
3. Where Is the Best Place to Park at Logan Airport?
The central parking garage is the best place to park at Boston Logan if you're looking for proximity to terminals. Choose the economy parking lot for the cheapest parking place at Logan Airport.
4. What Is Long-Term Parking at Logan Airport?
Long-term parking generally refers to keeping your car at the airport for your entire trip. Logan Airport does not specify an exact length of time for long-term parking or short-term parking. You can stay as long as you need, but they recommend calling their reservation office if you need to keep your car there for more than 60 days.
5. What Happens if I Arrive Early for Airport Parking?
It's OK to reserve a spot at Boston Airport and arrive a little bit early. The airport claims you have a grace period before your scheduled entry time. But, if you get there significantly early, you'll have to pay an overstay fee before you exit the lot.
6. How Do You Save Money on Parking at Logan Airport?
Boston Logan Airport offers limited spaces at $25 a day with advance registration. Still, your best bet for saving on parking and enjoying other perks is to park with us.
We offer affordable rates and discounts to help you save big when you fly out of Boston. For example, you'll earn one point for every $1 spent as a rewards member. You can get free vehicle detailing with the points you earn or spend them on a free day of parking.
7. How Early Should I Arrive at Boston Logan Airport?
The airport recommends arriving two hours before domestic flights and three hours before international flights. That'll give you enough time to check in, go through security and make it to your gate. If you're parking off-site or in economy parking, be sure to account for the time it will take the shuttle service to bring you to your terminal.
At Park Shuttle & Fly, we recommend arriving 15 to 20 minutes before you need to be at the airport. That will allow plenty of time for boarding the shuttle and driving to the airport.
8. Can I Walk Between Terminals at Logan Airport?
Yes — there are walkways connecting the terminals at Logan Airport. There's also a shuttle system to transport you to the different terminals.
9. What Is the TSA Liquid Limit at Logan?
The Transportation Security Administration allows you to bring 3.4 ounces or less with you at Logan Airport.
10. Is There Anything I Can Do to Help Speed up My Time in the Security Line?
Yes — pack smart. It will help you get through the checkpoint much faster. Layer items in your luggage, making it easier for TSA officers to survey your belongings if they select you for a random check.
Approaching the checkpoint isn't the time to pull out your boarding pass and photo ID. You should already have those things in hand when walking to the checkpoint. Have your jackets and shoes ready for inspection, and put your cellphone and keys in your carry-on bag. Remember to remove your laptop and place it in a bin.
11. What Is the Busiest Time of Day at Boston Logan Airport?
Logan Airport typically starts to get busy around 5 a.m. and stays that way until midmorning. Things pick up again around 4 p.m. and last until early evening.
12. Can You Sleep at Boston Logan Airport?
Boston Logan does not currently have sleep pods. Though many travelers take the opportunity to get some shut-eye in the pre-screening area, we wouldn't recommend it. Most of the seats have armrests, and there are bright lights and constant noise.
Logan Airport authorities provide stranded passengers with cots during weather events that cause flight cancellations. However, if you plan to stay overnight, we recommend booking a room at the Hilton Boston Logan, which you can access through either Terminal A or Terminal E.
13. Can I Shower at Boston Logan Airport?
Some flyers have access to clubs offering amenities like showers. For example, if you're a Chase Sapphire Reserve card member, you can shower at the Sapphire Lounge by The Club, located near gate B40. If you have an American Airlines Admirals Club membership, you can use their showers by gate B4.
14. Is Boston Logan Airport Open 24 Hours a Day?
Logan's pre-screening area is open 24 hours a day. However, once the final flight for the day has landed, anyone left inside the terminals must return to the pre-screening area until TSA reopens the screening checkpoints the next day. TSA usually reopens checkpoints about an hour before the day's first flight.
15. Can I Wait at the Airport Overnight?
If you are waiting for an early morning flight and want to make sure you arrive on time, the only place that remains open in the airport overnight is the pre-screening area. You would have a long wait with public restroom access but little else, as the restaurants and shops have regular hours.
You would also have to remain in the pre-screening area until the security checkpoints open at 4 a.m. Staying at the Hilton Boston Logan will ensure you sleep in a comfortable bed a short distance from the airport.
16. How Long Can I Stay in the Airport Lounge?
The lounges have a maximum stay of three hours, and you can wait there until they close at 11:30 p.m. Children below the age of 2 get in for free with an adult traveler, but otherwise, the cost of lounge passes varies.
17. Can I Stay at the Airport After Arrival?
After you arrive from a flight, you can visit the restaurants or shops behind the security checkpoint or stay in designated areas as long as they are open. You can stay at the Hilton Boston Logan for accommodations. Once everything else closes, the pre-screening area remains available if you plan to stay there overnight.
18. What Restaurants Are at Logan Airport?
Logan Airport offers so many delicious restaurants to try. It would take you almost three months to eat in every one. You'll find everything from familiar coffee joints like Dunkin' and Starbucks to many fine dining establishments.
A complete list of all the restaurants located at Logan Airport is available right here.
19. What Stores Does Boston Airport Have?
Boston Logan has traditional shops like duty-free stores if you're taking an international flight and numerous newsstands where you can get the latest newspaper, magazine or bestselling book, along with a drink or snack. Below is a list of some favorite shops for travelers.
Fifth & Sunset: Need new sunglasses for your upcoming adventure? Visit this accessories shop in Terminal B.
iStore: On a visit to Terminal C, remember to check out Apple's iStore.
Natalie's Candy Jar: If you have a sweet tooth, go to this candy store in Terminal C.
A complete list of all the stores located in Logan Airport, where to find them and their hours of operation is available right here.
20. Is Wi-Fi Available at Logan Airport?
Logan offers free Wi-Fi throughout the whole airport for laptops and mobile devices. Look for the network name BOSWifi on your device, and once you accept the agreement terms, you can connect.
If you need somewhere to charge your computer or phone to take advantage of the free internet, look for charging stations built into, around or near the airport's seating areas.
21. Are There Children's Play Areas at Boston Airport?
Logan Airport has three play areas known as Kidport. You'll find each Kidport after you go through the security checkpoint in Terminals A, B and C. These spaces include climbing structures, slides and structures designed to mimic planes and control towers at Logan Airport. Each Kidport is near concessions and, more importantly, restrooms.
22. Does Boston Logan Have an ATM?
You'll find ATMs located at each terminal for various banks. Visit Logan's "Services" page to see the ATMs available and how to find them.
Boston Logan also offers currency exchange booths if you're looking to acquire some foreign currency from the country you may be visiting or want to convert foreign currency back to American dollars.
23. Can I Charge My Electric Vehicle at Logan Airport?
Boston Logan Airport offers over 170 spots for alternatively fueled, electric and hybrid cars. The airport also has more than 20 charging stations for electric vehicles.
24. Does Logan Airport Offer Complimentary Services?
When you park at Logan Airport, you may receive complimentary jump-starts, help finding your lost car, a locksmith if you get locked out of your vehicle and air for a deflated or flat tire.
For more services with your parking needs, consider Park Shuttle & Fly. In addition to a rewards program, we offer vehicle detailing services for an extra fee and online reservations with no deposit required. Our complimentary services include luggage assistance and a valet, meaning you won't have to walk around to find your car after a tiring flight.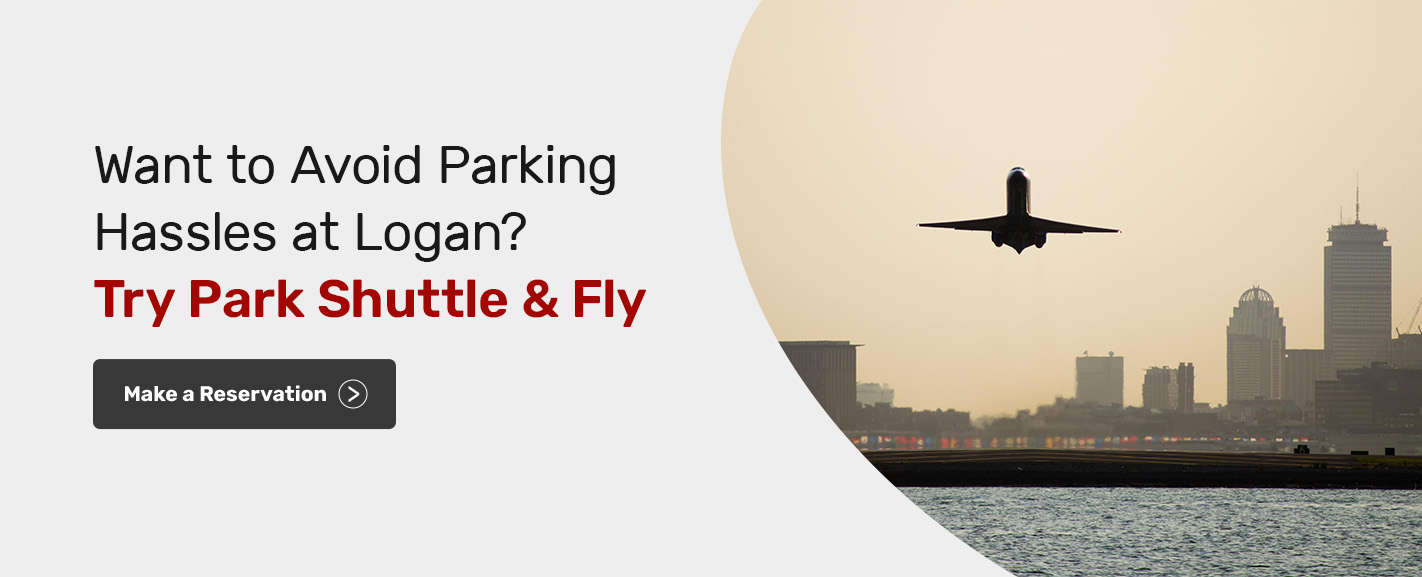 Want to Avoid Parking Hassles at Logan? Try Park Shuttle & Fly
Since 1975, Logan's Original Park Shuttle & Fly has been helping busy travelers avoid the hassles of traffic and parking in and around Boston Logan Airport. When you leave your car with us, you can catch the shuttle to Logan and be there within 10 minutes. There's no lugging your bags around, no long walks from a parking garage to a terminal and no drawbridge delays. And your car will be safe with us, as our lot is fully fenced in. Once you park your car with us, it does not move until you return. And if you join our rewards program, you can earn free parking.
You'll love our valet service, exhaustive vehicle detailing, luggage assistance and rewards program. You can make a reservation online anytime, with no deposit required. Our service is friendly, reliable and professional. If you'll be gone three days or longer and select our car wash and detailing service, your car will look as good as new when you pick it up after your trip.
Simplify Logan Airport parking and enjoy a stress-free journey. Reserve your Park Shuttle & Fly parking space today!