These days, holiday travel is more stressful than ever. With everyone expected to return to air travel this holiday season, you might find yourself overwhelmed by the thought of flying. As everyone prepares for air travel and various COVID-19 regulations, there are lots of things to consider as you start travel prep.
To help you keep your trip stress-free, we've compiled some tips on how to prepare for holiday travel. You'll enjoy your vacation to the fullest when you have everything planned ahead of time. Avoid missed flights, parking problems and COVID-19-related delays with our 2022 travel guide!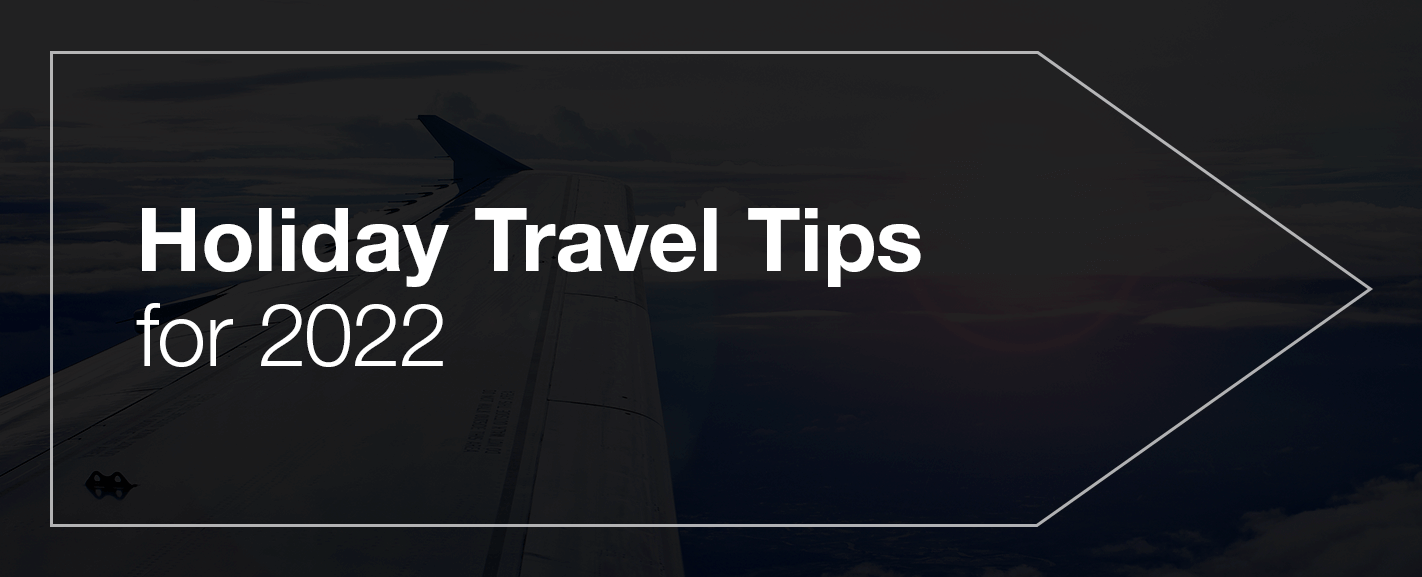 Best and Worst Days to Fly
One of the best tips for holiday traveling is to find the right days to fly. Airlines price their flights differently depending on what day you're flying — busier days have higher prices, so adjust your trip to find the most affordable flying dates possible.
For example, many people try to fly the day before major holidays like Thanksgiving, as well as the Sunday after Thanksgiving and the day after Christmas. Most travelers want to fly out right after the holiday to return to their homes and jobs. To avoid these more-expensive days, opt for leaving earlier in the week and leaving later — or book your flight for the day of Thanksgiving or Christmas. Fewer people travel on the actual holiday itself, so you'll have a cheaper, emptier flight.
To get the best flight possible, consider flying out for Thanksgiving on Monday, Nov. 21, Tuesday, Nov. 22 or Thursday, Nov. 24. Try to leave on Friday, Nov. 25 or Monday, Nov. 28, for a cheaper fare.
For Christmas, Dec. 24 and 25 are some of the cheapest dates to fly. Most travelers have already flown out by Christmas Eve and Christmas Day. If you want to arrive before Christmas Eve, avoid traveling on the days right before Dec. 24 — fly on Dec 18, 19 or 20 to miss most travelers. If you're trying to avoid the after-holiday scramble, try to fly home on Dec. 28, 29 or 30. You'll dodge most other holiday travelers and higher ticket prices.
Anyone celebrating Kwanzaa should take advantage of the low traffic during Christmas and fly out on Dec. 24 or 25. Flying home will cost more if you aren't willing to hang around until Jan. 8 — the first week of January still has those higher holiday prices. You can also fly home on Jan. 4 or 5 to try and avoid the immediate post-Jan. 1 crowd.
Hanukkah starts Sunday, Dec. 18 this year, so you could fly in on the 16 or 17. Arriving on the 11 would be even cheaper — you'd avoid the holiday price hike, although it would mean spending an extra week at your destination. Like the Christmas crowd, wait until Dec. 28, 29 or 30 to fly for an easier trip.
For New Year's Eve, try to fly in on those cheaper after-Christmas dates or plan to arrive ahead of Christmas. Flying on Dec. 28, 29 or 30 will likely be slightly easier than right after Christmas. For departure flights, you can wait until after Jan. 7 for non-holiday flight prices or head out on Jan. 4, 5 or 6. If you're up for it, you could try booking a New Year's Day early morning flight — although this might be difficult if you plan to enjoy a New Year's Eve bash.
Plan Your Transportation to the Airport
The next item on our holiday travel tips list is about planning transport. While many airports let you leave your car there, no one wants to worry about the logistics of pre-plan travel at the last minute. Planning your transportation ahead of time reduces stress and gives you peace of mind to enjoy your trip. Use an off-site parking service to improve your holiday.
With off-site parking at Park Shuttle & Fly, travelers avoid expensive on-site airport parking fees and enjoy easy transportation to and from the airport with our convenient shuttle system. You'll know your car is parked securely, and you won't have to worry about rushing to the airport. If you shuttle to the airport, it's easier to transport luggage and arrive quickly. Consider wearing your mask on the shuttle if other travelers board with you to help you stay safe this holiday.
The Right Credit Card Can Help
Some credit cards offer special perks and savings that can really benefit you during your holiday travels. A few potential perks might be:
Free checked bag
Avoid incurring bag fees
Upgraded boarding positions
Purchase reimbursements
Airline miles
Early boarding
It might be a bit late in the year to get a new card, but many companies offer perks and bonuses you can take advantage of while traveling. Even if you don't get long-term rewards this year, opting for a card with travel benefits can get you some smaller bonuses this season and help you build up to those better bonuses for next season.
Get to the Airport Early
What can you expect about holiday traveling every year? It's almost guaranteed to be stressful. In a post-COVID world, flying has become even more hectic. Staffing shortages everywhere have left airlines with delays. You might have to deal with extremely long security lines or boarding times. If you're traveling somewhere that requires COVID-19 tests and identification checks, that will eat up even more time.
Avoid missing your flight by showing up early. Have all of your tests, records, identification and documents organized and ready to show. Give yourself an hour or two before boarding so you have plenty of time to get through security before your flight.
Strategic Bag Checking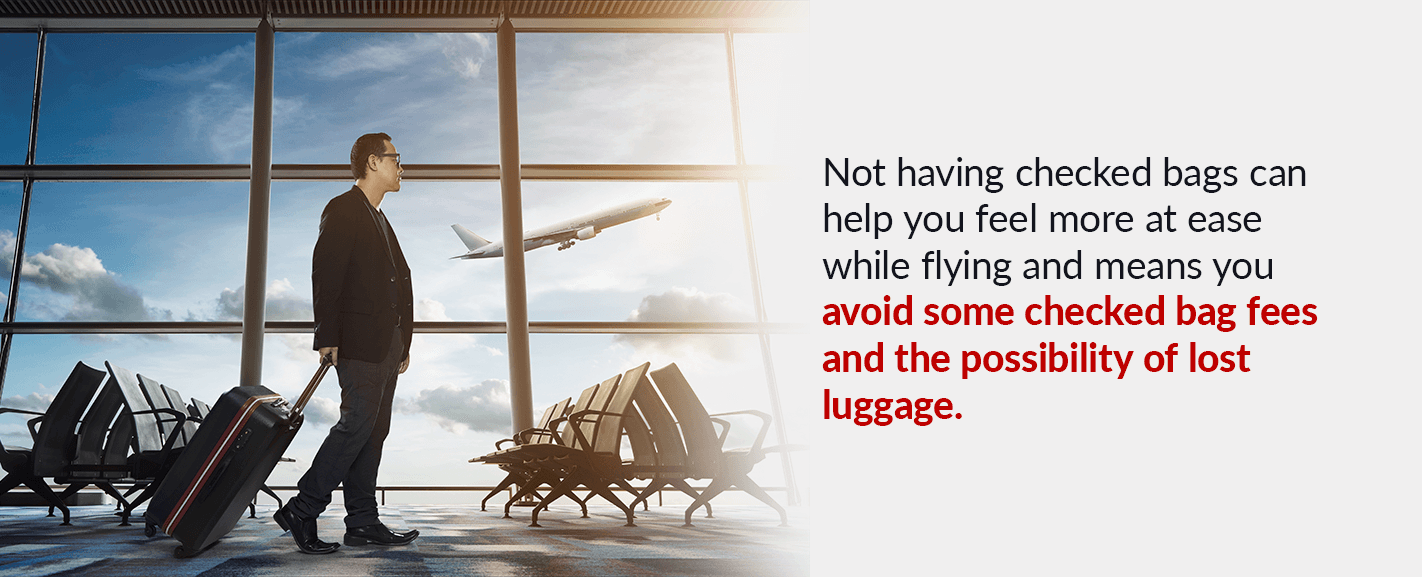 Everyone has their own bag-checking preferences. Some travelers swear by no carry-on bags, while others need that bag to have a comfortable flight. If you choose to check all your bags, you won't have to worry about finding space in the overhead bins, you'll be less stressed during security checks, and your hands will be free for boarding. However, not having checked bags can help you feel more at ease while flying and means you avoid some checked bag fees and the possibility of lost luggage.
Know the TSA Rules on Holiday Items
You might have holiday travel expectations of coming back through the airport with your arms loaded with gifts. Before you bring your haul back through security, you might want to brush up on TSA rules so none of your presents are confiscated.
Containers with liquids must be 3.4 ounces or smaller and fit in a quart-sized, resealable bag. This even includes snow globes, so make sure you aren't toting giant snow globes through the airport.
It's also not a great idea to bring wrapped gifts through security. If any of them need inspecting, all your wrapping work will be ruined. Certain foods can fly with you, but you might want to put them in their own tray for inspection. Review the current TSA guidelines so none of your gifts get taken.
Bring the Essentials with You
While some airlines provide snacks and other complementary items, you should pack your essentials to ensure your comfort on the plane. Bring snacks, headphones, entertainment and maybe a neck pillow for maximum relaxation on your flight. This way, you'll have everything you need and won't be stuck feeling hungry or bored while flying.
Rules Change Wherever You Go
While things have calmed down some, no list of holiday travel safety tips in 2022 would be complete without discussing COVID-19 regulations. Read up on the airline and country you are traveling from and to. You'll probably need to pack some masks, have a negative COVID-19 test and potentially have proof of vaccination. Some places might make you quarantine upon arrival. Do your research so you aren't caught off guard on your trip.
Additionally, be prepared for COVID-19 rules to change while you're flying. You might find your hotel hasn't reopened or that the rules for entering a country have changed. Account for delays and potential quarantines in your travel time. If you test positive for COVID-19, you might have to stay somewhere much longer than planned.
Reserve a Parking Spot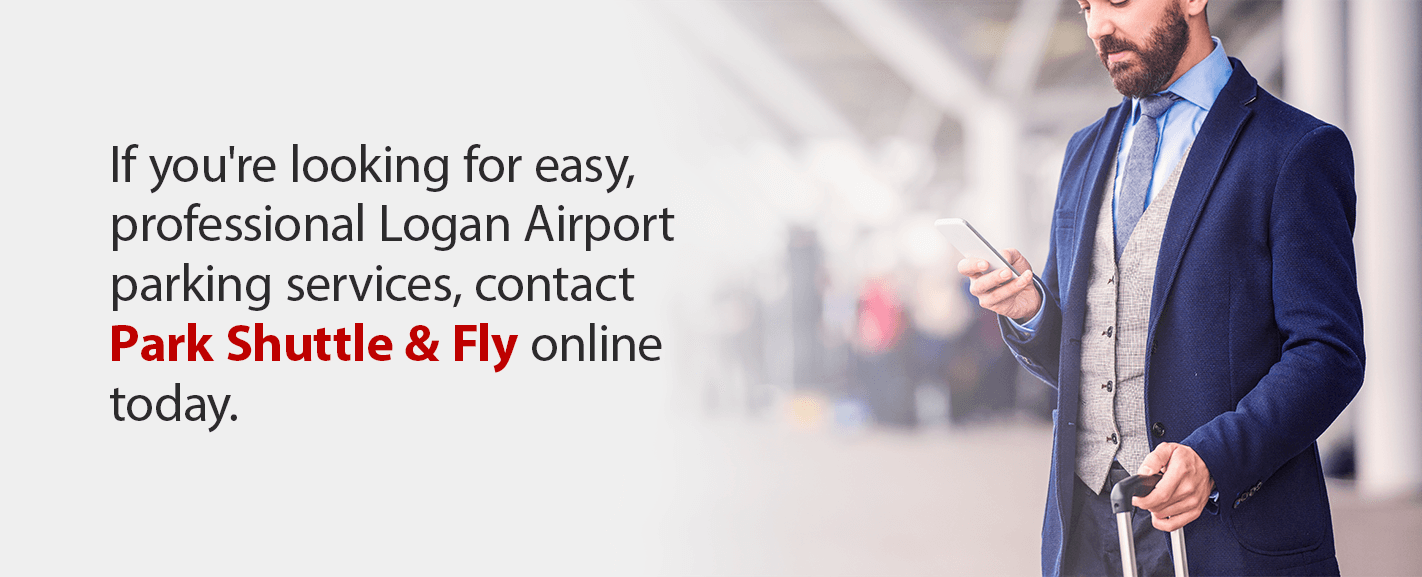 Take some stress out of your holiday traveling by booking off-site parking with Park Shuttle & Fly. On-site parking at Logan Airport in Boston can be expensive, especially if you're packing for multiple days. With Park Shuttle & Fly, we offer a daily rate of $29 and free shuttle services to and from Logan Airport. You can make airport parking easy and stress-free with free valet parking and a no-move policy. Additionally, we offer cleaning and detailing services so you can come home to a clean, fresh car.
If you're looking for easy, professional Logan Airport parking services, contact Park Shuttle & Fly online today. We offer long-term, short-term, economy and prepaid parking so you can find the best option for your travel needs.