The Sumner Tunnel, which spans Boston to Logan Airport, is a highly-traveled route for drivers in the area, and the tunnel will be closed for maintenance and restoration this summer. Since the closure will most likely affect local drive time estimates, city officials urge residents and travelers to plan ahead and allow extra time for their commutes. To prepare for this event, MassDOT has worked to create alternative options to minimize any disruptions caused by the closure. For the most up-to-date information, please visit mass.gov.
Where Is the Sumner Tunnel?
The Sumner Tunnel is a one-mile-long tunnel that takes travelers under Boston Harbor and spans between East Boston and the North End of Boston. This road tunnel runs along Route 1A South and takes travelers from Logan International Airport to I-93, Boston and other northern areas. Running in one direction, this traffic-carrying infrastructure normally allows for quick access to the city from the airport. However, the restoration closure will cause delays for those who use the route.
When Is the Sumner Tunnel Closure in 2023?
The Sumner Tunnel will undergo full closure between July 5 and August 31, 2023, as well as between July 2024 and August 2024 for scheduled restoration. For the most up-to-date information, please visit mass.gov.
What Are Alternative Routes?
Although most officials advise individuals to leave their cars at home and take one of the many alternative transportation options available, drivers can still complete the drive from East Boston or the Logan Airport using different routes.
To get to Downtown Boston, follow I-90 through the Ted Williams Tunnel to reach I-93, which you can use to find your ultimate destination.
To reach I-93 North, follow Route 1A North to Bell Circle Rotary. Here, you can take Route 16 to reach Route 1 South. Cross over the Tobin Bridge and follow signs to Rutherford Avenue, which will take you through Sullivan Square. There, you can access I-93 North.
The Sumner Tunnel closure will not affect the drives to East Boston and the Logan Airport. Those traveling in this direction can continue using the Callahan Tunnel or Ted Williams Tunnel to reach their destinations.
Why Is the Sumner Tunnel Closed?
The Sumner Tunnel, first opened in 1934, will be closed to ensure continued safe operation and prevent any potential problems that may arise due to regular wear and tear. This temporary shutdown will allow crews to perform critical maintenance on the tunnel, including:
Roadway surface repairs
Lighting upgrades
Security system updates
Cell, GPS and radio reception enhancements
General safety improvements
Travel Tips
The recent Boston Logan Airport Tunnel closure has caused a lot of confusion for travelers. The team at Park Shuttle & Fly is here to help. Follow these traveling tips and tricks for getting to your destination during the closure:
Plan for potential delays: During the Sumner Tunnel closure, schedule extra time to get from the airport to your destination, as traffic congestion will likely increase due to detours.
Monitor your flight status: Use the airport's website or app to monitor your flight and better stay on schedule when traveling from the airport to your offsite location. To make the process smoother, request our Quick Shuttle service and have our team drive you through the closure zone and to your parked car using the most efficient route available.
Reserve your parking spot ahead of time: You can avoid full lots, long waits and high fees by reserving your parking spot prior to airport arrival by using a reputable parking service.
About Park Shuttle Fly
Park Shuttle Fly is Boston's largest offsite parking lot servicing Logan International Airport. Established as Logan's Original Park Shuttle & Fly Since 1975, we offer fully fenced and secure parking options, including long-term parking, so you can park your car and leave it there for as long as you need. With Park Shuttle & Fly, you can enjoy: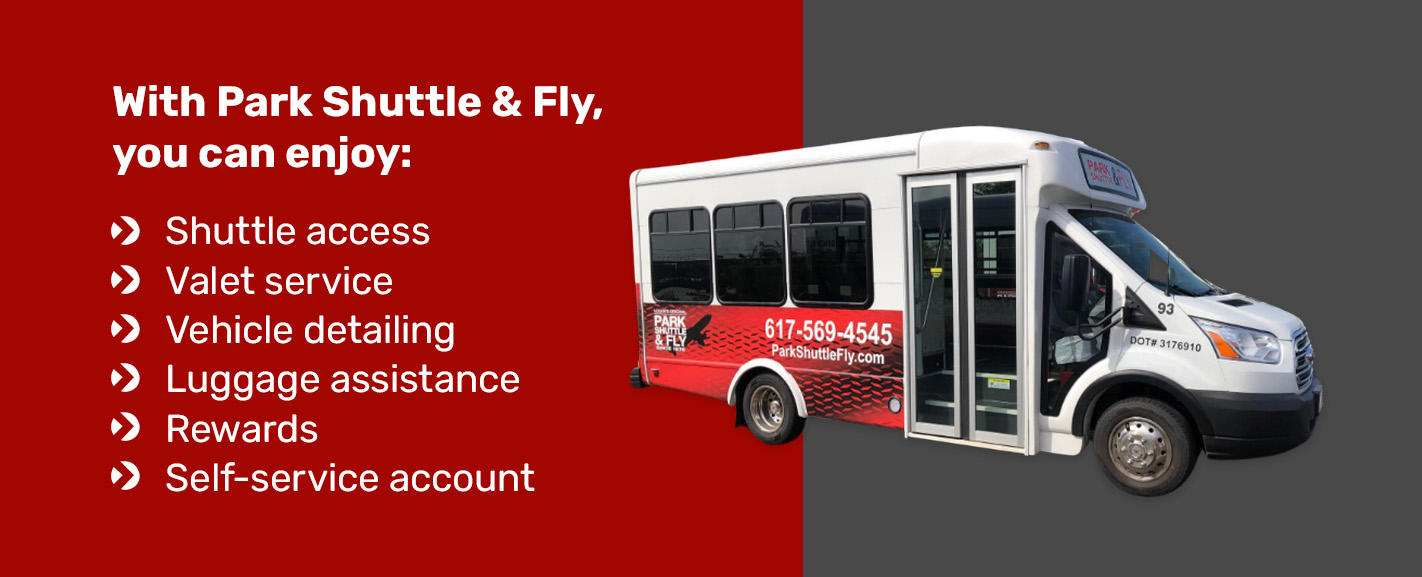 Shuttle access: Our shuttle service makes getting to and from the airport easy and comfortable.
Valet service: Request our valets to park your car for you so you can focus on your trip.
Vehicle detailing: Detail your car with our professional cleaners to ensure it is spotless and ready to go when you return.
Luggage assistance: Let us bring your luggage to and from the airport while you enjoy a few minutes of peace before the next leg of your journey.
Rewards: Become a Parking Rewards Member to collect points redeemable for free parking and vehicle detailing.
Self-service account: Manage your reservations, invoices and more through your private online portal.
Plan Ahead for Your Travel — Book Parking With Park Shuttle & Fly
With the Sumner Tunnel closure, all travelers should have a plan in place, and we can help. At Park Shuttle & Fly, we proudly provide the closest offsite parking lot servicing Boston Logan International Airport. With our parking and shuttle services, you won't have to struggle to find transportation through the tunnel closure or navigate the alternative routes on your own.
Make your parking reservation online today to access a team dedicated to ensuring your journey goes smoothly, from departure to arrival.