Flying with a baby from Boston is a new experience. Even seasoned travelers have worries when journeying with an infant for the first time. The different regulations can be confusing, and large airports like the Boston Logan International Airport might overwhelm parents and babies alike.
Many parents have questions when it comes to flying from Boston with a baby. These top tips for flying with a baby can ease your concerns and help you feel prepared.
How Old Should a Baby Be to Fly?
If you need to travel with your baby, one of your first questions may be how old they need to be to go on an airplane. Many airlines allow babies to fly when they are one to two weeks old. However, most medical professionals recommend waiting until the child is over two months of age so that they have either started or completed their primary immunization series. Additionally, colic and fussiness typically pass when babies reach two months.
What Do Children Need to Fly?
Whether you have the all-clear from the pediatrician to fly with your baby or are flying with a toddler, here are some of the documents you'll need:
Ticket: Most airlines, such as Delta, allow infants under two to fly on an adult's lap for free. However, you may want to purchase a separate seat for your infant so they can fly in a child safety seat approved by the Federal Aviation Administration (FAA).
Passport: All children need a passport if flying internationally.
Birth certificate: Some airlines require documentation for proof of age for children under 18. It's a good idea to bring the baby's birth certificate in case you need it.
Letter of consent: If a single parent travels internationally with a minor child, they may need a letter of consent from the other parent. In some cases, you also need the letter for domestic travel. The custody plan you share with your child's other parent should detail your agreement.
Tips for Flying With a Baby From Boston
When flying with a baby from Boston, these tips will help you prepare for your journey and make it more manageable.
Buy a Separate Seat
The FAA recommends you secure a child in an approved child restraint system for the duration of your flight, which would require you to purchase an additional seat. However, it makes the flight safer for your child and more comfortable for you because you won't have a squirming child on your lap.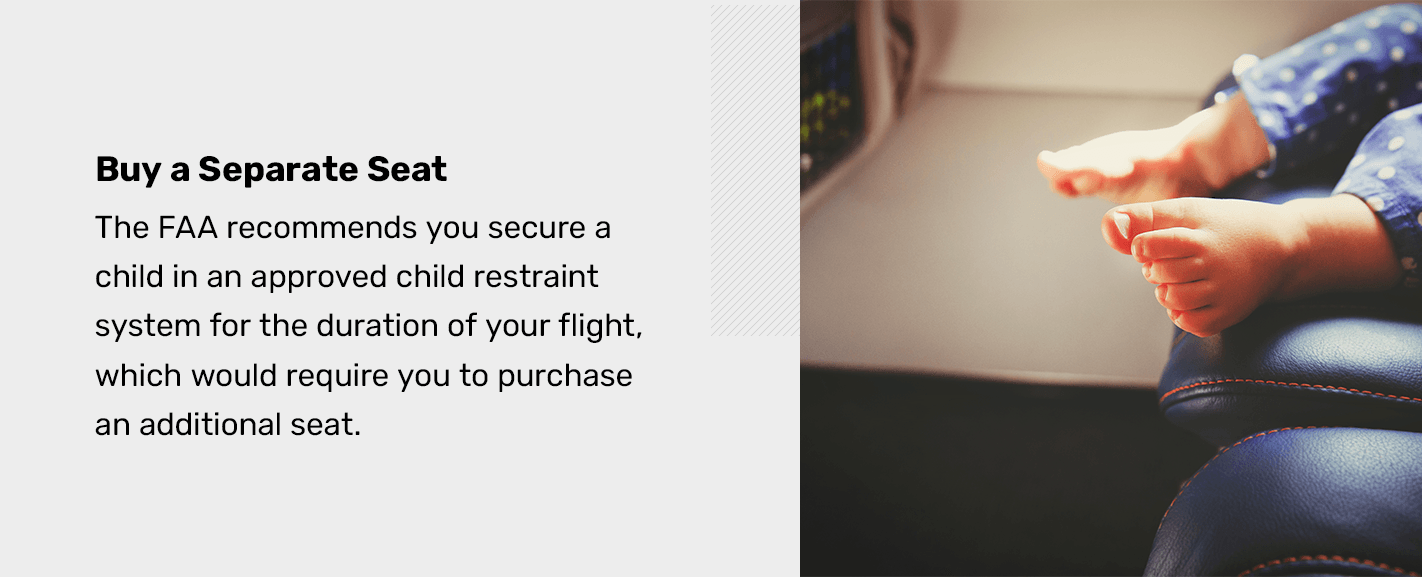 Bring Extra Clothes
You'll want to pack a change of clothing for you and your child in your carry-on bag. If the baby has an accident during the flight, you want to be prepared.
Protect Your Baby's Ears
Sucking, chewing or swallowing can relieve ear pain caused by altitude changes. You should plan to feed your baby after takeoff and before landing. Breast milk and formula are exempt from the 3.4 ounces you are typically allowed in your carry-on. It's a good idea to pump your breastmilk, pack pre-mixed formula bottles or bring formula and water so you can mix it on the flight. Alternatively, you can bring a pacifier to help your baby relieve pressure.
Pack Smart
Ensure that you store items like medication and toiletries in secure plastic bags or pill containers out of the baby's reach. Some things to pack in your carry-on include:
Extra necessities: Bring double the amount of bottles, formula, food, snacks, diapers, burp cloths, blankets and anything else you can think of. Flights can get delayed or canceled, so you'll want to be prepared.
Toys and books: Pack toys and books to keep your little one occupied during the flight.
Plastic bags: You can put a change of clothes, diapers and a few wipes in a plastic bag. You'll have quick access if you need to change your baby.
Ice packs: The Transportation Security Administration (TSA) allows ice packs if you need them to cool baby formula or food.
Book a Direct Flight or Flights With a Longer Layover
Landing can cause ear pressure and pain that makes your baby cry. Direct flights will be easier on your baby because they'll only have to experience discomfort from the plane landing once. If you need a connecting flight, choose one with a longer layover, about two hours or so. A long layover gives you and your baby time to rest and recover before continuing your journey. You'll be able to visit the restroom, feed and change your baby and do anything else you need to do without rushing.
Visit the Restroom Before Your Flight
Boarding the plane with a dry baby is ideal, so you should take a few minutes to go to the restroom for a diaper change before boarding. Putting extra diaper cream and an extra diaper on the baby can help prevent leaks.
Consider Pre-Boarding
Pre-boarding gives you plenty of time to get settled before the flight. It makes flying with a baby or toddler easier for you and the other passengers.
Gate-Check or Rent Baby Equipment
Most airlines allow you to gate-check baby gear. All you have to do is request gate-check tags from the gate agent at the airport and attach them to bulky items like strollers and car seats. You deposit the items at the bottom of the jetway, and they are usually in the same spot when you disembark. Ensure you fold up strollers.
If you want to lighten your load, you can rent baby equipment. Professionals can deliver car seats, strollers, cribs, highchairs, bassinets, boosters and more to your destination. You can bring the items with you wherever you need to go.
Dress in Comfortable Layers
Choose attire for you and your baby that is comfortable and easy to change. Layers are useful for temperature changes on the plane, in the airport and at your destination. Wearing a wrap or something that can serve as a blanket is helpful if you breastfeed.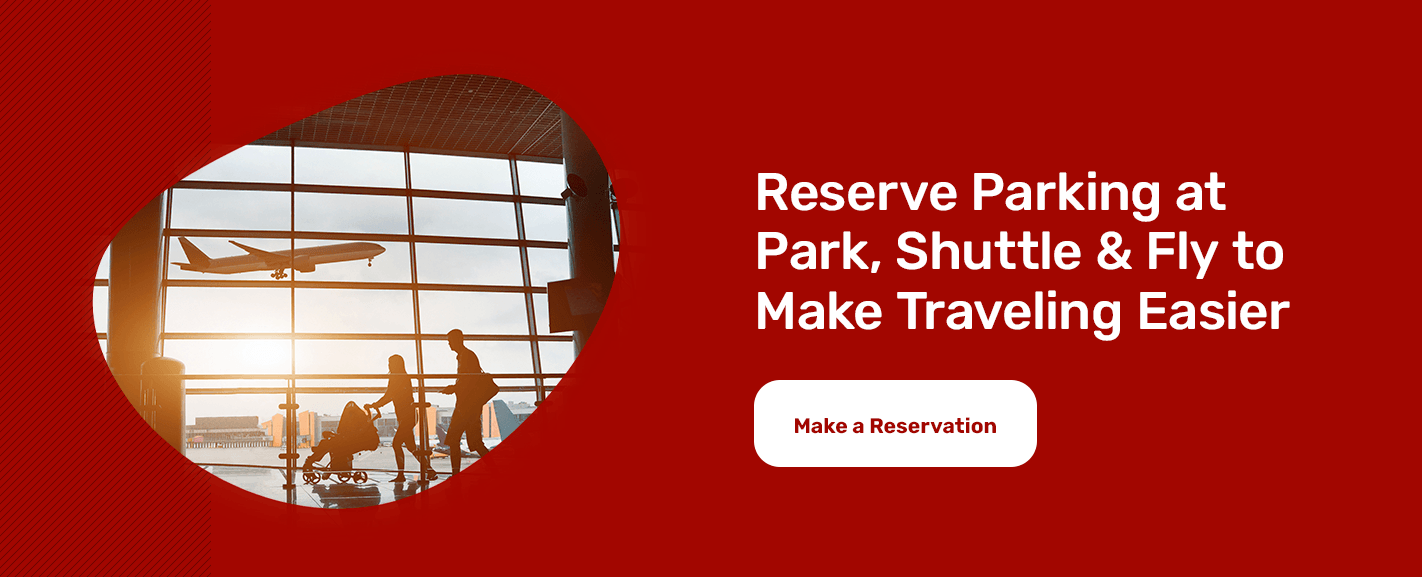 Reserve Parking at Park, Shuttle & Fly to Make Traveling Easier
Park, Shuttle & Fly has been helping families avoid the stress of parking and heavy traffic in and around Logan Airport since 1975. When you leave your car with us, you can take the shuttle and arrive at the airport within 5-10 minutes. There's no need to lug your strollers, no drawbridge delays and no long walks from a parking garage to the terminal. Your car is safe in our fully fenced-in lot. Once you park your vehicle, it does not move until you return.
You'll love our vehicle detailing and cleaning service, luggage assistance, valet service and rewards program. You can make an online reservation without a deposit. Our staff is friendly, professional and reliable. If you choose our car wash and detailing service along with parking, your car will look new and shiny when you return from your trip. Check our rates, and make your reservation today for short-term, long-term, economy or prepaid parking.