You've heard about the different flight classes — economy, premium economy, business and first class — but what makes them so different? Airlines separate different cabin classes into sections on their airplanes and offer distinct experiences and services to each. The lower your flight class, the fewer perks you'll have on your flight and the more restrictions there will be on your booking. When you book a higher flight class, such as first class, you're in for a seamless and personalized travel experience with more luxurious offerings.
Understanding the differences between class types can help you match your travel needs.
What Is a Flight Class?
A flight class is a designated section of an airplane with its own set of rules and price range. The in-flight experience, type of seating, service, on-the-ground experience and price are the factors that will differ significantly between flight classes. The higher the class, the more you can expect to pay for your flight. However, you will also enjoy a more luxurious and comfortable all-around experience. Though affordable, the lower classes are often more restrictive and are less comfortable for some travelers.
Each airline has different class rules and offerings, so reading the fine print and regulations is essential. Conditions such as frequent flyer points, baggage limits, flight changes or refund policies can differ depending on flight class. For example, if you purchase a discounted ticket in a particular class, you may not be able to earn frequent flyer points compared to when you buy a ticket in the same class at full price.
Some airlines will allow you to upgrade your flight class for an additional price, while others prevent these upgrades if you're already booked in a particular class. Your flight class has a direct impact on your flying experience, making understanding the different classes crucial.
What Are the Types of Flight Classes?
The class experience varies between airlines. There are four main types of classes offered by airlines: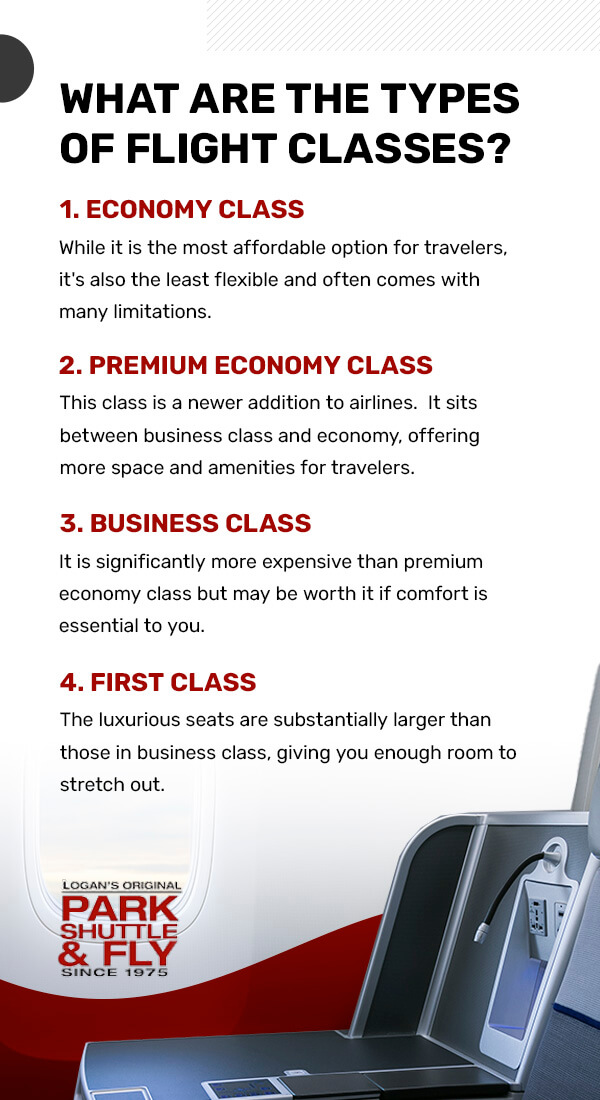 Economy class: This class is the cheapest option but is also the least flexible. Economy class seats are standard and there is limited service.
Premium economy class: This class is a step up from economy, offering more comfortable seating and better meal options.
Business class: You can expect better service, lie-flat seats and excellent food when you travel business class.
First class: The epitome of luxurious travel, first class is the cream of the crop when it comes to travel. You can expect chef-like dining and more attentive care.
While every airline is different, these are the main classes you will find. Economy and business class are standard across most domestic and international flights, except low-cost airlines. Some domestic flights offer first class, but premium economy and first class are almost always exclusive to international flights.
Your experience will also vary depending on the distance of the flight. For example, some airlines may offer lie-flat seats on international flights and only cushier seats on domestic. It's wise to read the fine print to know what your ticket does and doesn't include.
1. Economy Class
Economy class is the most basic class and is offered by the majority of airlines for both international and domestic flights. While it is the most affordable option for travelers, it's also the least flexible and often comes with many limitations. Many airlines do not offer refunds to travelers who book an economy flight. Additionally, economy passengers generally can't change their booking and are the last to board the plane.
Space is also limited in economy class. The seats are smaller than in the other classes, meaning there's less legroom. The seats also recline only a couple of inches. On international flights, it's common to have in-flight entertainment and ports to charge your phone and laptop. Many airlines only let you choose your seat once you check in, but some, such as JetBlue, allow you to select your seat early at an extra fee.
On a low-cost airline, domestic or international, you might have to pay for your in-flight food. On more traditional airlines, you may receive a complimentary snack or nonalcoholic beverage, depending on the length of your flight. United Airlines, for example, offers complimentary snacks on flights over 800 miles and drinks on flights over 300 miles.
Some airlines also offer economy passengers complimentary meals on international flights. United Airlines offers passengers flying over 800 miles internationally a complimentary meal, including a salad, entree, snack and — on select flights — ice cream. Some airlines also provide economy passengers with a toothbrush, toothpaste and socks when traveling internationally.
Economy luggage allowances vary between airlines. You can typically check one or two bags on selected international flights without extra charge. On domestic flights, most airlines charge an additional fee to check in your luggage. When it comes to carry-on luggage, you can board the plane with one piece of carry-on luggage and one personal item, such as a handbag or laptop case.
If you are a bargain hunter looking for an affordable flight, then economy class is a good option. It's an ideal choice for anyone who travels light and doesn't need any extras. If you are traveling as a family, check with your airline to see if you can choose your seats early or if you may get split up on the flight. If you are looking for an airline offering more pleasing economy-class perks, it's wise to go for one of the top 10 airlines.
2. Premium Economy Class
This class is a newer addition to airlines. It is generally only available on long or international flights. This class sits between business class and economy, offering more space and amenities for travelers.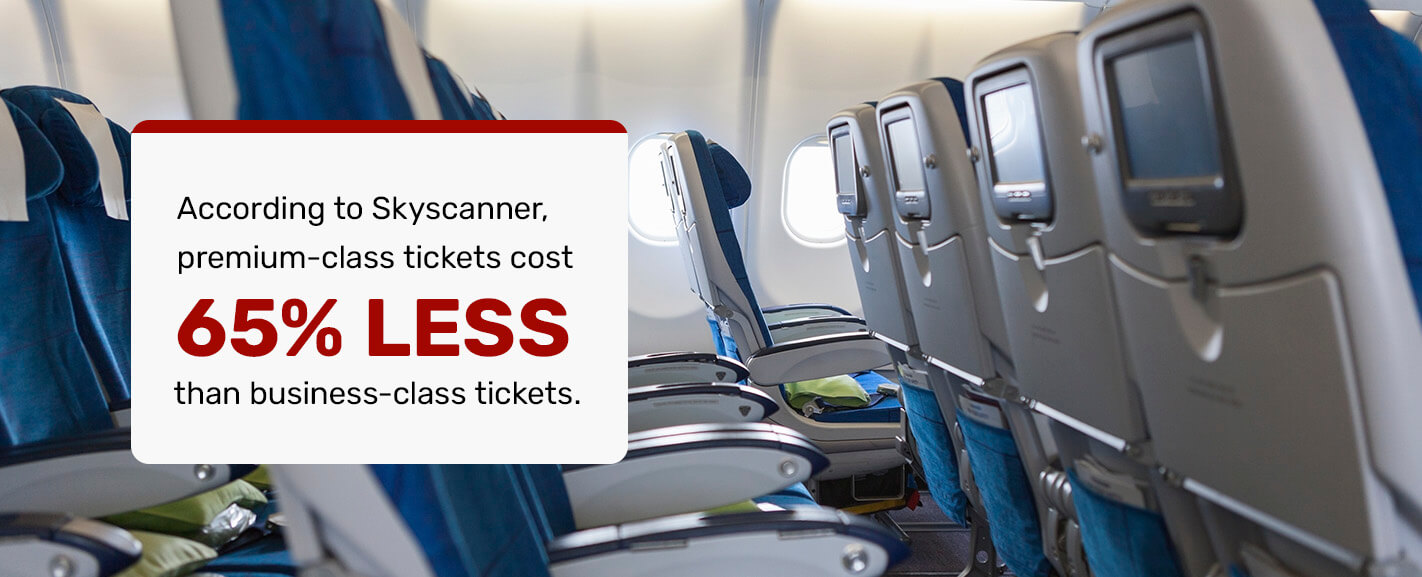 If you want a more comfortable travel experience than economy class but business class is out of your price range, premium economy class is a great option. According to Skyscanner, premium-class tickets cost 65% less than business-class tickets. If you are traveling a long distance, it may be worth purchasing a premium economy ticket. You'll have more legroom and a wider seat that reclines a few inches more than seats in economy.
The food offerings are different from meals in economy class. Some airlines, such as American Airlines, offer a premium dining experience with a complimentary beverage. You will also receive a complimentary amenity kit with socks, dental essentials and eyeshades. On some international flights, you may receive a blanket and pillow to make your trip more comfortable.
Checking in is also faster with priority boarding. You can skip the long queues and have your bags checked first when you land. When you travel in premium economy class, most airlines don't charge an extra fee for checked luggage.
Lounge access may come at an additional charge. Japan Airlines is one of the few airlines that gives lounge access to premium economy class passengers. Premium economy is an excellent choice if you travel for work but your company doesn't pay for business class. When traveling internationally, premium economy class offers you more comfort, perks and convenience.
3. Business Class
If you want to travel in top-of-the-line comfort, business class is the way to go. It is significantly more expensive than premium economy class but may be worth it if comfort is essential to you.
If you want more space during your flight, you may want a business-class seat. Depending on your destination, international flights can be very long and tedious. A lie-flat business class seat provides added comfort so you can arrive at your destination well-rested. It's also common for you to have direct aisle access even if you're sitting in a window seat, so you don't have to worry about climbing over the passenger next to you to go to the bathroom.
The onboard dining experience offers fine food and drinks, including multicourse meals, unlimited drinks and a range of snacks. You'll be welcomed on board with a glass of champagne while the rest of the passengers board the plane. As a business class passenger, you'll also have multiple entertainment options. Other luxury amenities include a duvet and feather pillows for added comfort.
While you wait to board your flight, you'll enjoy business-class lounge access. At check-in, you'll have access to the priority queues and can skip the long lines at security. Some airlines even place a priority tag on your bag so that it is one of the first taken off of the aircraft.
Business class costs significantly more than premium economy class. Flying business class may be your best option if you are tall or need extra room to get comfortable on flights. If you have miles to redeem or can find a good deal, it will make your experience in business class even more worth it.
4. First Class
Most airlines offer first or business class, but only some offer both. Many airlines are seeing a decrease in the demand for first class and a rise in business class passengers. The reduction in first-class passengers is due to the gap narrowing between the two classes.
Some airlines, including Singapore Airlines and Qatar Airways, introduced a superbusiness class, which offers a minisuite similar to a first-class experience at a lower cost. Like first class, these superbusiness class minisuites close, giving travelers comfort and privacy. Even though first class is less common, airlines such as Air France, British Airways and Etihad still offer business-class and first-class seating options.
The number of first-class flight seats is significantly lower than in other classes, giving passengers a personalized experience. The luxurious seats are substantially larger than those in business class, giving you enough room to stretch out. Airlines like Emirates describe their first-class suites as hotel rooms in the sky. The amenities include a kit with luxury brand products, chef-inspired meals, plenty of snacks, unlimited drinks and alcohol, and even an onboard shower.
First-class domestic and international travel have significant differences. You'll find the most luxurious amenities on international flights. If you fly on a domestic airline, you should expect something other than a lie-flat bed or suite. In the U.S., most domestic airlines offer first class, which usually features a large recliner seat with extra legroom, more attentive service and complimentary beverages and meals.
Much like business class passengers, first-class travelers have a dedicated check-in line. There are usually few first-class travelers on a plane, so you can expect to breeze through check-in and boarding lines. As a first-class passenger, you can enjoy lounge access while you wait to board your plane.
The lounge access is often the same as business class and other travelers if the airport is outside the airline's hub. At an airline's hub airport, first-class passengers tend to have a dedicated lounge. This lounge gives passengers a luxurious experience with features such as a la carte dining, massages and even rooms for passengers to sleep between layovers.
How Does a Booking Code Relate to Flight Class?
A booking code may look like a bunch of letters and numbers, but it conveys a lot of information about your ticket type. Airlines have standard booking code practices that differ across airlines. A code from Delta Airlines will be different from Emirates, so you won't be able to compare the two. Understanding the rules and reading the fine print will help you to decipher your booking code.
There is no standard glossary travelers can use to decipher their booking codes. However, booking codes generally convey the following information to booking agents and travelers:
Whether you are flying first, business, premium economy or economy
Whether your flight is one-way or round-trip
Where you are departing from and where you are flying to
The date and time of your flight
Whether the fare is refundable
Booking cancellation details
Whether there are any change penalties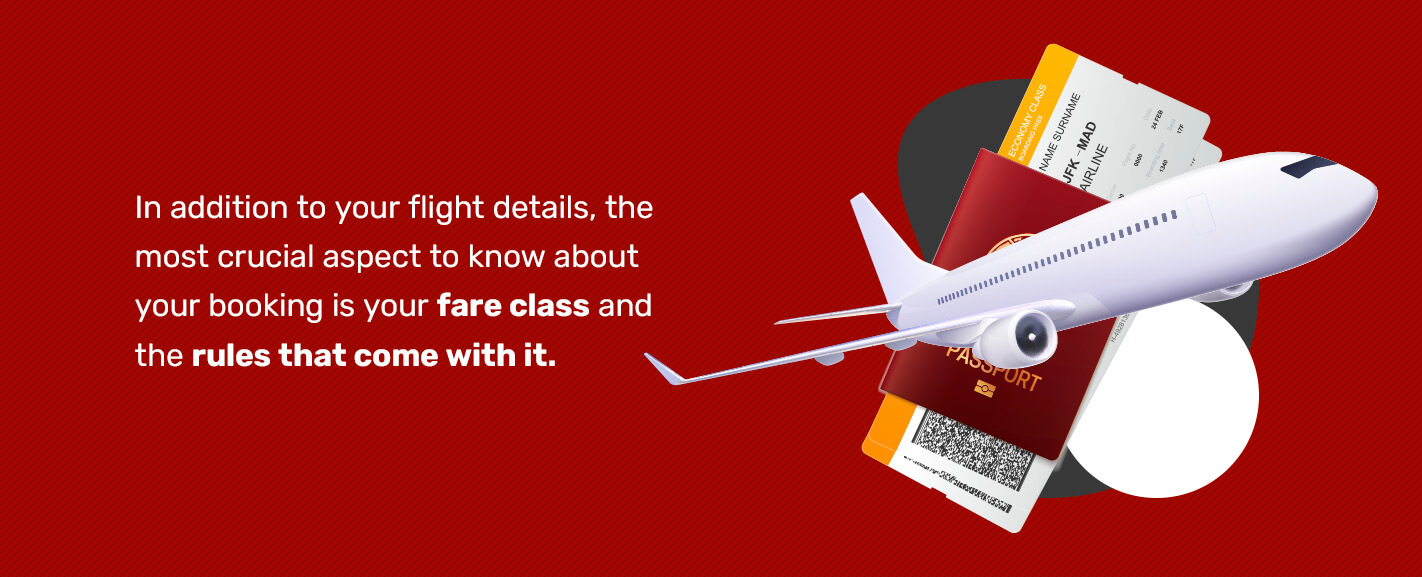 Booking codes differ across airlines and can take time to decipher and understand. In addition to your flight details, the most crucial aspect to know about your booking is your fare class and the rules that come with it. Airlines generally reserve specific fare classes for upgrades, and only some are eligible to earn points and miles. A discounted seat is a good deal, but there may be restrictions to the points you can earn. An airline may have first-class seats available on a flight, but if your ticket isn't in the fare class eligible for upgrades, you won't get bumped up to first class.
Knowing your fare class can help you understand what to expect when you travel with an airline.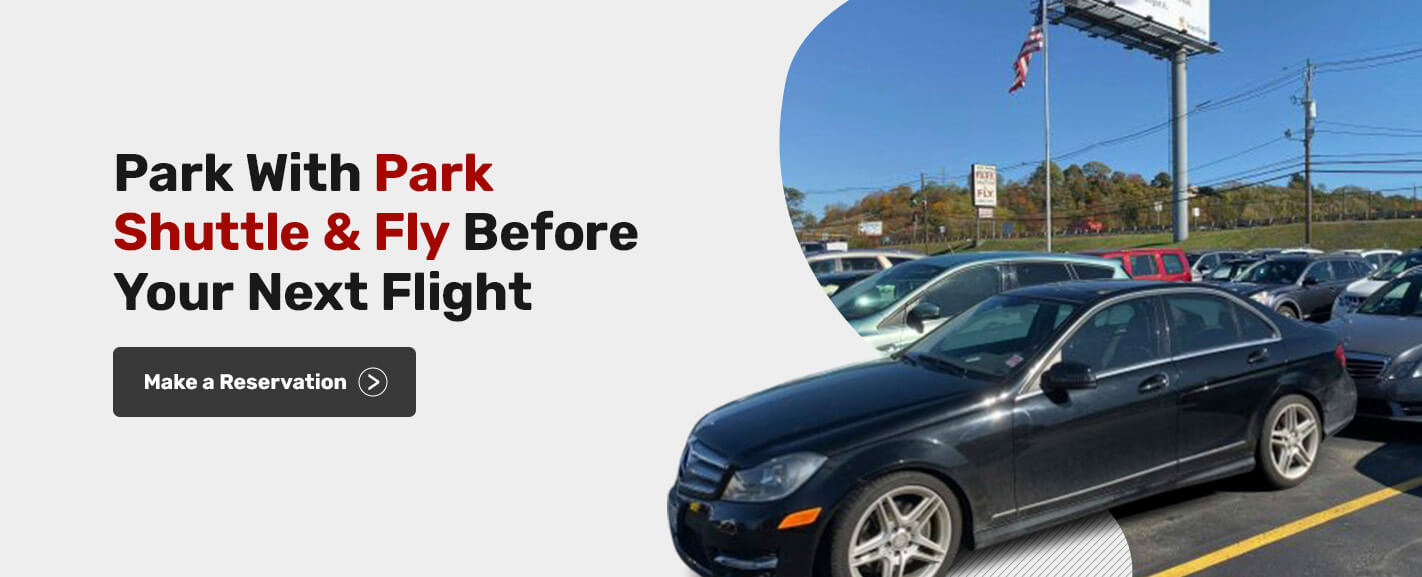 Park With Park Shuttle & Fly Before Your Next Flight
When you fly through Boston Logan International Airport, you can leave your car with Logan's Original Park Shuttle & Fly Since 1975 for convenient and quick parking close to the airport. We offer several fully fenced and secure parking options. Besides the convenience of close parking, we also offer valet service, luggage assistance, vehicle detailing service and a rewards program. You can park your car with us in a few easy steps— make your reservation online, arrive at our parking lot and provide your information, then board our quick shuttle to the airport.