On September 12, 2021, Boston Logan International Airport welcomed President Biden, who presented a $62 million grant to the airport as funding for its infrastructure project. The grant will cover improvements to the airport's Terminal E and vital terminal area roadways.
This grant is available because of the Bipartisan Infrastructure Law passed in November 2021. The law is part of President Biden's plan to rebuild America's crumbling infrastructure.
What Is the Federal Delegation for Supporting Infrastructure Projects?
The Bipartisan Infrastructure Law granted money to different departments to support infrastructure projects. This legislation aims to ease inflation, strengthen supply chains and improve the nation's ports, roads, airports and railway systems. Some of these projects include:
Upgrading airports and ports: The legislation will invest $17 billion in port infrastructure and waterways and $25 billion in airports to perform maintenance and repairs and reduce congestion and emissions. These upgrades will strengthen America's supply chain and support world competitiveness.
Rebuilding roads, bridges and railways: This legislation will invest $110 billion to repair roads and bridges and support transformational projects. Currently, 45,000 bridges and 1 in 5 miles of highways and major roads are in poor condition. Aside from rebuilding bridges, roads and railways, the legislation also includes the Safe Street and Roads for All program. The program supports projects that reduce traffic fatalities.
Expanding access to clean drinking water: Up to 400,000 schools and childcare centers and 10 million households lack safe drinking water. Investing $55 billion will expand access to clean drinking water in homes, schools, businesses and childcare centers across the country. Additionally, professionals will remove lead service pipes from water infrastructures.
Increasing access to high-speed internet: Broadband internet is a part of everyday life. Americans use it to stay connected, work, learn and manage their health. However, more than 30 million Americans live in areas with minimally acceptable internet speeds. Furthermore, broadband service costs are high. The legislation will invest $65 billion in broadband infrastructure deployment and help lower internet service prices. More Americans can then have access to and afford internet connections.
Investing in passenger rail: Rail will play a central role in the United States' transportation and economic future. Because of this, the legislation invests $66 billion in rail maintenance, modernization and expansion.
Upgrading the power infrastructure: With more than $65 billion invested in the power infrastructure, new transmission lines will facilitate the expansion of clean and renewable energy and lower electricity costs. In addition, the law will fund programs that support the development, demonstration and deployment of clean energy technologies.
Making the infrastructure more resilient: The legislation aims to make communities safer by investing more than $50 billion to protect against droughts, floods, wildfires, heat, weatherization and cyber attacks.
Building a national network of electric vehicle chargers: With a $7.5 billion investment, professionals can build electric vehicle chargers along highway corridors and within communities. The President hopes this will accelerate the adoption of electric vehicles.
Tackling legacy pollution: Countless former industrial and energy sites are sources of pollution. The legislation invests $21 billion to clean up Superfund and brownfield sites, cap orphaned oil and gas wells and reclaim abandoned mines. These projects will address legacy pollution, remediate environmental hazards and advance environmental justice.
Terminal E Modernization Project
Modernizing Terminal E connects Massachusetts to the rest of the world. The improvements to Terminal E will offer passengers a pleasant travel experience, allow for smoother airside operations, build electric passenger boarding bridges and increase energy efficiency. These improvements are expected to finish in the summer of 2023. The project will provide 1,000 new jobs during its construction phase.
The project plans to:
Complete 500,000 square feet of renovations and additions to the existing terminal building.
Build a new security checkpoint.
Expand the Arrivals Level curb.
Create four new international gates.
Expand the ticketing area.
Improve the outbound, inbound and transfer baggage handling processes.
Expand the baggage claim capacity.
Build state-of-the-art amenities, like diversified seating options, a sensory room and a pet relief area.
Improve vertical circulation.
Build a modern hold room and concession space.
Sustainability of Boston Logan Airport Infrastructure Project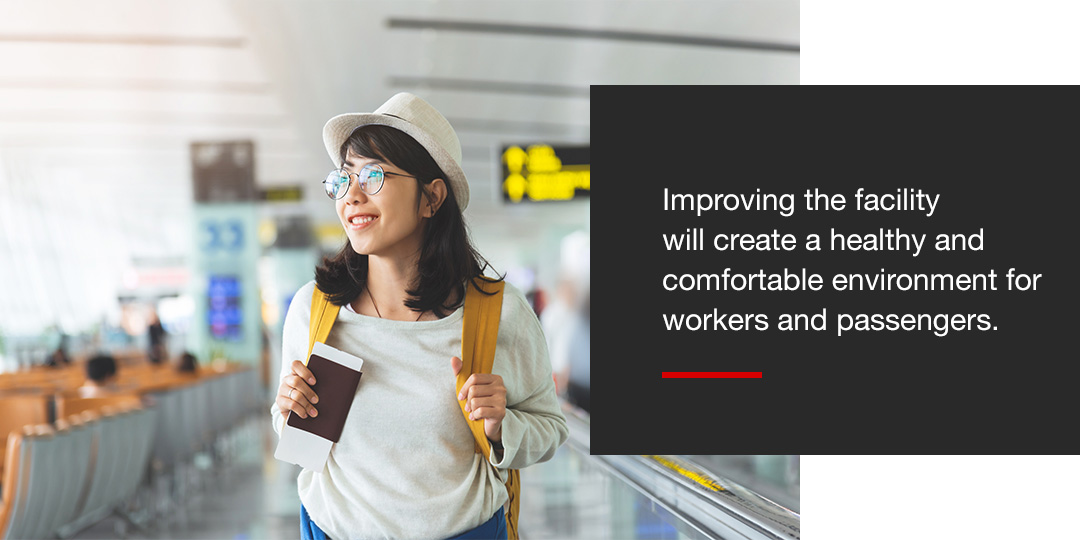 A primary goal of the Modernization Project is to create a resource-efficient, high-performance, sustainable and resilient terminal building. Improving the facility will create a healthy and comfortable environment for workers and passengers.
The project will reduce noise from nearby districts. It will also increase energy efficiency to at least 20% more than the Massachusetts Energy Code. Increased energy efficiency will help the terminal achieve the Leadership in Energy and Environmental Design Gold Certification.
Other sustainable benefits include:
Photovoltaic window glazing: This technology enables the conversion of light into electricity.
Improved water quality: The upgrades will improve the water quality at Boston Logan Airport.
New ventilation system: Boston Logan is also installing a new displacement ventilation system. This system boasts high ventilation effectiveness, improved thermal comfort and energy efficiency.
Glare controlling View® glass: This glass blocks excess light to minimize glare.
Increased water conservation: The project will increase water conservation.
Improved air quality: A new HVAC system will improve the air quality at Terminal E.
Less energy use: The improvements focus on energy efficiency.
Increased waste management and recycling: Project upgrades will increase waste management and recycling throughout the terminal.
Roadways Project
In addition to the Terminal E Modernization Project, the airport will undertake an improvement project for its roadways. The renovations will allow for smoother traffic flow, provide safer passenger roadways and reduce emissions. Curbside improvements will increase accessibility and provide access for passengers with disabilities.
The roadways project will repair the roadways at Terminal A and E's arrivals levels and between Terminals C and E.
Economic Impact of Boston Logan Airport Infrastructure Projects
In November 2022, there were 32,199 international flights out of Boston Logan and 26,304 domestic flights. The state's economic base depends on these flights. Thus, it's critical to maintain Boston's competitive edge with these infrastructure projects.
Aside from generating more money for flights, the projects will create jobs and grow the local economy. They will ensure travelers' safety, decrease delays, shorten lines and fix supply chain issues.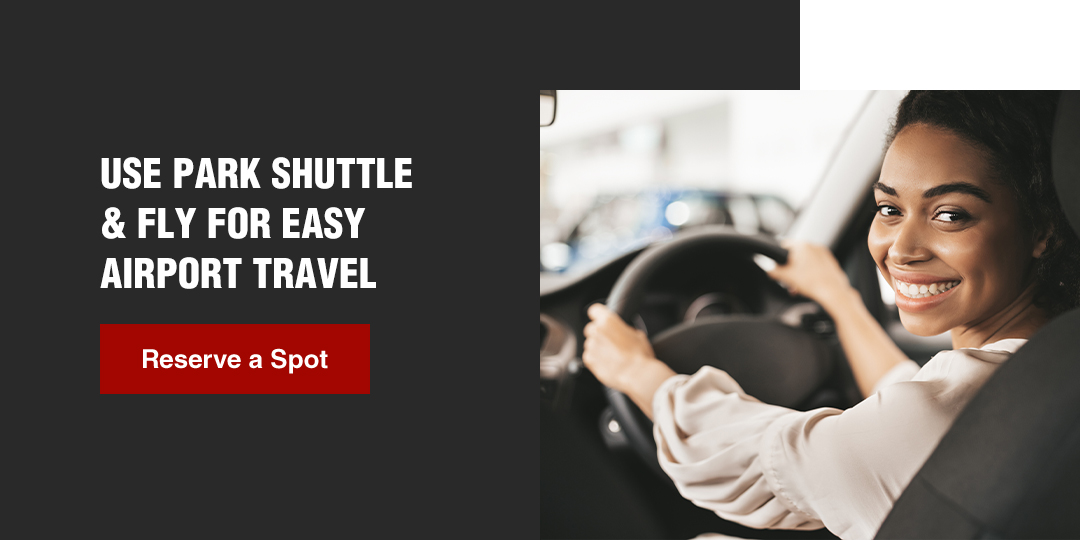 Use Park Shuttle & Fly for Easy Airport Travel
Since 1975, Logan's Original Park Shuttle & Fly has assisted travelers in avoiding long terminal walks and costly airport parking fees. You can relieve some of your travel stress by reserving off-site parking with us. Our facility is only 2 miles from the airport, so we can have you there in minutes with our complimentary 24-hour shuttle.
We also offer competitive rates and short-term, long-term, economy and prepaid parking options. No matter how long you need parking, we can help.