Posted On: May 2nd, 2016 Author: Renee Ciaramella
WHAT'S THE DIFFERENCE BETWEEN OFF-SITE AND ON-SITE AIRPORT PARKING?
On-site airport parking garages are owned and operated by an airport and located near airport terminals. They typically come with daily, short, and long term parking options. On-site airport parking is usually the most expensive parking option due to the proximity it gives travelers to terminals.
Off-site airport parking garages or lots are not located on the airport's grounds. This parking option allows travelers to park in their lot for a set fee and use shuttle service to be taken to and from the airport. Off-site airport parking typically offers lower rates than on-site airport parking and also takes the hassle of navigating airport traffic off of travelers.
PROS & CONS OF ON-SITE AIRPORT PARKING
Airports are busy places. Millions of people cycle through an airport trying to get to almost as many destinations. They shove their way to the front of the line. They wait impatiently trying to get through security. People are running in a desperate attempt to get to their gate in time. Airports can be stressful, crowded and difficult to navigate.
To put this in perspective, consider the statistics for Logan International Airport in Boston. More than 33 million passengers traveled through the airport on nearly 400,000 flights in 2015 alone.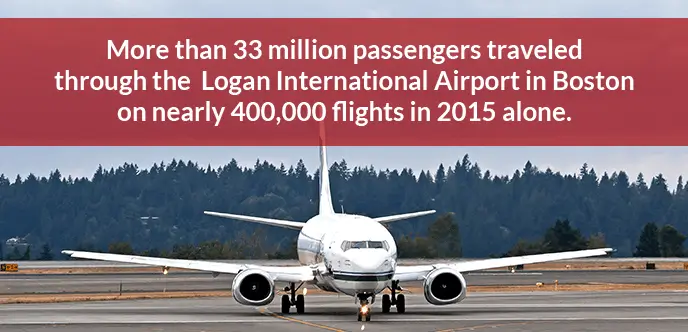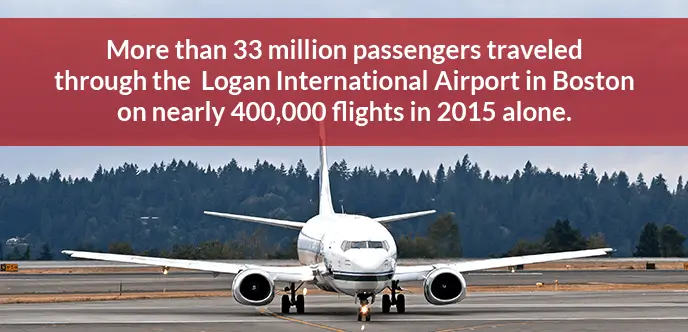 This number gets even bigger when we consider the number of airline passengers nationally. According to the United States Department of Transportation, around 850 million passengers took to the air in 2014. In the same year, the largest domestic airline carried more than 120 million passengers.
For anyone getting ready to travel by air, finding a safe, easy, cost-effective way to park a vehicle for the short or long period of time is very important.
Many travelers choose traditional on-site airport parking for air travel for several reasons, including:
Familiarity: On-site airport parking has traditionally been the primary parking option for air travel. This means that many people were exposed to this parking option during family vacations or other air travel experiences, giving the traditional airport parking process a familiar feel.
Trust: Due to the facility being run by the airport, many traveler's have heightened trust in the security and reliability of onsite airport parking.
Proximity: Onsite airport parking's proximity to terminals is a primary motivator for traveler's who want to get to and from their flight in a quick and easy manner.
The detracting factors of on-site airport parking include:
Price: On-site airport parking is the most expensive airport parking option due to its proximity to terminals.
Traffic: Parking on an airport's campus means travelers will be located in the middle of a high-volume traffic area which they will have to navigate in and out of.
Availability: Available parking spaces are another uncertain element that comes with on-site airport parking. On a hectic day, securing a spot can add additional stress to a time-sensitive situation.
PROS & CONS OF OFF-SITE AIRPORT PARKING
Off-site airport parking provides travelers with an alternative option to parking at an airport. Many travelers choose off-site airport parking for reasons including:
Off-Site Parking Helps You Save Money


The biggest benefit to off-site parking is affordability. Because airports cost so much money to run, they need to find every possible revenue stream they can. They have enormous staffs that need to be paid. They have highly specialized security agents that need to be trained. They have maintenance costs that would make your head spin. They have added more and more fees to items associated with air travel.
Companies that are separate from the airport only have to cover the costs of running a parking lot. That's why they can pass on significant savings to you while also providing you with more convenient services. With smaller staffs to support and lower maintenance costs, off-site airport parking lots can provide lower rates for travelers.
For example, our parking rates at Park Shuttle & Fly in Boston are $1 less for day parking and $32 less for a week of parking. Massport, the parking company for Logan International Airport, has flat rates that result in customers paying more for airport parking.
Off-Site Parking Also Offers Coupons
While the base price of off-site parking is already affordable, many offsite companies, like Logan Airport's Park, Shuttle & Fly, offer a reward program for repeat customers.
Those who fly consistently will benefit from a rewards program, not unlike a frequent flyer card, as repeat use yields more cost-saving opportunities.
Coupons are easy to find. Many are listed on the Internet, with simple promo codes that just need to be plugged in when you are making your reservation.
So if you know you are going to need parking in the near future, don't be afraid to seek out some good deals.


You Can Reserve Your Spot
For many experienced travelers, being able to reserve a spot in the lot is the best part of using off-site parking.
When you arrive at the airport and try to use traditional parking, you are subject to the luck of the draw. Sure, you might get a great spot, but you might just as easily be stuck in the farthest-flung spot in the whole parking structure.
Then, when you do get a spot, you have to remember your level number and your parking section. If you forget to write that down, you are liable to spend hours searching for your car when you return from your travel.
When you make a reservation, you have a spot. You don't have to spend half an hour circling the parking garage hoping to find a spot within reasonable walking destination of the terminal. Off-site parking options offer shuttle service to and from the airport so that you won't have to worry about how close your car is parked to the airport. Plus, when you do return, a bus driver will take you to the row your car is parked in so that you can be on your way home.
You Will Receive Personal Assistance
How many traditional airport parking structures offer friendly assistance? Not sure where your terminal is?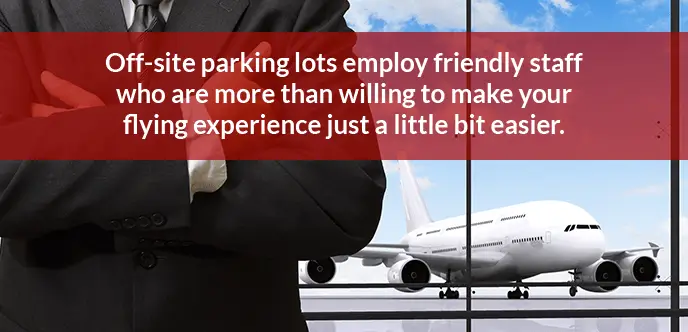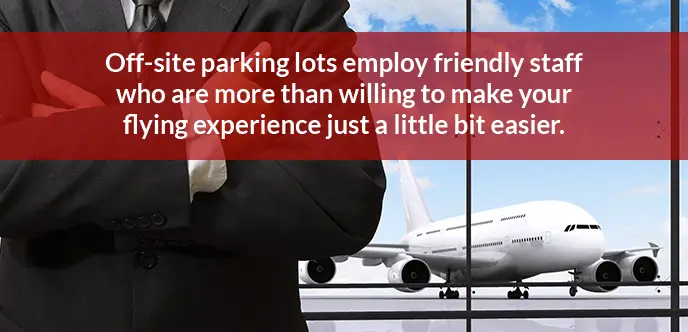 Want to prepay conveniently online for your parking ticket? Need a hand with some heavy luggage?
If you're lucky, you may find a grouchy toll booth operator who is none-too-pleased to have to get out and help you get to where you're going.
Off-site parking lots are different. They employ friendly staff who are more than willing to make your flying experience just a little bit easier.
When you arrive to park, an attendant will check you in. Then you'll board the shuttle. The driver will ask you what airline you are using and will then drop you off at the proper terminal.
If you have heavy luggage, they will even give you a hand getting it off the shuttle. This kind of service is unheard of in most parking structures, but at off-site parking lots, this kind of service can be expected.
You Will Also Get Valet Service
Are you tired of tying to carry your luggage long distances from your car to the terminal? The best part of off-site parking is the valet service.
Let's take Park, Shuttle & Fly as an example of how valet service works. When you arrive, you will drive up to the service window. After giving the attendant a little information, you hand them your keys and board the shuttle.
Again, this eliminates one of the biggest headaches of airline travel. Although airports often offer luggage carts for use while you are in the terminal, they are rarely available in the parking lot. The further you park from the airport, the less likely you are to have assistance of any kind.
With valet parking, you eliminate this hassle. Just pull your bags out of the trunk of your car, place them on the shuttle and you are on your way. No need to break a sweat or your back trying to get to your flight on time.
Additionally, a valet is literally a professional parker. When you park your car in a traditional lot, you don't know how many people will be going in and out of the space next to you. While most people can park their car in a spot without any problem, any trip to the grocery store will tell you some people can't be trusted to park without dinging your door are denting your bumper.
Valet parking may seem like a small thing, but when you get used to it, you realize it makes your life a lot easier.


Ultraconvenient Shuttling Makes Getting to the Gate Easy
Speaking of the shuttle, it is super convenient. Because off-site parking lots are small, your shuttle will not be overcrowded nor will it need to make repeat stops as it picks up every possible passenger along its route.
All these conveniences are also time-saving measures. Because the shuttle goes straight from the lot to the terminals, it gets you there quicker, even if it is actually traveling a longer distance to get you there.
Plus, the shuttle takes you right to the check-in counter for you airline. You don't have to worry about finding the correct desk. Just tell the driver what airline you are flying and you will be dropped off exactly where you need to be. Not only does this save you time, but it also makes getting your luggage to the right place easier with far less heavy lifting.
When you return to the airport, you can simply call the service and in five to seven minutes, a shuttle will be back to pick you up and return you to your car.
Seriously, with such accommodating service, will you ever walk the long distance to your car again? If you are exhausted from your flight, what better way to get to your car?


Robust Security Protects Your Car
Everyone knows that their car is at risk if left for any amount of time in an airport parking lot. No amount of floodlighting can completely ensure you won't be robbed while your car sits there.
That's why experienced flyers always hide anything of value or make sure to leave them at home. They don't want to tempt anyone to choose their car over any others.
Could there be a better way? If you instead had the option to park in a full-service, monitored, manageably sized lot, wouldn't your car be much safer?
With a service like Park, Shuttle & Fly, your car will receive much more attention while you travel.
Fenced in and always under the watchful eye of an attendant, you can relax while you fly, knowing that no one is breaking into your car and stealing your things.
Easy Connections to Your Hotel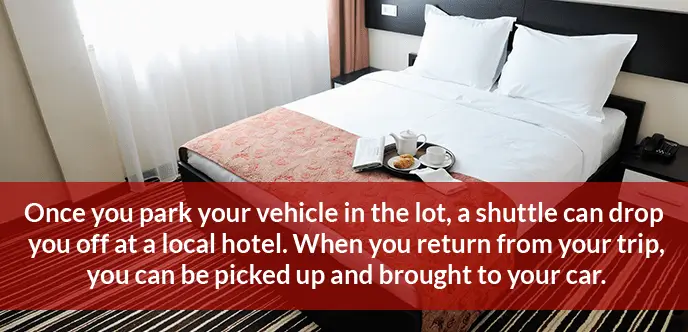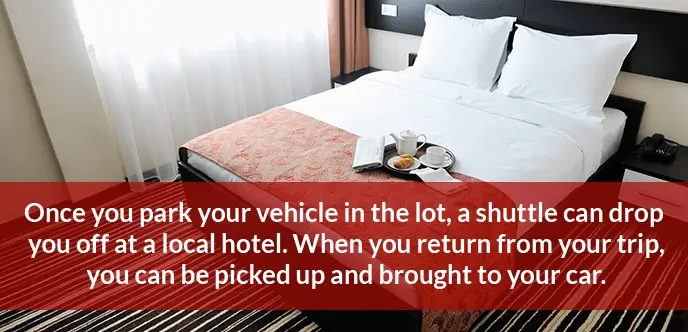 While many hotels provide a shuttle service, wouldn't it be much easier if you could use one service for all your travel needs to and from the airport?
A lot like Park, Shuttle & Fly also provides complimentary shuttle service to area hotels. Once you park your vehicle in the lot, a shuttle can drop you off at a local hotel. When you return from your trip, you can be picked up and brought to your car.
What kind of parking lot helps you take care of the many unexpected inconveniences that are all too common with air travel?
Only an off-site parking facility. In fact, it can be the cheapest way to get from the airport to your hotel.
You Can Even Take Advantage of Exclusive Service Options
There are some perks that are almost too good to be believed. Whoever head of a parking lot that also offers car detailing?
However, Park, Shuttle & Fly does just that. We offer a number of car wash packages that ensure when you get back to your car after your trip, it is in better shape than when you left it.
Do you just want a wash and a wax? That's an option. Do you want a full detailing? That's an option too.
It is this kind of care and attention to detail that only an off-site parking facility can provide.
HISTORY OF TRADITIONAL AIRPORT PARKING
Since the beginning of airline travel, people have been driving their cars to the airport and leaving them there. Unsurprisingly, this meant airports had to create space for all of these cars to park. Thus, the infamous airport parking lot was born.
As airports grew, so too did the parking lots. Many became parking structures, with complicated garages built in order to stack countless cars on top of one another. Spirals grew into the sky as architects tried to figure out how to maximize the number of spaces while simultaneously controlling traffic and ensuring parkers could not leave without paying.
Speaking of paying, as parking structures grew, the price of parking grew too. In order to compensate, airports went to great lengths to make the price seem fair. Express shuttles would take parkers straight to their check-in counters. Security guards and ample lighting tried to ensure that cars were safe. Unfortunately, these large parking structures still couldn't provide enough spaces for everyone who was driving to the airport.
Thus, traditional airport parking could no longer keep up. Even with shuttles, passengers who opted to park in less convenient but more affordable long-term parking lots had to build in wait times in order to ensure they made it to their flight on time. Those who attempted to park closer to the airport were hit with astronomical hourly or daily rates, and yet the walk to the terminal was still long – even longer if they had to carry lots of luggage.
Still, thieves succeeded in stealing items out of cars, despite increased security. The vastness of airport parking lots makes adequate security an impossibility. There will always be blind spots and smart thieves will always know exactly how to exploit them.
Needless to say, airport parking lots are no longer cutting it. The more frustrating parking has become, the more passengers are clamoring for a better parking solution. Thankfully, off-site parking developed as a superior alternative to the woes of traditional airport parking.
SPECIFICS ABOUT USING PARK, SHUTTLE & FLY AT LOGAN INTERNATIONAL AIRPORT
In the end, we recommend you use off-site parking services regardless of where you are flying. If you are traveling through the Boston area, there is only one parking service that gets you all the perks discussed in this article.
Park, Shuttle & Fly has been perfecting cheap airport parking near Boston Logan Airport since 1975. Since then, we have continued to innovate our services while keeping true to the ideals that we were founded upon. We want to make flying easier while passing value on to you.


If you haven't already, consider signing up for our rewards program. If you are a frequent traveler, this is the best way to save money. Plus, if you need to save your receipts for your expense reports, our rewards program automatically saves your old receipts along with your account profile. That way, if you need a receipt unexpectedly, all you have to do is login to your account and download one.
Once your travel date is set, head over and make a reservation. It's simple. All you do is pick your check-in and check-out dates and your spot is reserved. Make sure to include your estimated arrival times to help us better schedule your shuttle service.
Do you want to get your car washed while you are gone? Schedule this service ahead of time and you can come back to the luxury of a squeaky clean car.
After that, you are all set for your arrival. When you do arrive, meet with an attendant, make sure they have the correct information and then board your shuttle. Once you arrive back at Logan, give us a call and we will send a shuttle to pick you up right away.
Using our lot is easier, safer and more affordable. We provide you with service and care that is unparalleled. We allow you to travel with peace of mind and make getting back home easier once you return.
We care about parking so you can park and not give it a second thought.
So if you are traveling through Logan Airport and making airport parking reservations in BOS, give Park, Shuttle & Fly a try. We are confident that after you've used our service once, you will never use a traditional airport parking lot again.