Posted On: January 1st, 2020 Author: Renee Ciaramella
Boston's Logan Airport is one of the 20 busiest airports in the country, serving tens of millions of travelers each year. Located in East Boston, Logan Airport is about four miles from the center of the city. It's one of the main hubs for Delta Air Lines on the East Coast and operates as a key airport for JetBlue.
In the past few years, Logan has undergone extensive renovations to both its terminals and the roadways that surround them. If you know you're going to be at Logan sometime in the future — either leaving for some far-off destination or during a layover as part of a longer trip — Logan International Airport offers a wide variety of restaurants, shops and other amenities guaranteed to please any traveler.
Here are a few tips to help you find the important information any traveler will need to know during their stay here.
Table of Contents
Terminal Guide for Logan Airport
Boston has four terminals in operation: A, B, C and E. Below is a detailed Boston Logan terminal map with all of the airlines located at each terminal.
Logan Airport is quite large, but is relatively easy to navigate. Walkways connect terminals B, C and E, and there are regular shuttle buses that go to every terminal, as well as the airport MBTA station, the Logan boat dock and economy parking. Logan shuttle buses run 24 hours a day, stop at each terminal every 15 to 20 minutes and are wheelchair-lift equipped.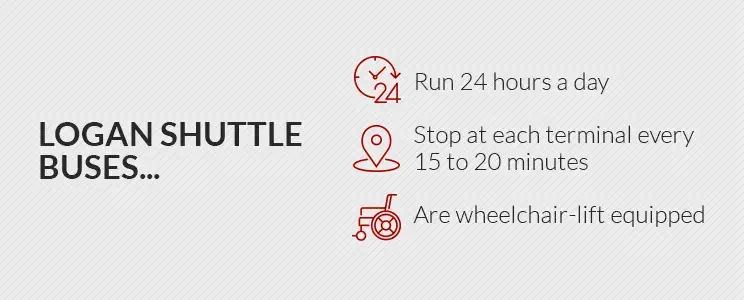 Terminal C is probably the busiest of all Logan terminals, and Terminal E services only international flights and includes U.S. Customs and Immigration facilities. Familiarizing yourself with the airline terminals and the Logan Airport pick-up spot is important for your safety. If someone is dropping off or picking you up at Logan Airport, you can do so at the central parking facility. Interested in learning more about Boston Logan airport terminals? Check out our Logan airport parking map below for more details.
What Terminal Is Delta at in Boston Logan Airport?
Terminal A holds a few of the airlines with larger fleets, including Southwest and Delta Air.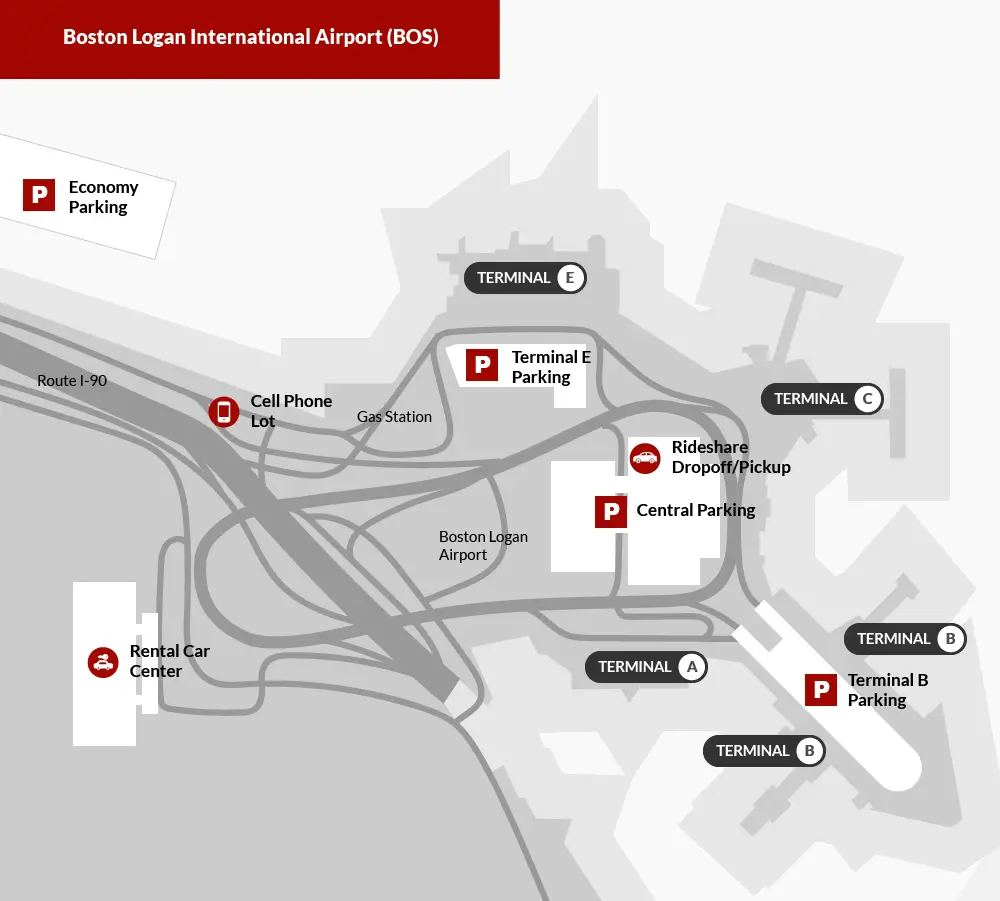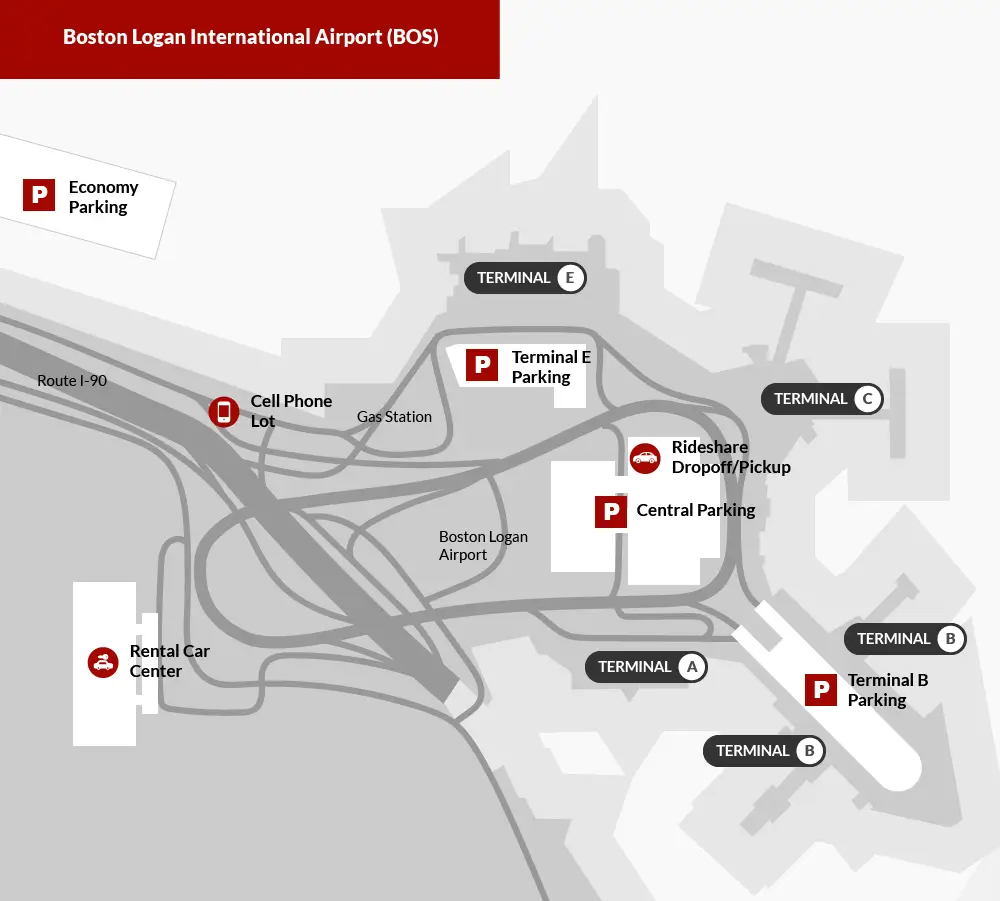 Terminal A is home to the following airlines:
Delta Air Lines
WestJet Airlines
What Terminal Is American Airlines at in Boston Logan Airport?
At Terminal B, American Airlines lands regularly at Boston Logan. This airline has the largest fleet, followed closely by United Airlines.
Terminal B is home to the following airlines:
American Airlines
Alaska Air
United Airlines
Southwest Airlines
Air Canada
Spirit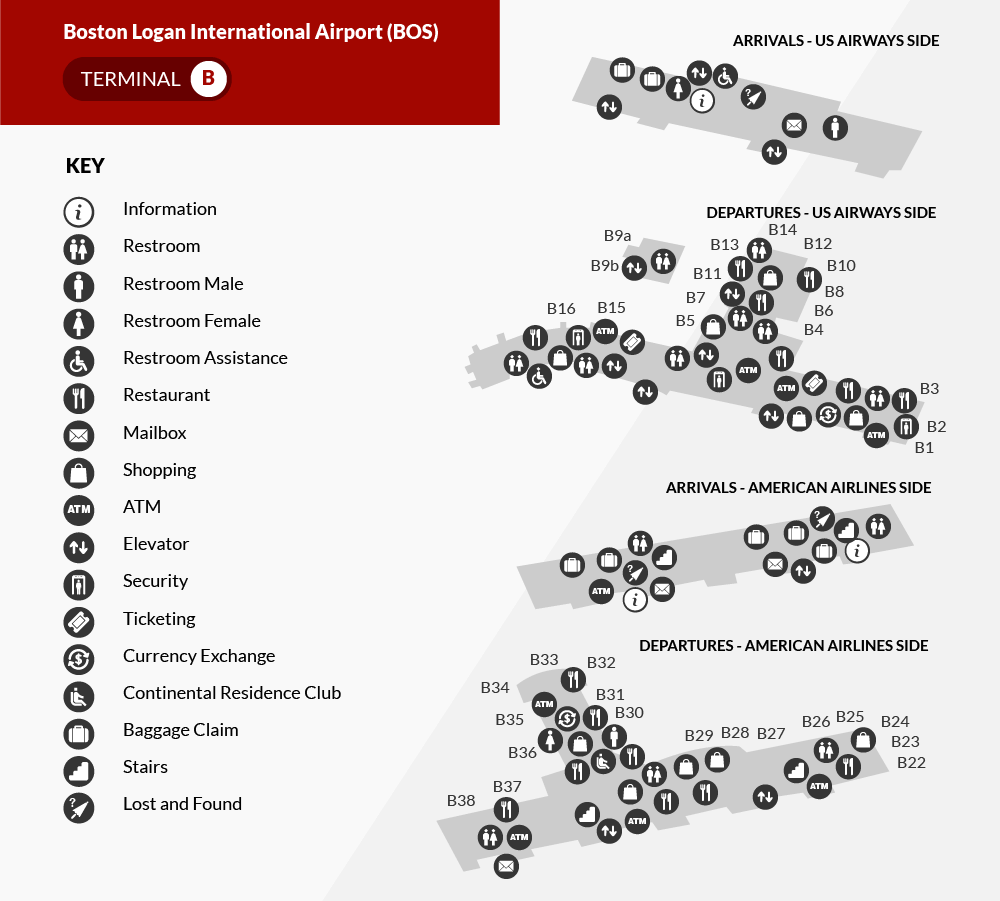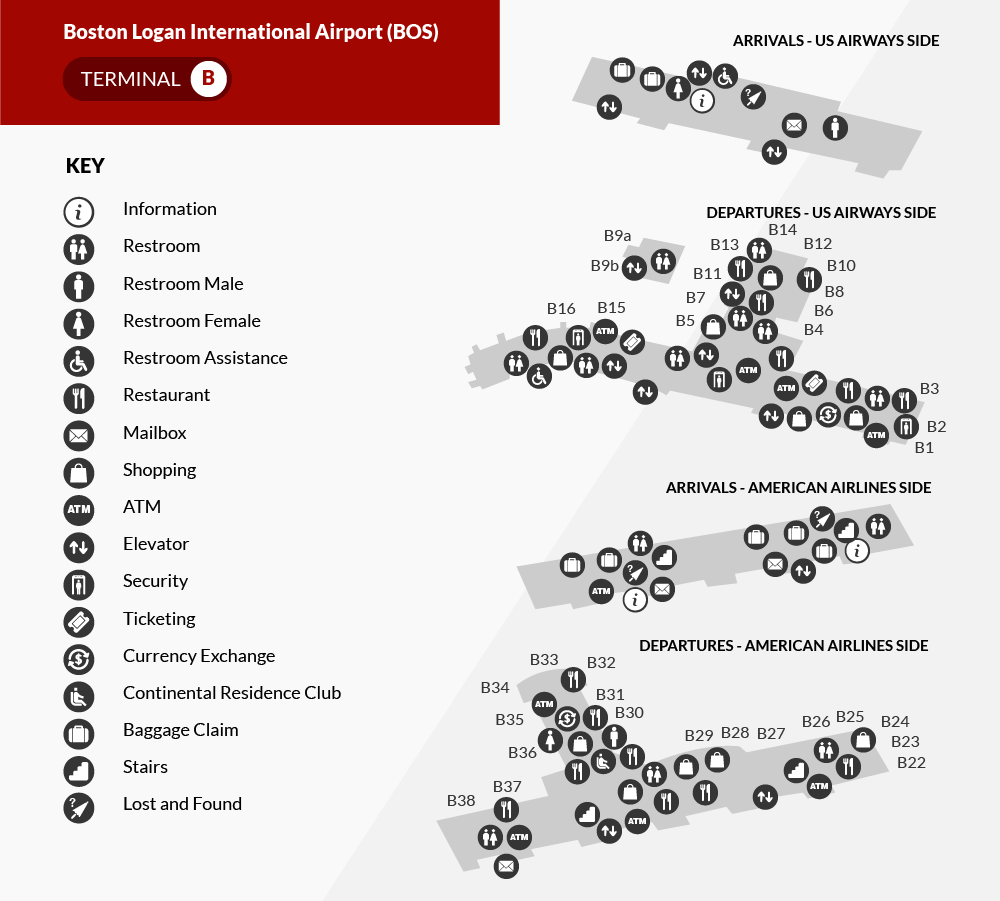 What Terminal Is JetBlue at in Boston Logan Airport?
At Terminal C, JetBlue is one of the most popular airlines. If you're looking for JetBlue's international flights, however, find the next terminal instead.
Terminal C is home to the following airlines:
JetBlue Airways Airlines
Aer Lingus Airlines
TAP Air Portugal Airlines
Alaska Airlines
Virgin America Airlines
Cape Air Airlines
What Terminal Is JetBlue International Flights at in Boston Logan Airport?
Terminal E is where you will find many international flights and the majority of exclusively international airlines. JetBlue and American Airlines both conduct international flights from this terminal.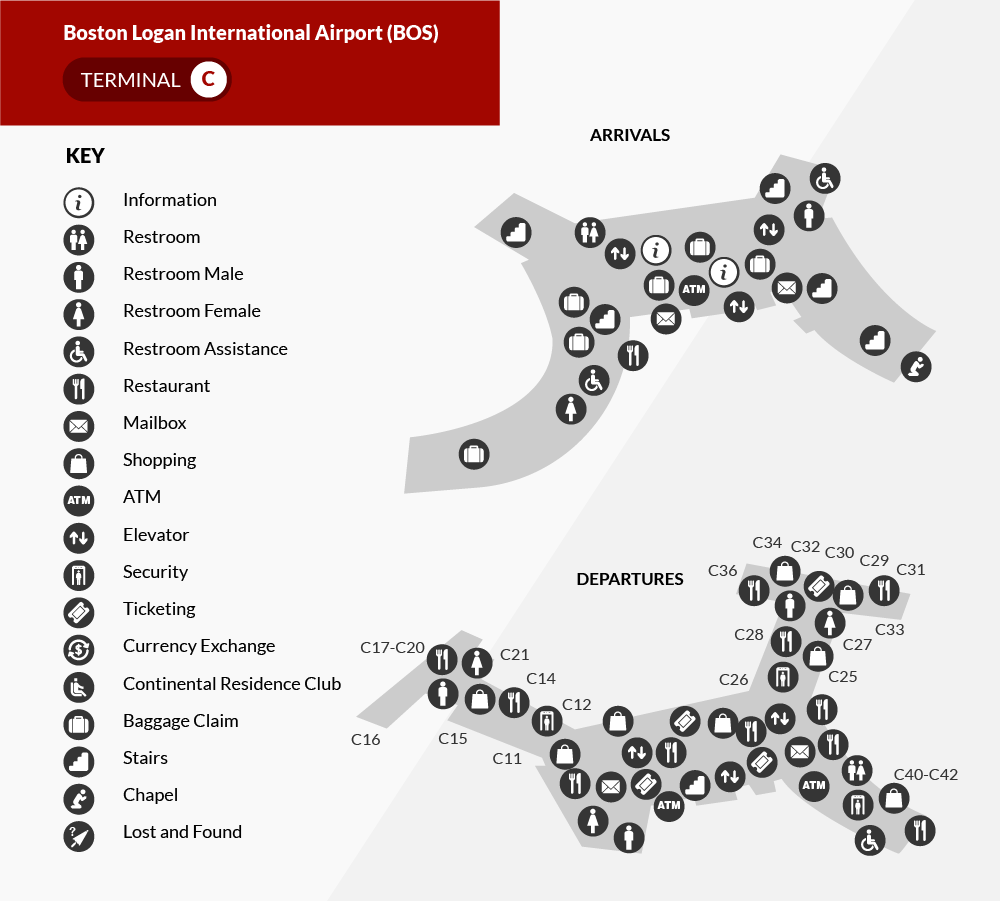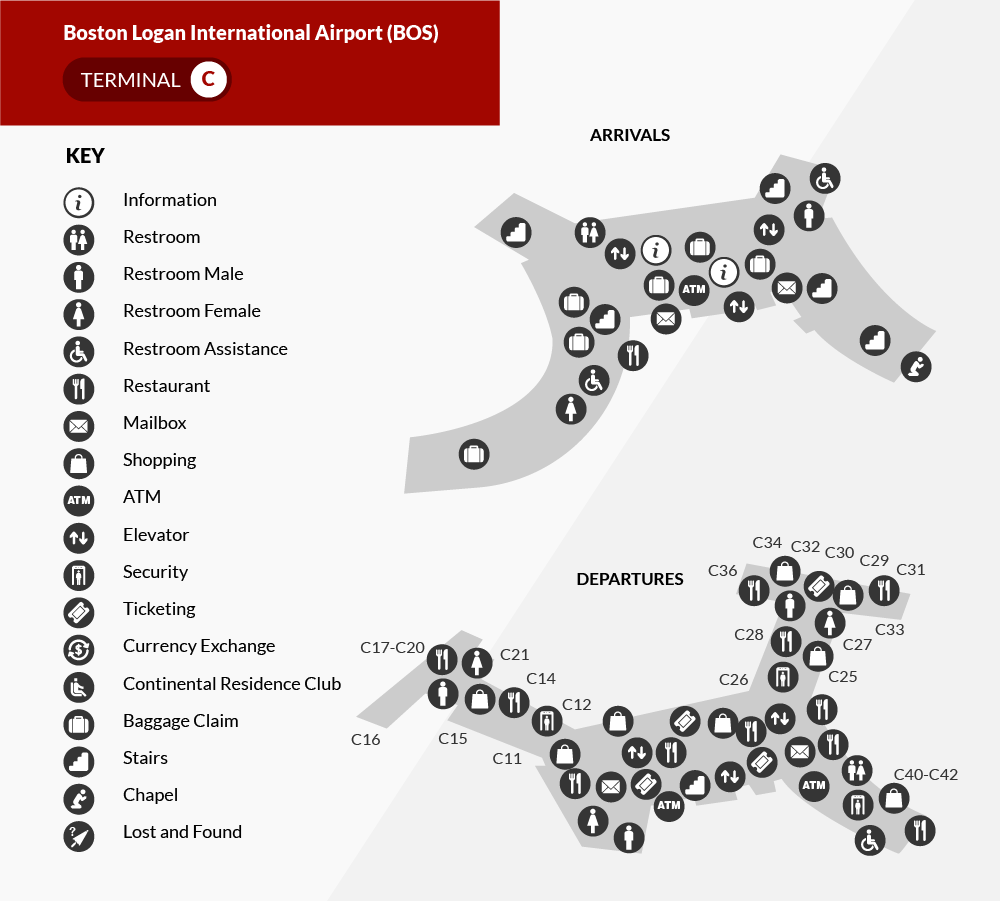 Terminal E is home to the following airlines:
Virgin Atlantic Airlines
El Al Airlines, Porter Airlines
Swiss International Airline
COPA Airlines
Qatar Airways Airlines
Frontier Airlines
Icelandair Airlines
Lufthansa
Sun Country Airlines
LATAM
SAS Scandinavian Airlines
Delta Air Lines international flights
Norwegian Air Shuttle Airlines
TAP Air Portugal Airlines international flights
Cathay Pacific Airways Airlines
Allegiant
Hawaiian Airlines
Turkish Airlines
JetBlue Airways Airlines international flights
Air France
British Airways Airlines
Emirates Airlines
Iberia Airlines
Japan Airlines
Alitalia Airlines
American Airlines international flights
If you're interested in finding out more about which Logan terminal you will either be flying into or out of, or where is baggage claim at Boston Logan, you'll find a detailed Boston Logan Airport map with each terminal here.
Parking at Boston's Logan Airport
If you'll be flying out of Boston Logan, knowing where to leave your car is essential. Below are some great parking options at both the airport and an offsite location:
Onsite Parking Options
Logan Airport has two main parking areas: the central parking garage and the economy parking lot. You can reach all terminals from the central parking garage. Parking is also available in the Terminal B garage and in a smaller lot next to Terminal E. If you choose the central parking option, anticipate walking with your luggage to the nearest terminal as shuttle service is not provided. Rates for parking in the central parking garage start at $38 a day.
Massport's economy parking area is another option for airport parking. Located on the airport site, economy parking starts at $29 a day and has shuttle service every 15-20 minutes. The economy parking facility has more than 2,700 spaces, which can fill up quickly, and is at the intersection of Service Road and Prescott Street. If you plan to travel alone, this option can pose some safety concerns due to its distance from the main terminals.
Offsite Parking Options
If you're looking to avoid the congestion of airport traffic upon arrival and departure, consider a parking option that is offsite but still close to Logan Airport.
Park Shuttle & Fly is located within a 10-minute shuttle trip from Logan Airport making it the closest option for offsite airport parking. Due to its convenient location, you can expect no drawbridge delays on your shuttle ride to the airport. Travelers can also reserve parking ahead of time and even take advantage of car detailing services so that their day of departure is stress-free,and their arrival is greeted with a clean car.
Daily parking rates are $28. If you need a long-term parking option for Logan Airport, you can save over $70 at Park Shuttle & Fly vs. at Logan's terminal parking, which offers no weekly rate.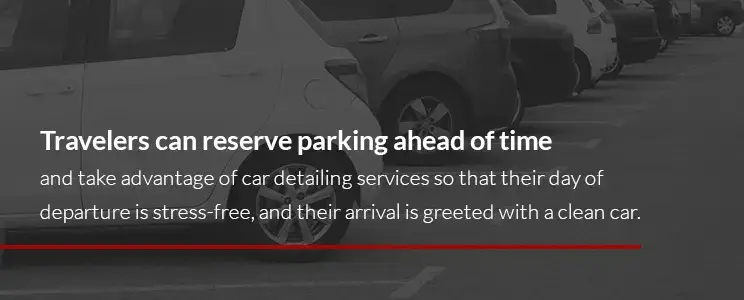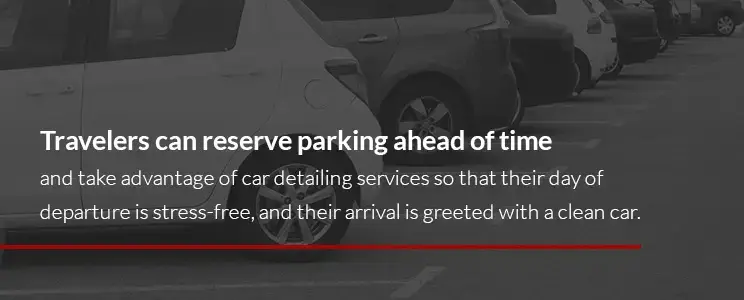 How Early Do I Need to Get to Logan Airport for My Flight?
The Transportation Security Administration, or TSA, staffs and operates all checkpoints at Logan. Massport, which operates Logan, works closely with the TSA to keep lineup times no longer than 15 minutes. Slowdowns and holdups, however, can occur from time to time, so you should arrive for your domestic flight at least two hours before departure, and you should give yourself at least three hours before an international flight.
When going through a gate at Logan Airport, you will need to bring your valid government ID and boarding pass. Minors require a boarding pass without a government ID, but they must be accompanied by an adult with a gate pass when going to their gate. For more information about gate passes or how to obtain them, please contact your airline.
Is There Anything I Can Do to Help Speed Up My Time in the Security Line?
Yes — pack smart. It will help you get through the checkpoint much faster. Layer items in your luggage, as this makes it easier for TSA officers to survey your belongings if they select you for a random check.
Approaching the checkpoint isn't the time to start pulling out your boarding pass and your photo ID. You should already have those things in hand when you walk up to the checkpoint. Have your jackets and shoes ready for inspection, and put your cell phone and keys in your carry-on bag. Remember to remove your laptop and place it in a bin.
Is Boston Logan Airport Open 24 Hours a Day?
Logan's pre-screening area is open 24 hours a day. However, once the final flight for the day has landed, anyone left inside the terminals must return to the pre-screening area until TSA reopens the screening checkpoints the next day. TSA normally reopens checkpoints about an hour before the day's first flight.
Can You Sleep at Boston Logan Airport?
Sleeping in Boston airport is allowed in the pre-screening area, and many travelers do take the opportunity to get some rest there. However, we wouldn't recommend it. Most of the seats in the pre-screening area have armrests, and there are bright lights and constant noise.
Logan Airport authorities do provide stranded passengers with cots during major weather events that cause flight cancellations. However, if you're planning to stay overnight, we would recommend you book a room at the Hilton Boston Logan, which you can access through either Terminal A or Terminal E.
Can I Wait at the Airport Overnight?
If you are waiting for an early morning flight and want to make sure you arrive on time, the only place that remains open in the airport overnight is the pre-screening area. You would have a long wait with public restroom access but little else. The restaurants and shops have regular hours, and the rest of the airport closes at 9 p.m.
You would also have to remain in the pre-screening area until the security checkpoints open back up at 4 a.m. Staying at the Hilton Boston Logan would ensure that you have a comfortable bed to stay in just a short distance away from the airport.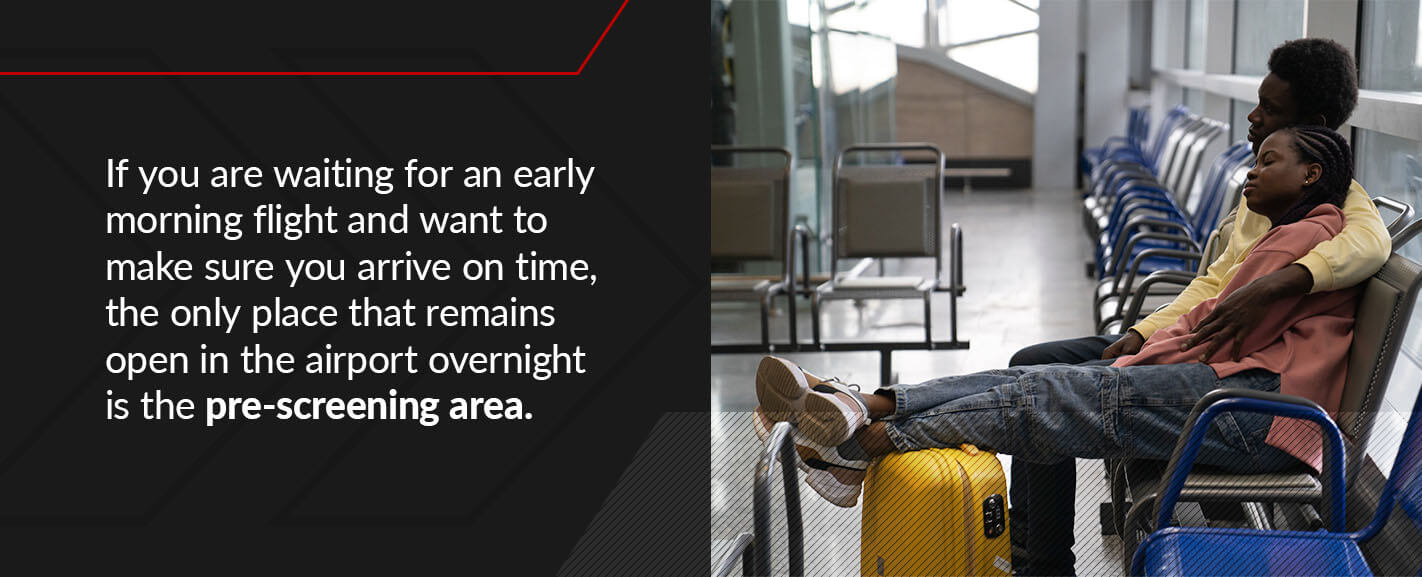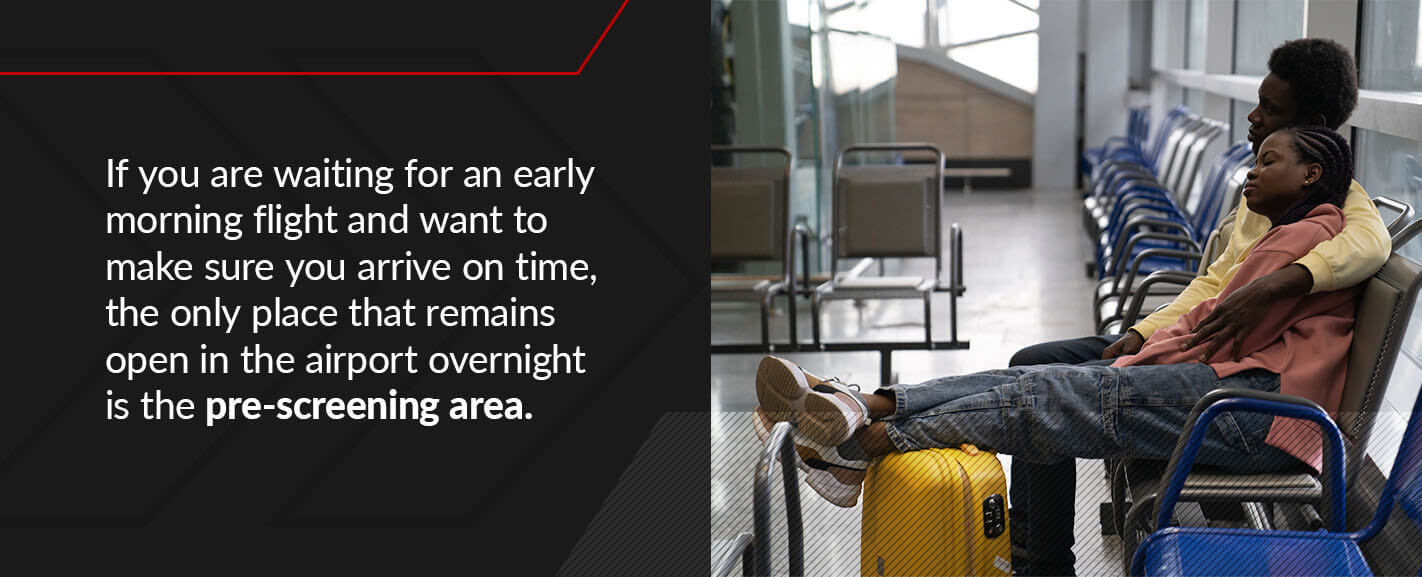 How Long Can I Stay in the Airport Lounge?
The lounges have a maximum stay of three hours, and you can wait there until they close at 11:30 p.m. Children below the age of 2 get in for free with an adult traveler, but otherwise, the cost of lounge passes varies.
Can I Stay at the Airport After Arrival?
After you arrive from a flight, you can visit the restaurants or shops behind the security checkpoint or stay in designated areas so long as they are open. You can stay at the Hilton Boston Logan for accommodations. Once everything else closes, the pre-screening area remains available if you plan to stay there overnight.
Amenities at Boston Logan International Airport
Stuck waiting for a flight? Luckily, there's no shortage of things to do on a layover at Boston Logan Airport. You'll find a wide variety of shops and restaurants at Logan Airport, guaranteed to help you relax and enjoy yourself even on the most extended layover.
Restaurants at Logan Airport
Logan Airport offers so many more wonderful restaurants to try. It would take you almost three months to eat in every one. You'll find everything from familiar fast-food giants like McDonald's and Wendy's, to well-known coffee joints like Dunkin' Donuts, to many fine dining establishments.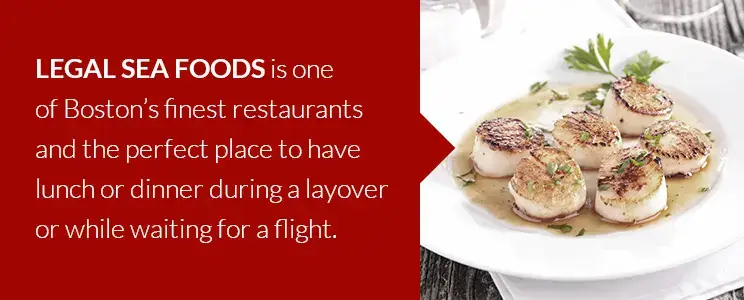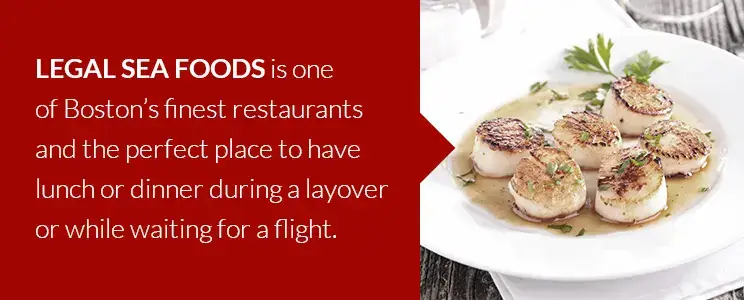 A complete list of all the restaurants located at Logan Airport, along with the terminals where you can find them and their hours of operation, is available right here, and below are some top picks:
1. Legal Sea Foods
This is one of Boston's finest restaurants and the perfect place to have lunch or dinner during a layover or while waiting for a flight. Even better, Legal Sea Foods is easy to find, since it has locations in Terminals A, B and C.
2. Wpizza by Wolfgang Puck
In Terminal B, Puck is an Austrian-American celebrity chef who was the recipient of a James Beard Foundation Award for Outstanding Chef. Wpizza is known for its customizable wood-fired pizzas, sure to delight most any palate.
3. Lucca Restaurant
If you're a sports fan, you should give Lucca in Terminal B a try. You can watch games on the TVs here while you eat burgers and Italian cuisine and have a beer.
4. Stephanie's
When you're past the security checkpoint, your dining options remain plentiful. If you're in Terminal E, try Stephanie's for some southern homestyle cooking. You can dine on hearty BBQ and fried chicken here.
5. Monica's Mercato
If you're looking for a good sandwich, visit Monica's Mercato, also in Terminal E. This Italian deli has a variety of meats, cheeses and fresh-baked bread.
Shops at Logan Airport
After you've had a bite to eat, shopping is one of the best things to do at Logan Airport. It's easy to move from terminal to terminal once you're past the security checkpoint, and you can visit a variety of great stores.
You'll find traditional shops like duty-free stores if you're taking an international flight and numerous new stands where you can get the latest newspaper, magazine or bestselling book, along with a drink or snack. Below is a list of some favorite shops for travelers:
Brookstone: If you're in the mood for something more eccentric, there is Brookstone in Terminal A.
Fifth & Sunset: Need new sunglasses for your upcoming adventure? Visit this accessories shop in Terminal B.
iStore: On a visit to Terminal C, remember to check out Apple's iStore.
Natalie's Candy Jar: If you have a sweet tooth, go to this candy store in Terminal C.
Hugo Boss: If you are interested in fine men's clothing, check out the Hugo Boss location in Terminal E.
Michael Kors: Also in Terminal E, this is another store you can visit to get your fill of men's high fashion.
A complete list of all the stores located in Logan Airport, where to find them and their hours of operation is available right here.
Can I Shower at Boston Logan Airport?
Yes. Since January 2017, The Club in Terminal E has offered passengers a chance to relax and make the most of their time in Logan before they leave, including taking a hot shower. Passengers booked on international flights from Terminal E can buy a pass to the lounge either from the club's website or through the LoungeBuddy smartphone app. Daily passes start at $39.
Is Wi-Fi Available at the Logan Airport?
The days when major travel hubs didn't offer Internet access are, thankfully, long behind us. Logan offers wireless Internet in each terminal for laptops and mobile devices. Better yet, it's free. Just look for the Logan SSID — LoganWi-Fi — on your device, and once you accept the terms of agreement, you're free to roam the Internet. A company called Boingo manages Logan's Internet connections. If you have any questions about the service, you can contact support at 800-880-4117.
If you're looking for a place to charge your computer or your phone to take advantage of the free Internet, look for charging stations built into, around or near the airport's seating areas.
Children Play Areas at Bos Airport
Logan airport has three play areas known as Kidport. You'll find each Kidport after you go through the security checkpoint in Terminals A, B and C. These spaces include climbing structures, slides and structures designed to mimic planes and control towers at Logan Airport. Each Kidport is located near concessions, and, more importantly, restrooms.
ATMs and Currency Exchange
Need cash? You'll find convenient ATMs throughout each terminal. Look for Bank of America ATMs in terminals B and C. CardTronics ATMs are in Terminals C and E on the departure and arrival levels at Terminal B. There is a Citizens ATM on the departure levels of Terminals C and E. Other financial institutions that have ATMs at Logan Airport include Fleet Bank, Travelex, Danversbank, East Boston Savings Bank and American Airlines Federal Credit Union.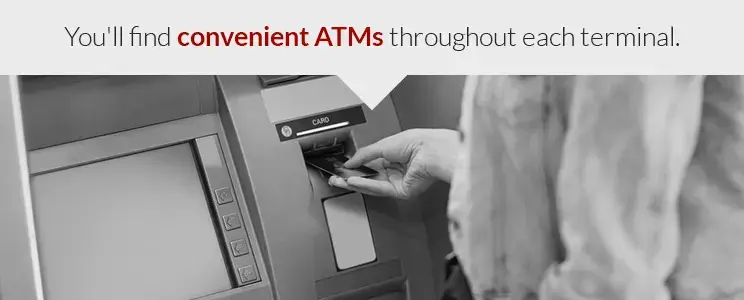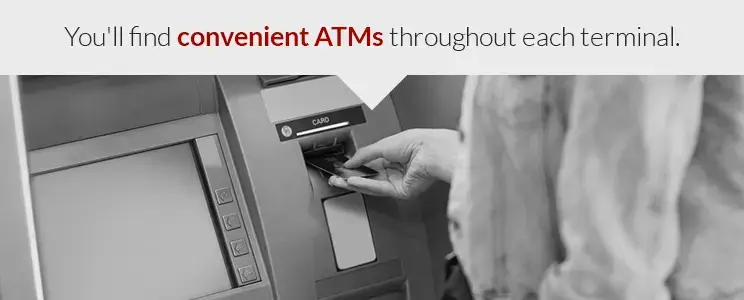 If you're looking to acquire some foreign currency of the country you may be visiting, or you want to convert foreign currency back to American dollars, you can find Travelex Money Exchange booths on the departure levels at Terminals B and C and on both levels at Terminal E. There is also a Travelex America exchange on the departure level of Terminal C.
Want to Avoid Parking Hassles at Logan? Try Park, Shuttle & Fly
Since 1975, Logan's Park, Shuttle & Fly has been helping busy travelers avoid the hassles of traffic and parking in and around Logan Airport. When you leave your car with us, you can catch the shuttle to Logan and be there within 10 minutes. There's no lugging your bags around, no long walks from a parking garage to a terminal and no drawbridge delays. And your car will be safe with us, as our lot is fully fenced in. Once you park your car with us, it does not move until you return. And if you join our rewards program, you can earn free parking.
You'll love our valet service, our exhaustive vehicle detailing service, luggage assistance and rewards program. You can make a reservation online anytime you like with no deposit required. Our service is friendly, reliable and professional. If you know you're going to be gone three days or longer and you select our car wash and detailing service, your car will look as good as new when you pick it up after your trip is over.
Our rates are $28 a day. It's the best parking deal at Logan. You can check rates and make your reservation today.