Posted On: August 11th, 2022 Author: Renee Ciaramella
When you're on a trip, there are a lot of logistics to think about. One of the most pressing decisions you'll have to make revolves around transportation — how you're going to get from point A to point B, what it's going to cost you and, maybe most importantly — where you're going to leave your car.
You'll normally have two main options for parking — a hotel and the Boston airport, which both offer options to park your vehicle. You might be wondering, "Is it safe to leave my car at the airport?" Both airports and hotels have their own advantages and disadvantages, which we'll take a look at in this article.
Once you know the ins and outs of each choice, you can decide which strategy is best for your situation.
Hotel Parking Pros and Cons
Hotel parking can be an appealing option for many travelers looking to cut costs and emphasize convenience. However, there are also a lot of drawbacks to hotel parking you should be aware of. When figuring out the logistics of hotel and airport parking, it can be helpful to look at some pros and cons of hotel parking.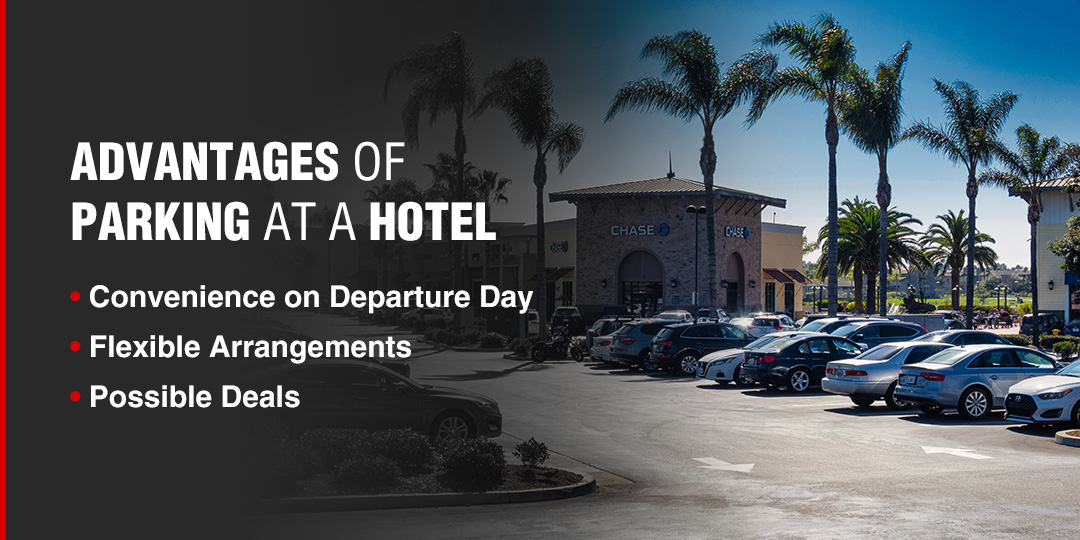 Advantages of Parking at a Hotel
Advantages like convenience and flexibility make hotel parking an attractive option. You'll be able to avoid airport parking stressors and take advantage of having a place to go in case of cancellations.
1. Convenience on Departure Day
One of the most obvious advantages of the hotel park and fly strategy is convenience. Instead of driving into the often chaotic airport and struggling to find a spot, you'll instead be able to comfortably find a spot at the hotel, likely booked days ahead of time. For some, this takes a lot of stress out of the journey. You'll only need to find a shuttle to the airport and be confident that your car is safely parked back at the hotel.
2. Flexible Arrangements
Flight delays happen, so it's good to have a backup plan just in case. If you've already purchased a spot at the airport, you could be stuck waiting there a long time, trying to find a comfortable spot to spend the next few hours. A hotel parking spot gives you the convenient ability to head back to your hotel room, put your feet up and wait for the next flight. It offers a flexible option that will give you some peace of mind during your journey.
3. Possible Deals
Hotel parking for airports usually comes via parking deals that make them attractive to travelers. Sometimes airport parking in Boston can be expensive — even surpassing the price of a plane ticket itself. Hotel parking offers a cost-effective option that may be suitable for those looking to cut costs. Though it can be challenging to find hotels near Boston with free airport parking, discovering cheap hotel airport parking options at a nearby hotel can be a benefit during your travels.
You may also be able to find packages that bundle your room stay with a parking spot.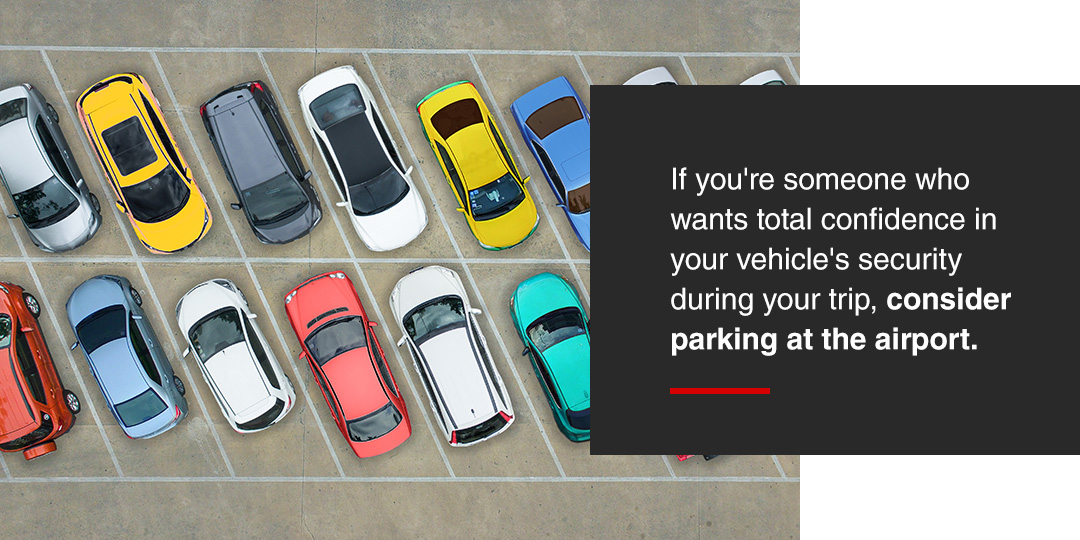 What to Consider Before Parking at a Hotel
Hotels with airport parking also come with drawbacks. The park, sleep and fly strategy has risks, like lack of security and few shuttle busses.
1. The Parking Lot Isn't Fenced In
One of the biggest issues with hotel parking is the lack of cover. Hotels usually provide open lots without fencing, leaving your vehicle open to the outside world for an extended time. Some people may be comfortable with this risk, but if you're in a questionable area or want to ensure your vehicle is safe at all times, you may want to invest in the safety of airport parking.
2. Hotel Lots Lack Security
Hotels with airport parking also lack adequate security. Airports usually have cameras and security to watch throughout the night. Unsecured parking lots can attract a range of crimes, like break-ins, car theft, vandalism and gasoline theft. If something happens, a person is on duty to stop break-ins and damages. With hotel airport parking, you're likely not getting that type of security. While you may pay less for parking, you'll also risk your vehicle's safety.
If you're someone who wants total confidence in your vehicle's security during your trip, consider parking at the airport.
3. You Might Be Far From the Airport
Hotel parking puts you at a distance from the airport. Although the airport is usually close, you'll still rely on someone else to pick you up and take you where you need to go. This creates another obstacle in your travel plans to account for and may require additional costs to cover fuel or mileage.
4. Expect Few Shuttle Busses and a Lack of Availability
Parking at the hotel creates another issue — finding a way to get to the airport. Although hotel parking may offer you some conveniences, it also means you have to find a shuttle to get to your flight. While hotels differ on their shuttle policies, you might find many airport shuttles are infrequent and sometimes even late.
This creates another variable in your travel plans — one that could potentially add a lot of stress to your trip. In the already chaotic travel world, a delayed shuttle could be the thing that makes you miss your flight. Many people want a spot at the airport simply because it ensures they can get where they need to go without relying on another ride.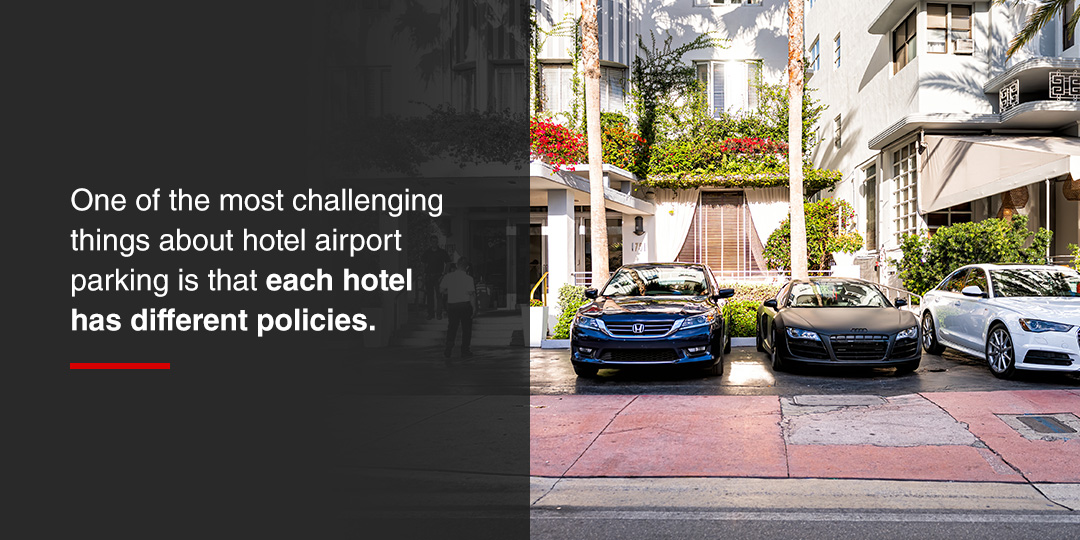 5. Hotels Have Different Parking Policies
One of the most challenging things about hotel airport parking is that each hotel has different policies. You might wondering how long you can park at a hotel, or if you can even park in hotel parking lots. You'll have to keep in mind things like safety, security and shuttle departure times, which takes some additional research and attention to detail. If you don't think you'll have the time for extra research or don't want the hassle, finding an airport parking spot may be more sensible.
Hotel airport parking can offer a lot of advantages such as convenience and cost-effectiveness. If you can find Boston airport hotels with free parking, or hotels with long term parking, then hotel airport parking can be even more of a draw. However, airport parking at hotels also means dealing with varying policies and lacking safety — lots are open and usually lack adequate security. Your car will be exposed for days at a time. Catching a shuttle from a hotel may also be more challenging than expected.
Because of these complications with hotel airport parking, many people opt for the latter option — parking at the airport.
Airport Parking Pros and Cons
Airport parking is a go-to option for many travelers because of all of the convenience it offers. Instead of worrying about getting to and from a hotel, you'll be ready at the airport. Still, some may prefer hotel parking because of possible drawbacks airport parking provides.
We'll take a more in-depth look at the pros and cons of airport parking below.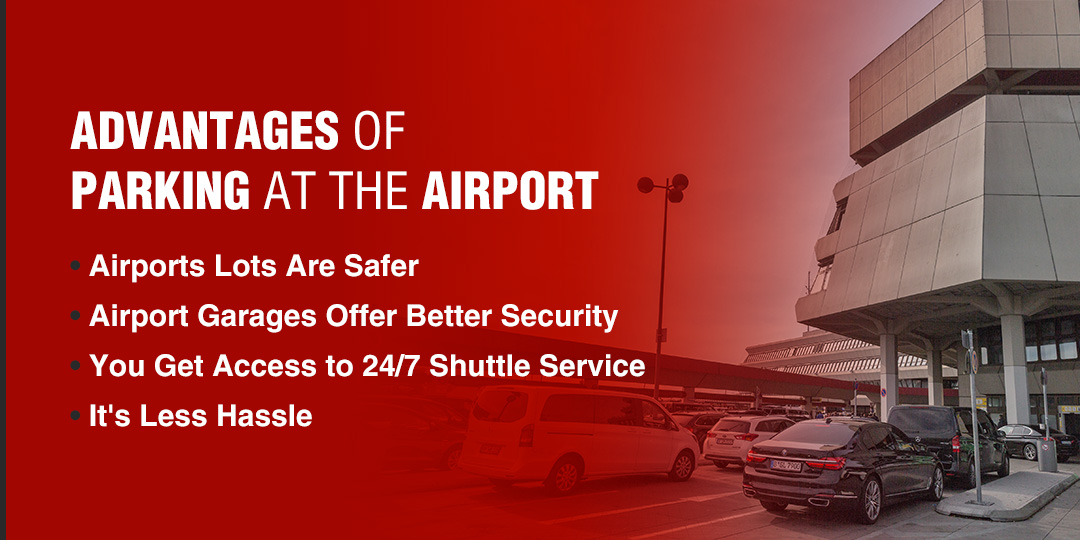 Advantages of Parking at the Airport
Airport parking is very popular for a reason. From advantages like security to convenient shuttle access, there is a lot to like about the airport parking option at Boston Logan International Airport.
1. Airports Lots Are Safer
Many people wonder if it's safe to park at the airport. Luckily, one of the main advantages of airport parking is that it's fenced in. Instead of a hotel lot that is open to the elements and unprotected, airports offer the advantage of safety with a fenced-in, closed lot. This gives you a lot of confidence during your journey that your vehicle is OK, including any valuables left inside.
2. Airport Garages Offer Better Security
Airport parking lots are generally more secure than hotel lots. Airports usually have guards on duty and security cameras that keep an eye on lot vehicles to ensure sure they're safe. Hotels normally don't offer this type of protection.
If you want to make sure your car is protected at all times, you'll likely want airport parking. Instead of worrying about your vehicle during your whole trip, you can gain some more confidence in your car's safety by parking in a closed lot with fencing.
3. You Get Access to 24/7 Shuttle Service
Once you're at the airport, you can access shuttle service around the clock. Instead of a hotel parking lot, which offers infrequent shuttles that are often late, airport shuttles run on a continuous schedule. Even if you miss one, you can catch the next one soon after. This adds some flexibility to your schedule and won't throw you into a panic if you're running behind.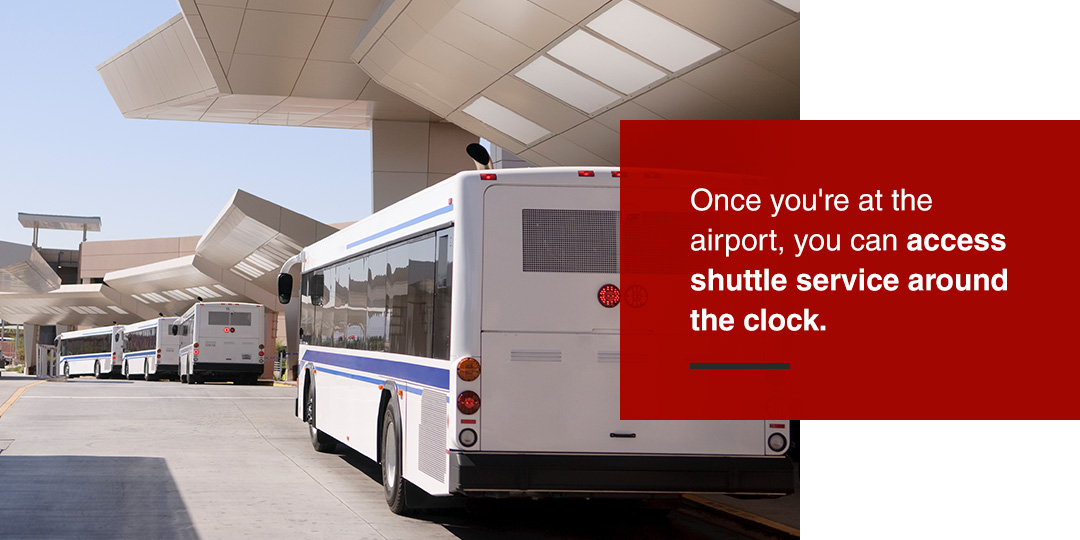 4. It's Less Hassle
Airport parking takes the hassle out of getting to and from your hotel. Since you're already there, you'll be prepared for any changes in your travel schedule. If your flight gets delayed, you can stay in the airport lounge for as long as you'd like. You can even sleep overnight at the Boston Logan International airport if needed, though you'll have to find a spot in the pre-security area.
Ultimately, this means, no matter what, you'll be in the right place when your flight comes, instead of waiting idly at the hotel. A shuttle service makes things even easier by taking you where you need to go, offering an alternative option to finding Jetblue or Delta terminals at Boston Logan Airport.
You can get there early and stay at the airport after arrival for as long as you'd like. Airport parking lets you be ready for your flight and eliminates that extra step out of your travel plans. For some, this is reason enough to get a parking spot a the airport.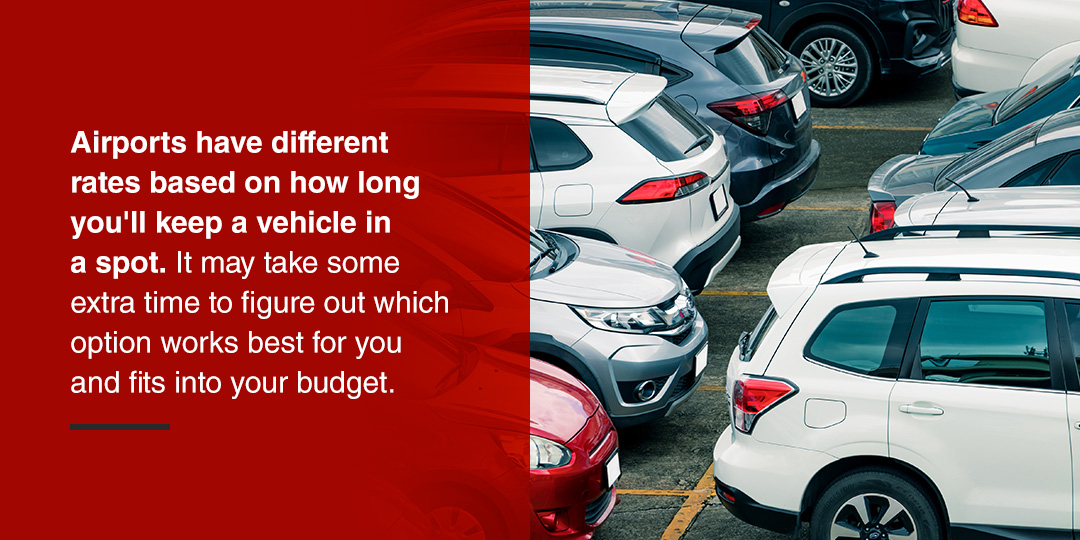 What to Consider Before Parking at the Airport
Even with all the benefits of airport parking, there are drawbacks to be aware of. When it comes to airport parking, you need to ensure you look at costs and think about the added time it will take to part at the airport.
1. Potential Costs
One of the main disadvantages of airport parking is the accompanying cost. Though it varies, airport parking can be costly. Still, you pay for the convenience and efficiency of already being at the airport, so many people are OK with the sacrifice to ensure they make their flight on time.
2. Time Spent Parking
Although parking at the airport may offer the convenience of already being near your terminal, you still need to find a parking spot. This adds time to your departure — time you'll have to factor in when leaving. The difficulty of finding a spot varies depending on what time of day it is — if your flight leaves in the busiest part of the day, you may have more trouble finding a spot and navigating through traffic.
Finding a spot at the airport can add some stress to your journey — make sure you plan ahead, budget for time and make sure that you'll be able to get a spot and get to your gate in time.
You may be able to work with a shuttle service that can handle your vehicle for you once you get to the airport. This completely eliminates the need to find a spot — just take your vehicle to the shuttle service lot, and they'll find your spot while you get transported to your gate. This makes the trip a lot easier and cuts down on wasted time.
3. Differing Rates
Airports have different rates based on how long you'll keep a vehicle in a spot. It may take some extra time to figure out which option works best for you and fits into your budget. Rates vary from short-term parking over a couple of days to long-term parking that may span weeks.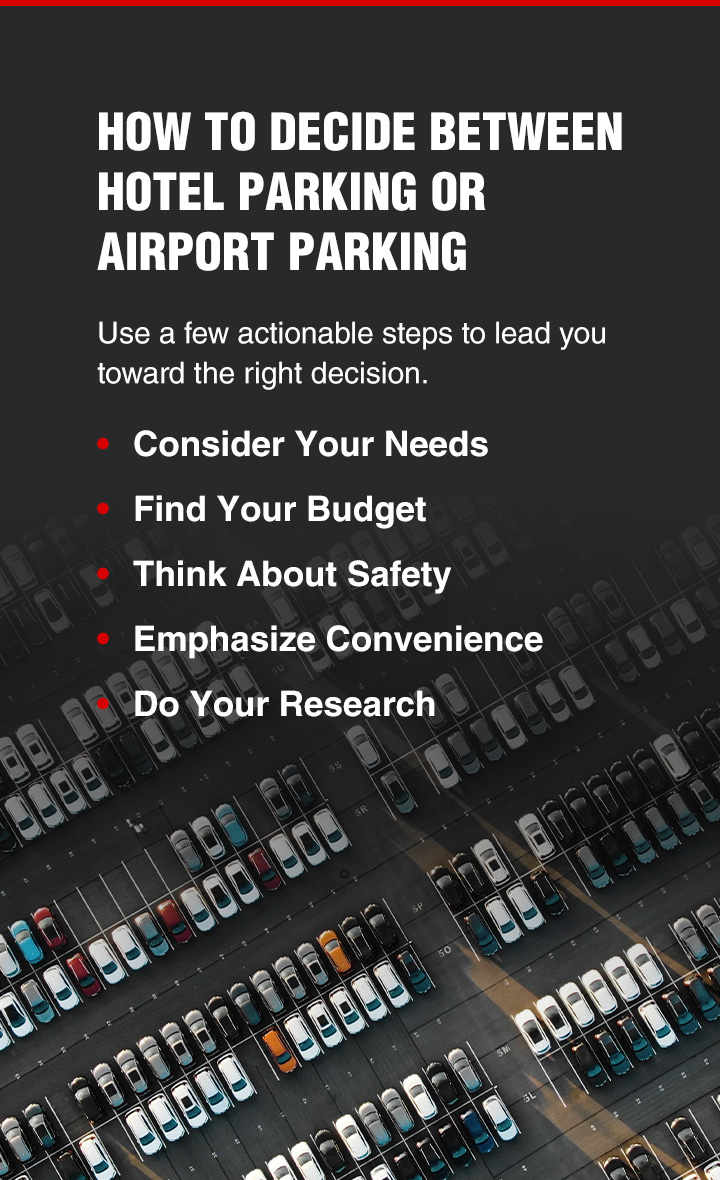 How to Decide Between Hotel Parking or Airport Parking
If you're still unsure whether to go with hotel parking or airport parking, that's OK — it comes down to your unique situation. Use a few actionable steps to lead you toward the right decision.
1. Consider Your Needs
What do you consider most important during traveling? Make a list of your top priorities and relate it to hotel and airport parking — you should find some common themes to help you pick one over the other.
Some might look for a cost-effective option while working under a strict budget, while others may search for the easiest and most convenient solution for their travels. Whatever your top priority, identify it and continue with your decision.
2. Find Your Budget
Don't forget to budget parking for your travel expenses. Think about how much you're willing to pay for parking and factor this into your decision. Although some amounts vary, having a general idea of where you stand narrows your decision. Consider the following transportation expenses while budgeting your trip:
The commute to and from the hotel, airport or both — including the cost of fuel and highway tolls.
Hourly, daily and overnight parking fees wherever you choose to leave your vehicle.
Your total travel distance before departure and when you return.
Fluctuating fuel costs and peak-season pricing.
3. Think About Safety
Safety should be one of your top priorities when it comes to travel. When you're on a flight, you shouldn't have to wonder whether your vehicle is safe in an open parking lot. If you're on a business trip or taking a much-needed vacation, you want a clear mind to focus on your destination. In many cases, an airport or shuttle lot's secure and closed environment are some of the best parking options.
You can rest easy knowing that your car will be in good hands while you're away.
4. Emphasize Convenience
Another significant factor in travel is convenience. With all of the hassle of air travel, it's important to get as much convenience as you can along your journey. Think about each step of your departure day and how you can break it into manageable chunks. Getting rid of extra trips from the hotel to the airport can be a convenient way to make your day flow easier.
Airport parking takes you right to where you need to be. With a shuttle service, you can then go straight to your gate in a simple, convenient solution that takes a lot of stress out of getting to your flight.
5. Do Your Research
Make sure you look at deals or prices for parking at hotels and airports. Guides like this one are great resources to sort through the pros and cons to see which is right for your situation.
Find a reliable service to help you find a spot and take you to your gate. Working with a trusted service is a great way to take a lot of travel stress off your shoulders and put you in a good place on departure day.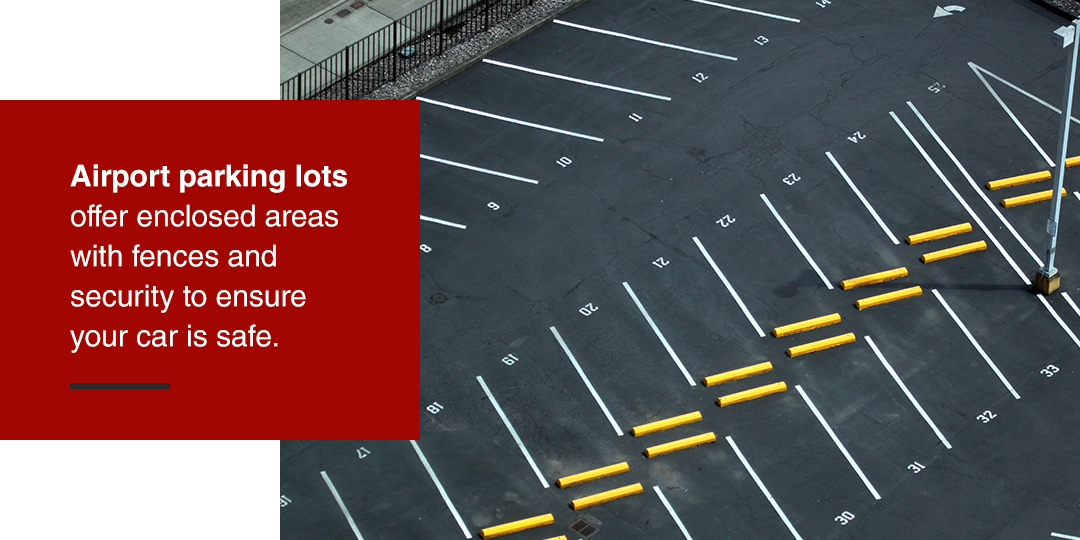 Should You Choose Hotel Parking or Airport Parking?
Planning a trip can take a lot of time. It involves a lot of different logistics and factors to keep in mind. It's important to control what variables you can to make the journey go smoothly. Hotel airport parking can be attractive due to its cost-effectiveness, but parking at the airport is usually the best way to go for a few different reasons:
Convenience: When you park at the airport, you eliminate another variable in your travel journey — getting from the hotel to your gate. This adds convenience during your trip and lets you plan for any hiccups. Once you're at the airport, you can wait comfortably until departure.
Easy navigation: Since you're already at the airport, you'll have easy access to your gate. You won't have to worry about catching shuttle A or finding a way to get to terminal C — you'll have plenty of time to get where you need to go with ease.
Safety: Airport parking lots offer enclosed areas with fences and security to ensure your car is safe. Hotel lots are usually open with minimal security — airport lots will make you feel safer about leaving your vehicle behind.
When it comes to travel, it's better to choose the safer option — airport parking can give you that. An even better strategy is finding a shuttle company to help guide you through the parking process, so you don't have to waste time going back and forth between airport parking and hotels!
Reserve Your Parking Spot With Park Shuttle and Fly Today
Traveling is already stressful enough — you shouldn't have to worry about finding a place to park once you get to the airport. That's why Park Shuttle and Fly has a comprehensive system that allows you to book your spot before you even leave. You can meet one of our attendants at our lot, where we'll take your car and shuttle you right to your gate. Once you arrive back in Boston, we'll return your vehicle.
It's a simple, effective solution to parking your vehicle. Get rid of all of that unneeded stress and worry about airport parking. Book your spot and meet us at the lot on the day of your departure. From there, you can enjoy your trip free from concerns about your vehicle. Book a reservation today!