Posted On: August 11th, 2022 Author: Renee Ciaramella
Getting through Transportation Security Administration (TSA) airport security screenings can feel like running an obstacle course before you're finally able to board your plane. The TSA is responsible for ensuring your safety, and you know their job is important — but how can you get through checkpoints a little more quickly?
The below information about TSA pre-screenings can help you pass through checkpoints easier than before.
TSA Checkpoint Tips
Here is some general traveler information that can help you get through airport security quickly:
1. Reduce Touchpoints
Try to avoid touchpoints when you're passing your checkpoints. Before you walk through the screening, empty items from your pockets into a carry-on bag along with your electronics instead of placing things into the checkpoint bin. This will reduce touchpoints between your items and the bins.
2. Pack Extra Masks
When the airport has a mask policy, it's a good idea to bring extras in case you drop or lose yours. You might be rejected at the checkpoint if you are unable to put on a mask. Having fresh masks can make your travel experience more comfortable than having to wear the same mask for several hours.
3. Bring TSA-Approved Hand Sanitizer or Wipes
You can bring a single 12-ounce container of hand sanitizer and sanitizing wipes through a checkpoint. Keep in mind that the hand sanitizer might add a few minutes of time to the screening. Opt for a 3.4-ounce or 100-milliliter hand sanitizer to get through security quicker.
4. Follow TSA Regulations When Packing
Certain items will trigger an alarm if you pack them in your carry-on bag. A TSA officer will then have to open your bag to check your belongings for what triggered the flag. Do research on what you are allowed to bring before you travel, and avoid packing any prohibited items or trying to debate the issue with TSA officers.
5. Pack Your Food in a Clear Plastic Bag
If you want to bring your own food on the trip, pack the items in a small clear plastic bag and place them inside your carry-on bag. Remove your bagged food at the security checkpoint and place it into the bin. Since certain food items can trigger an alarm during the screening process, removing them can prevent a bag search.
6. Ship Your Luggage
If you ship your luggage, you will be able to get through the checkpoints much faster. You can also save on the bag fees if you require extra luggage, and you can skip that long line at the baggage claim area. This strategy is especially helpful if you plan a trip several weeks in advance during a busy season.
7. Dress Appropriately for Security Checks
Keep any valuables in your carry-on bag, and place your jewelry and keys in the pockets of a jacket or coat before you run it through the X-ray. Since you are typically required to remove your shoes when you walk through the metal detectors, it helps to wear loose slip-on shoes with socks.
8. Go Through Expedited Services
If you use a flight upgrade or select first class, you may be able to go through a separate expedited security line. It takes less time and may be worthwhile during busy seasons. If you're a U.S. citizen, you can sign up for TSA PreCheck, or check out the Global Entry Program if you're traveling abroad.
TSA Travel Checklist
Knowing what to do before and when you're packing as well as when you're at the airport can help you save time.
Before Packing
Be aware of TSA guidelines before you pack your luggage to save yourself time. One of the guidelines is that any items classified as liquids, gels or aerosols must follow the 3-1-1 rule. Liquid food and drink items, as well as toiletries, are commonly subject to this rule, which is defined as:
3.4 ounces or less: If you bring shampoo or lotion, for example, you have to store it inside a container smaller than 3.4 ounces.
1 quart in size: All liquid items must be able to fit into a 1-quart, clear plastic bag with a zip top.
1 bag per passenger: You are only allowed to have one 1-quart bag in your carry-on.
While Packing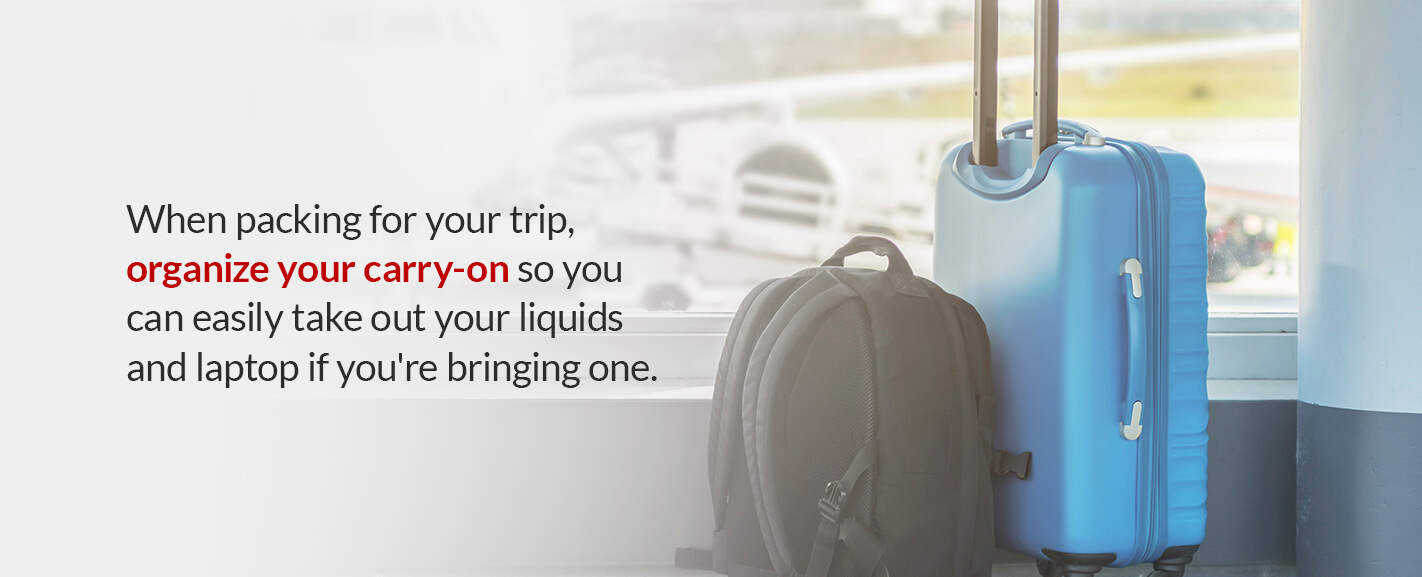 When packing for your trip, organize your carry-on so you can easily take out your liquids and laptop if you're bringing one. If your device is buried under clothes or you forget where you packed your liquids bag, you'll slow yourself down at security.
Before Leaving for the Airport
Double-check that you have everything, like your ID and a mask. Put on comfortable shoes that are easy to take on and off, and consider avoiding a belt to save extra time. Leave early for your flight to give yourself plenty of time in case there are lines or other holdups at security.
If you or someone you're traveling with have a disability or a medical condition, you can contact passenger support 72 hours ahead of time with any questions.
Before Entering the Security Checkpoint
Have your boarding pass and ID out or easily accessible to help you get through the checkpoint quicker.
If you're a TSA PreCheck member, look for a designated, expedited line. As a TSA PreCheck member, you can keep on your shoes, belt and light jacket. You also don't have to take your laptop or liquids bag out of your carry-on luggage.
In the Standard Line
If you aren't a TSA PreCheck member, you'll need to take out your liquids bag and laptop or tablet. Empty your pockets of everything — like keys, your wallet and money — and take off your shoes and coat. Make sure you grab all your belongings once you complete your security check.
TSA Guidelines
As far as what you can bring through TSA checkpoints, make sure you have an updated list. If you have a question like, "Can I bring a bag of chips on a plane?" it's a good idea to check what the TSA allows — and you can bring solid foods in your carry-on and checked baggage.
You can also bring the following items in your carry-on bag:
Deflated balloons
Most sports balls
Empty reusable water bottle
Small scissors, if less than four inches long from the pivot point and in a sheath or wrapped
Cigarettes
Baby carrier, as long as it fits in the designated area of your plane
Baby powder, though bottles greater than 12 ounces need to be screened separately
Baby wipes
Items that are banned from your carry-on bag include:
Baseball bats, hockey sticks and other sports equipment that can be used as weapons or bludgeons
Fireworks, bang snaps or other explosives
The TSA has a comprehensive list of what you can and cannot bring on a plane. If an item you'd like to pack isn't listed, submit your question to AskTSA on Twitter or Facebook Messenger.
Food and Beverage Rules
Solid food items are easier to screen, which is why most of the limitations are on liquids or creams. When transporting liquid or cream foods, you are only allowed to carry 3.4 ounces or less in your carry-on bag.
If you want to bring frozen food, your ice pack must be fully frozen when you go through the checkpoint. Partially melted ice packs are subject to the 3-1-1 liquid requirement. If you have too much water at the bottom of your bag, it will be banned.
What Goes in the Bins
The TSA requires you to take large electronics out of your carry-on bag when you go through security. This includes your laptop, tablets, e-readers, battery packs and your DSLR. Keep these items in their cases for traveling.
You can also place jewelry, personal items and any other items you have in your pockets into the bins. They will run through an X-ray machine. Some items, like your shoes, may go directly on the X-ray belt. Check for signs or listen to TSA agent instructions.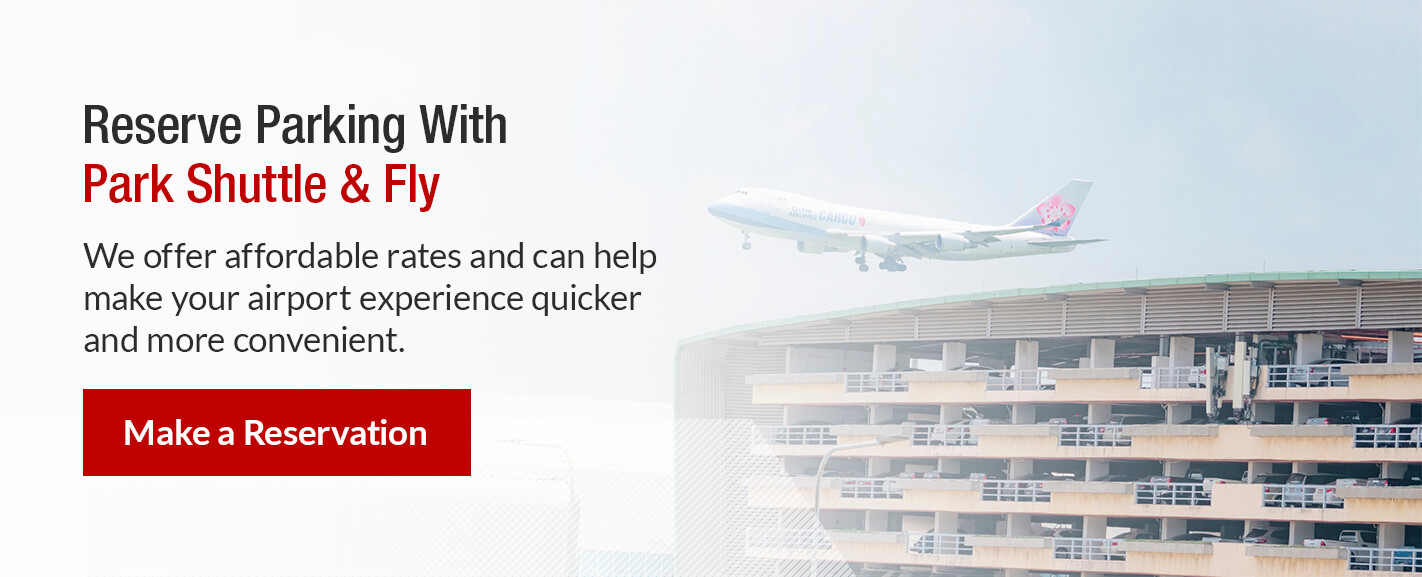 Reserve Parking With Park Shuttle & Fly
Streamline your time at the airport with reserved parking from Park Shuttle & Fly. Choose from short- and long-term on-site parking at Logan International Airport in Boston. We also offer off-site parking, which we serve with fast airport shuttle services that run 24/7, so you don't get held up in airport traffic.
We offer affordable rates and can help make your airport experience quicker and more convenient. Contact us to reserve parking at Logan International Airport, or learn more of our airport travel tips to save time on your next flight.