Posted On: August 11th, 2022 Author: Renee Ciaramella
As the largest airport in Massachusetts and New England overall, Boston Logan Airport is frequented by local and international travelers alike. If you have a long layover or plan on staying in Boston for a few days, it's important to know what your options are when it comes to hotels.
Whether you're looking for a hotel with the best parking or hotels near Boston Airport with a free shuttle, the following list will show you the best Boston Airport hotels.
1. Hilton Boston Logan Airport
This hotel is attached to Boston Logan Airport. The Hilton Boston Logan Airport is directly connected to the terminals, which you can get to by walking through the enclosed sky bridge. This one is a great option when you want to visit the downtown area of Boston but don't want to stray too far from the airport.
Pros:
The location: When you stay at the Hilton Boston Logan, you're already at the airport. This hotel offers the best possible location for travelers.
The shuttle service: The free shuttle service travels to the airport's terminals. The shuttle will also take you to the Rental Car Center (RCC), subway station and water taxi service.
Multiple options for parking: For parking, you can find an option best suited for your plans with multiple services available.
Cons:
The cost and hidden fees: The unbeatable location and amenities make this hotel one of the more expensive options.
The parking fee: This hotel has private parking options, but parking here tends to be expensive.
Parking:
As this hotel is located inside the airport, it comes with several options for parking. Central Parking is close by, but the price makes it part of the reason staying here is more expensive. Economy parking is also available, and you can either hire a valet or take the self-parking option.
Things to Do Near the Hilton Boston Logan Airport
Many attractions inside the airport are near the Hilton Boston Logan for you to enjoy. Some of the most popular include:
The 9/11 Memorial: A memorial honoring the victims of the September 11th terrorist attack is located inside an outdoor park's stone walls, with several trees and glass sculptures. The sculpture is etched with the names of the American Airlines flight 11 and United Airlines flight 175 passengers and crew members who left Boston for Los Angeles that day. It stands right next to the hotel.
Delta Sky Club: At this Delta Airlines lounge, you can get some work done or relax before it's time to board your flight. Get food and a cocktail while you enjoy the free high-speed Wi-Fi.
Booklink: This airport bookshop in Terminal A has a wide selection. You can find new releases in literature here, and the store also includes some children's and young adult titles.
New England Collections: This store makes a great place to look for souvenirs. Here you can find Boston University apparel, products promoting local sports teams and other gifts.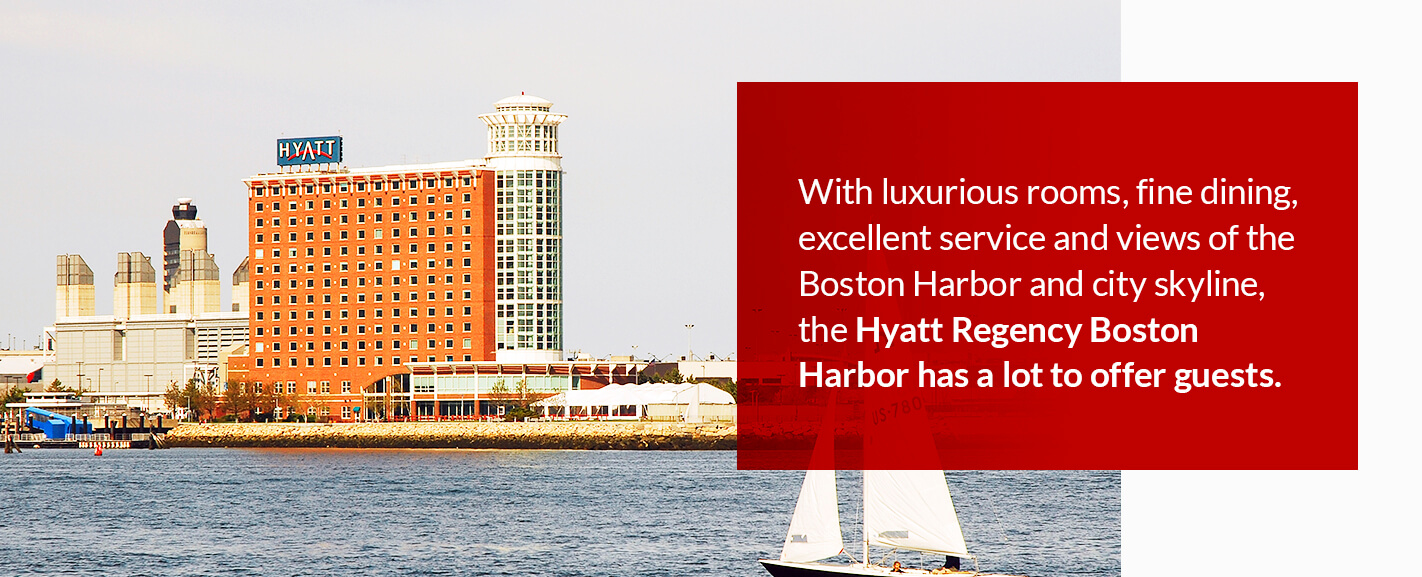 2. Hyatt Regency Boston Harbor
With luxurious rooms, fine dining, excellent service and views of the Boston Harbor and city skyline, the Hyatt Regency Boston Harbor has a lot to offer guests. Breathtaking architectural features like the inlaid marble floor and dome ceiling give this Hyatt hotel a refined atmosphere. As a guest here, you can use the gym, pool or the business center.
Pros:
The private shuttle service: This hotel has a limited, complimentary shuttle service that can take you to the airport terminals and the subway stop.
Modern soundproof rooms: Being so close to an airport, you might wonder if you can hear airplanes overhead while staying here. Guests often comment on how quiet the rooms are.
Pets are allowed: If you're traveling with pets, the hotel will accommodate you.
Cons:
Hidden fees: This hotel has some hidden fees you have to be on the lookout for if you're trying to keep your expenses as low as possible.
The parking fee: If you're searching for hotels near Logan Airport with free parking, this isn't one. You have to pay extra for parking at this hotel, which stands out for many guests as a hidden fee.
Parking:
This hotel offers its own self-parking or valet services. Parking also tends to be more expensive at the Hyatt, which some guests are unaware of when they first check in. The cost of parking is separate from what you would pay for your room, unlike the complimentary amenities you get from staying here.
Things to Do Near the Hyatt Regency Boston Harbor
If you're staying at the Hyatt, here are some things you can do in the nearby area with access to your own vehicle or public transportation:
The Freedom Trail: This historical trail is about 2.5 miles and contains several remnants of the American Revolution. Starting at the Boston Common, it passes through the Black Heritage Trail, the place where the Boston Massacre unfolded and the Granary Burying Ground.
The Children's Museum: If you're traveling with kids, take them to this museum specially designed for their entertainment. The facility includes an interactive playground, Grandparent's Attic, the Japanese House and plenty of other fun features.
The USS Constitution: This is officially the oldest commissioned warship in the world, and it's docked in Boston Harbor. The location often has special events, and you'll usually be able to find a tour around the premises.
3. Embassy Suites by Hilton Boston at Logan Airport
This hotel is only an eight-minute drive from the Boston Logan International Airport. If you want to go to the MBTA Blue Line Subway, you only have to walk about seven minutes, and then you can travel to downtown Boston. The Embassy Suites by Hilton has many amenities to offer guests.
Pros:
Free breakfast and lounge: This hotel has a complimentary breakfast option.
The shuttle service: The private shuttle service can take you to and from the airport and certain other locations. This shuttle runs 24 hours in 15-minute intervals, which is a great benefit.
Cons:
Waiting on the shuttle: The shuttle service may travel on a timeframe that depends on how many people have boarded or require transportation. Some guests feel that waiting for the shuttle is a con.
The parking fee: The hotel charges extra for parking.
Parking:
Like the other hotels on this list, this Embassy Suites offers parking for an additional cost that depends on the length of your stay. You can also get parking with a third-party service.
Things to Do Near the Embassy Suites By Hilton
If you're staying at Embassy Suites and want to find a few extra things to do, try these attractions:
Downeast Cider House: Stop here to socialize and relax with a drink.
Off the Eaten Path Tours: This organized tour of Boston's food and culture will lead you through Boston's historic North End.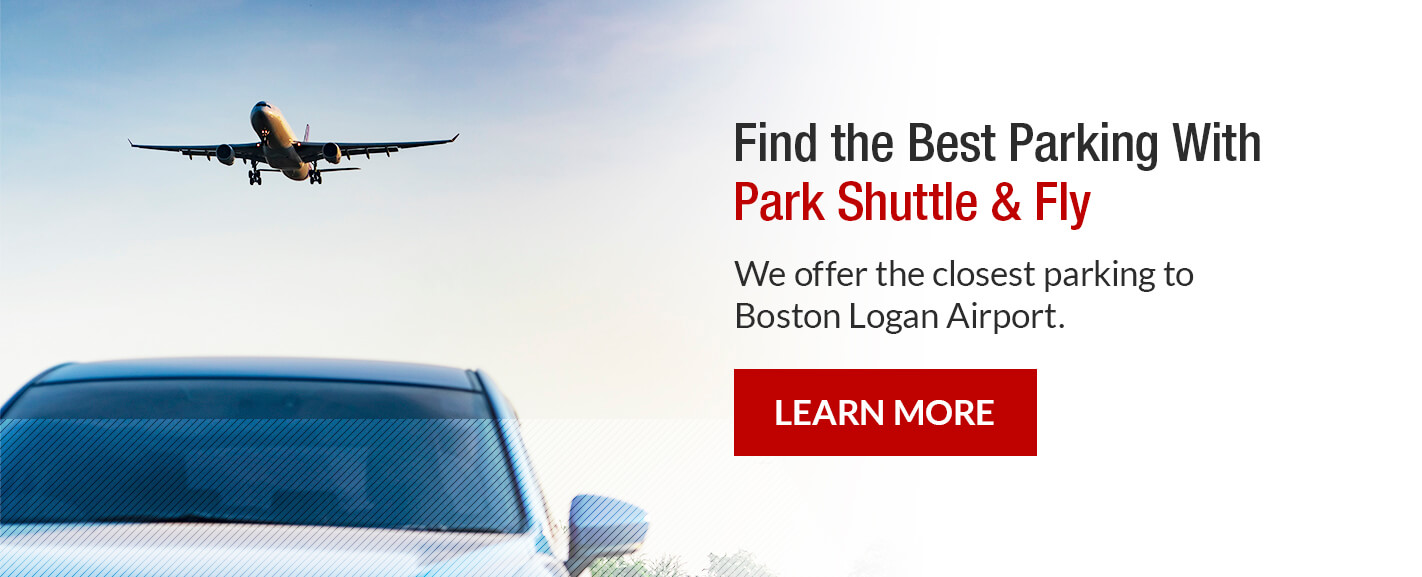 Find the Best Parking With Park Shuttle & Fly
Park Shuttle & Fly has several safe, affordable options for parking that provide a direct shuttle service to and from the airport. We offer the closest parking to Boston Logan Airport. Learn more about your parking options for Boston Logan Airport or contact us about our services today!