Posted On: September 6th, 2019 Author: Renee Ciaramella
No matter which age, make and model your vehicle is, every car looks fantastic after it's been properly cleaned and detailed. At Park Shuttle & Fly, we treat your vehicle like it's our own. When our customers request our cleaning and detailing services, we make sure that their vehicle is immaculate inside and out when they return from their trip.
Are you interested in washing and detailing your car properly at home? Keep your car looking fresh and stylish in between your vacations and business trips with this informative guide. Our car care experts have all of the advice and car cleaning tips you need to help you keep the interior and exterior of your ride presentable.
PREPARING TO WASH AND DETAIL YOUR CAR
Pulling into a drive-thru car wash is quick and easy if you want a fast rinse that clears bugs, salt and other debris off of your vehicle. However, if you want an exceptional level of clean, it's best to have your car washed and detailed by hand. There's always the option of having your car maintained by a professional, which is what many of our customers choose because it's convenient for them to have their vehicle cleaned and detailed while they're not using it.
However, many of our customers also enjoy having their car regularly cleaned and detailed from the convenience of their own homes. All you need is an afternoon, a little effort and a few supplies to make your car shine. Preparing to wash and detail your car is easy. First, set aside enough time to dedicate to this job. This process can take anywhere from a couple of hours to an entire afternoon. You can determine how much time you'll need based on the results you expect.
You also need to make sure you have the space needed to devote to this project. Assume that you'll need a few uninterrupted hours for this job so park the vehicle in a space that won't interfere with other vehicles coming and going from your house. You'll also want to check the weather conditions, preferably selecting a time window that predicts minimum direct sunlight, heat, rain and wind. Now that you have the time and day planned, you need to gather your materials.
WHAT MATERIALS YOU WILL NEED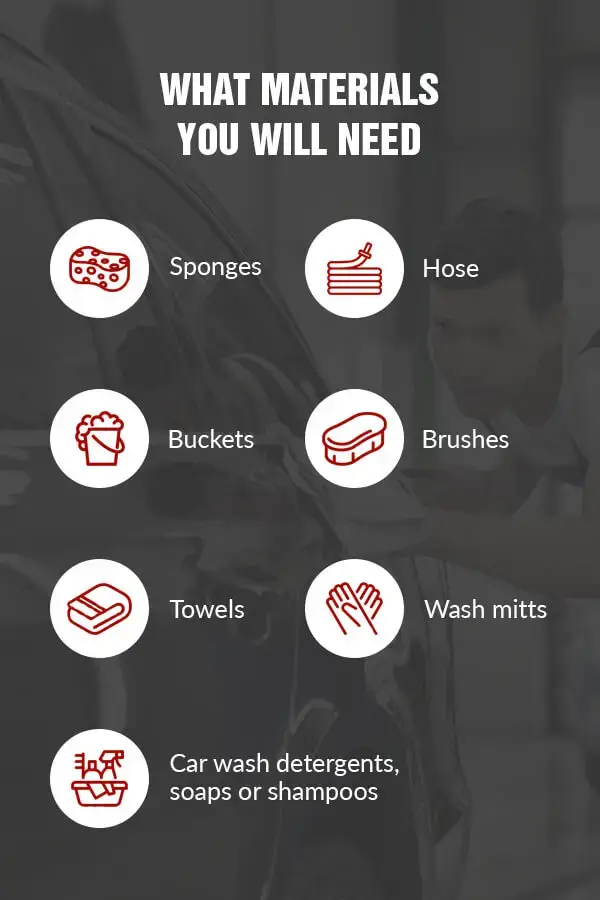 The materials you will need to clean your car depend on a few factors. First, determine how intensively you want to clean your car's exterior and interior. Some people may want every detail of the exterior perfect and only a light once-over on the inside while others will want to make sure every crack and crevice inside and out is spotless. You'll also have to consider your budget and the type of features your car has. For example, you may need a leather cleaner for your interior.
No matter how elaborate you want the finished result to be, you're going to need at least these materials for the exterior of your car:
– Sponges
– Hose
– Buckets
– Brushes
– Towels
– Wash mitts
– Car wash detergents, soaps or shampoos
You'll need these basic materials for the interior of your car:
– Trash bags
– Vacuum
– Cloths
– Upholstery cleaners
– Dashboard cleaners
The items above are almost essential for the basic cleaning care for any type of vehicle. If you'd like to perform a more extensive detailing job, you'll need these materials as well:
– Wax
– Polish
– Leather cleaner
– Glass cleaner
– Bug remover
– Wheel cleaner
– Scrub brush
– Toothbrush
– Applicator towel
– Buffing towel
Whichever items you choose, make sure that you gather them together and place them near your car so they're easy to use. Keep these items away from small children or pets, especially cleaners that contain harsh chemicals. You should also wear comfortable clothing that can be stained or dirtied. If you're washing in the colder months, wear long pants and closed-toe shoes. If you're washing in the warmer months, you can wear shorts and sandals if you prefer.
HOW TO PROPERLY WASH YOUR CAR
The best car washing and detailing methods are those geared to your specific car. This means more than just make and model — you must also evaluate the condition of your vehicle before you choose a way to proceed. Some automotive products include chemicals or ingredients that can actually harm your car's interior or exterior surfaces. You should also know never to use dish soap or another detergent that isn't specifically made for cars. Although some may suggest a DIY car wash soap, be cautious.
You'll also want to use two buckets of water while you wash the car — one bucket full of clean, soapy water and one bucket full of water in which you can rinse your washing sponge or mitt. If you use a single bucket to rinse and wash, you'll essentially be washing the car with the dirt already on it. Try not to let your mitts or towels touch the ground either to prevent additional dirt and grime from coming in contact with your vehicle.
WASHING THE EXTERIOR OF YOUR CAR
Start your car wash project by grabbing your hose and spraying the entire vehicle. Make sure all doors and windows are closed fully before hitting them with water. Set your hose setting to a light spray and always aim the flow downward in the chance that your rubber seals around the windows accidentally let water in. Remember that although you're trying to loosen the dirt and grime, you don't want to spray an area too strongly. Once your entire vehicle is rinsed, consider starting with the wheels first.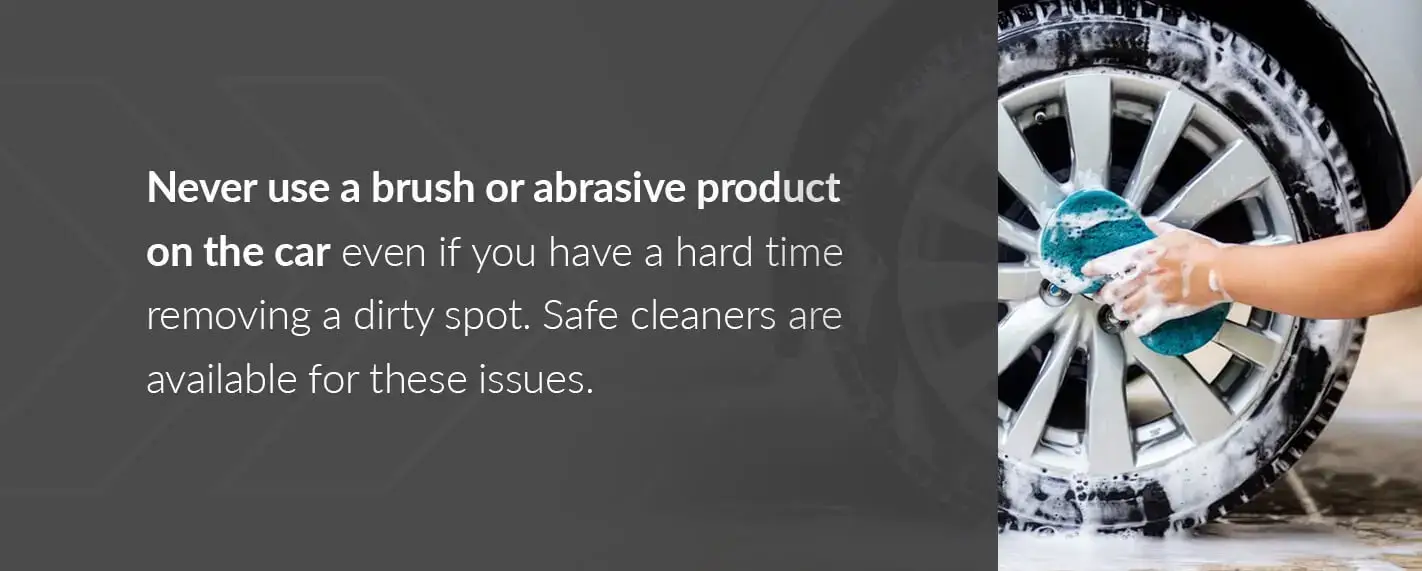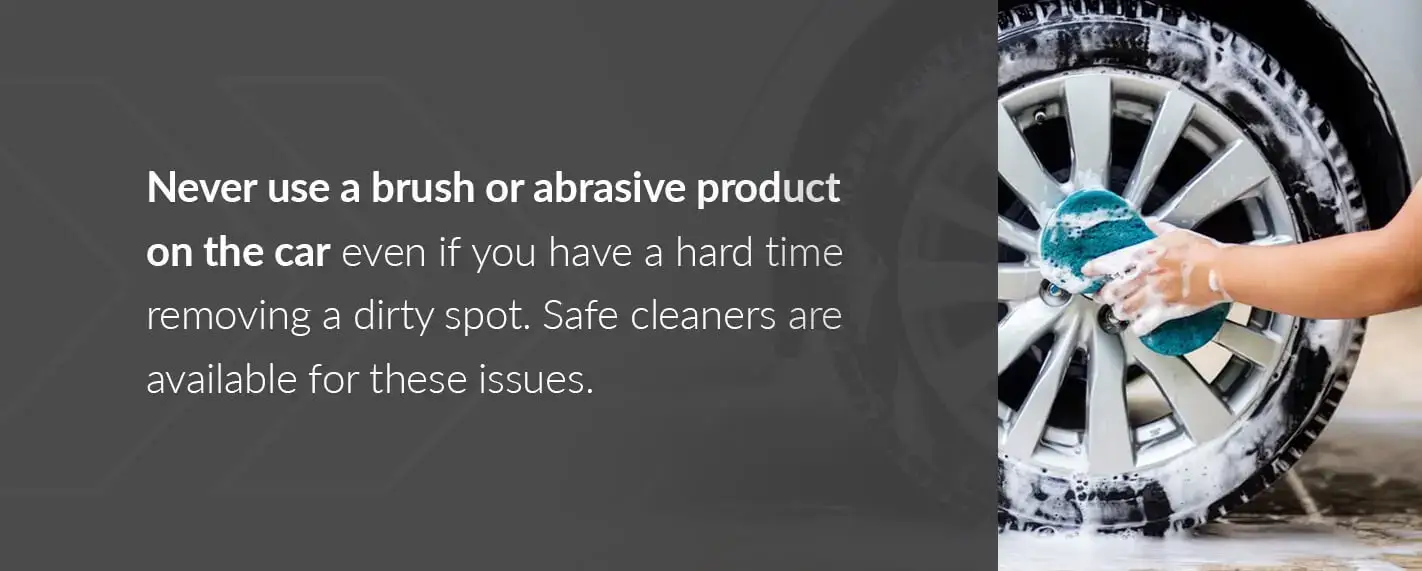 Why should you wash the wheels first? Often the dirtiest part of the car, spraying them may cause dirt to travel to other areas of the body. Rinse the wheels then scrub them with a brush or sponge. After the wheels are clean, get a mitt or sponge sudsy and begin to wash the car's body from top to bottom. Never use a brush or abrasive product on the car even if you have a hard time removing a dirty spot. Safe cleaners are available for these issues.
Keep the entire car wet as you wash it and rinse each section as it's finished. Be sure to spray underneath the car as well to remove sand, salt and dirt. You shouldn't rush through any part of this process, especially the initial wash. You want to make sure you achieve a thorough clean.
HOW TO CLEAN THE INSIDE OF YOUR CAR
Before you can wash the inside of your car, you must first clean it out. Take all valuable items and either stow them in the consoles or place them in your home if you want to clean your consoles too. Next, use a trash bag to collect all of the miscellaneous garbage and large debris on the floors and under the seats. Once your car is free of clutter, we recommend you clean it from front to back, top to bottom.
Take care of the consoles first, starting with the dashboard. Work on the driver's side, steering wheel and largest areas first then move to the dirtier areas like the air vents and details around the dash electronics. The best way to clean the inside of a car dashboard is to use a paintbrush or toothbrush for the narrow crevices. After the front of the car is cleaned, move along the doors towards the rear. You can also move in phases — for example, starting with all the consoles, then all the seats.
The best way to clean the car's interior roof is either an upholstery cleaner with a soft-bristle brush or a steam cleaner. Minor stains on the headliner can be taken care of with a cloth and upholstery cleaner while a brush is best for an entire surface cleaning. If you smoke in the car or have heavy soil on the headliner, you can achieve a deep clean with the steam cleaner. As with the exterior, you want the interior completely dry before you move on.
DRYING YOUR CAR
The way you wash your car is important, but don't neglect the importance of drying your car correctly. Although you have successfully removed all of the dirt and debris that was sitting on your car's exterior, you can still damage the paint even though your car is clean. The water you use for washing the car contains natural minerals that should not be left to sit on the surface. These minerals will create everything from spots and streaks to damages as deposits degrade the paint.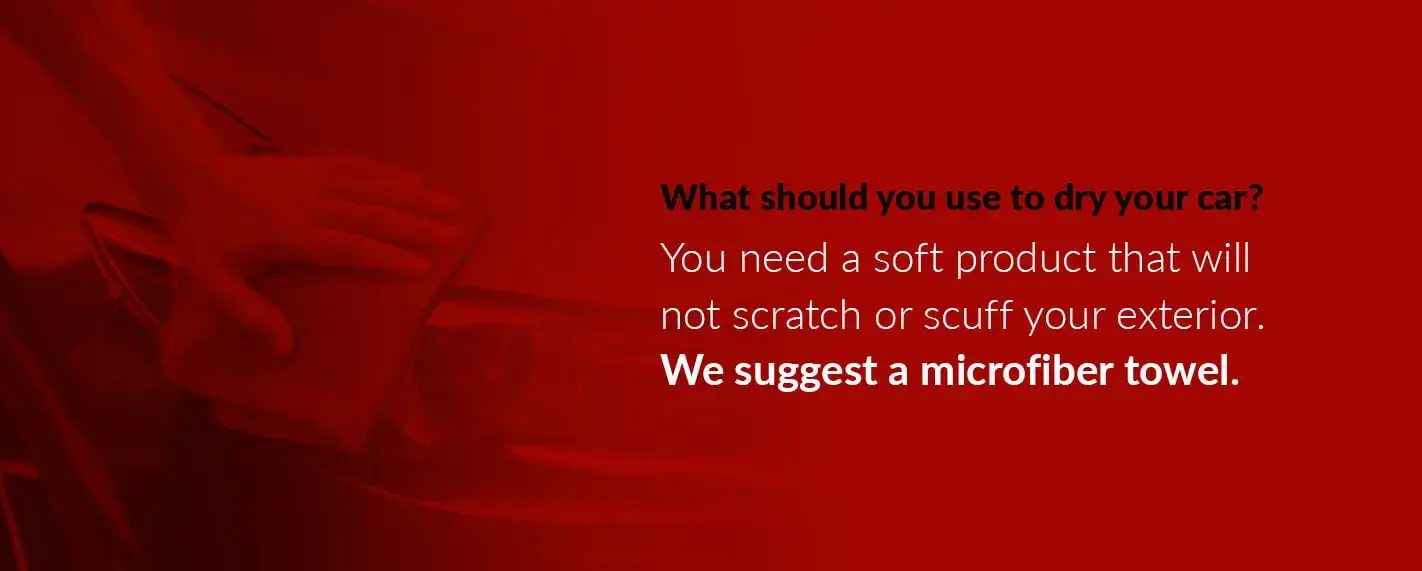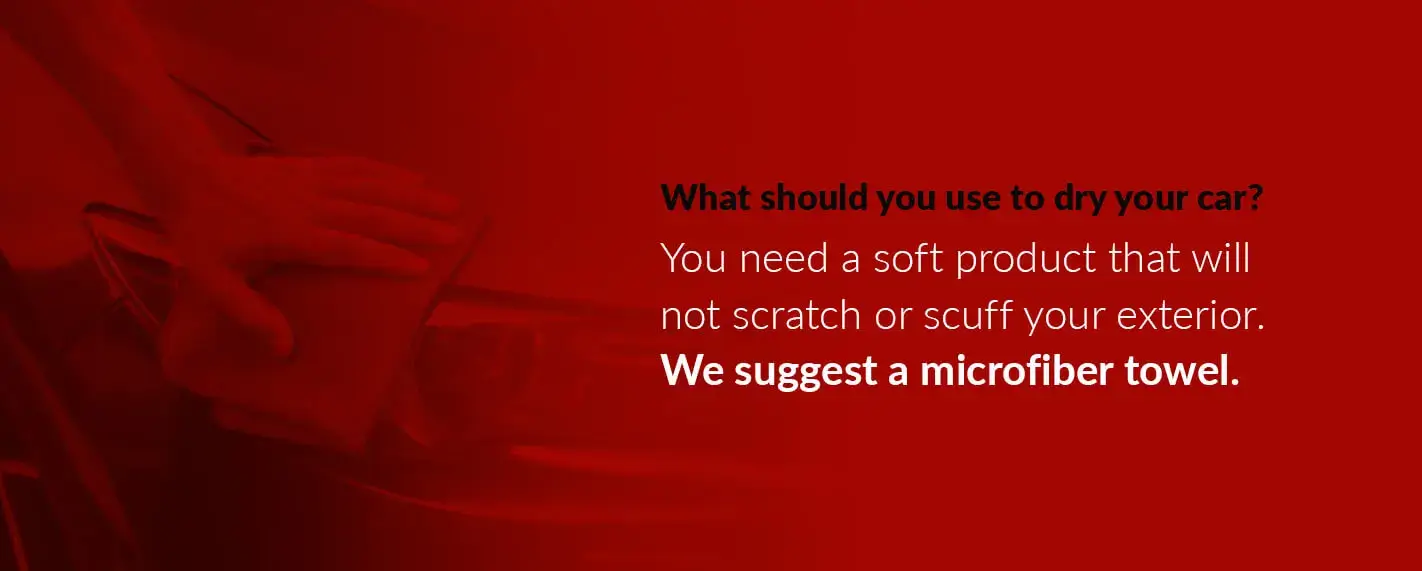 What should you use to dry your car? Definitely not a coarse towel. You need a soft product that will not scratch or scuff your exterior. We suggest a microfiber towel. Alternatively, you can also use a chamois made of non-abrasive natural leather or synthetic polyvinyl alcohol. Believe it or not, new parents can use a lint-free cloth diaper and achieve a great level of dry. If you'd rather not use material on your exterior, you can use pressurized air for a sufficient, touch-free result.
When you dry your car, you always want to start at the top and work your way down. Take your towel and begin on the roof, moving down to the flat surfaces of the body. After these areas are dry, you can then get into the smaller spots like the running boards, small crevices and other spaces where water can get trapped. Make sure you take your time drying all parts of the vehicle — you don't want streaks and spots to steal your shine.
HOW TO DETAIL YOUR CAR
By learning how to properly wash a car, you can thoroughly clean your vehicle. However, if you want to make it look absolutely amazing, you should also learn how to properly detail a car. Detailing a car involves close attention to tiny features of your car that, when cleaned, make a dramatic difference in its appearance. Some of these areas include:
– Floor mats and rugs
– Trunk
– Upholstery
– Windows and mirrors
– Wheel rims
When learning how to detail a car step by step, we recommend starting with the interior and working your way to the exterior. By finishing the inside first, you can complete the entire project on the outside and leave your car looking beautiful in its parking space.
HOW TO DETAIL A CAR INTERIOR
Your car should already be free of all trash and personal belongings. Remove the floor mats and vacuum the entire car if you haven't already. Clean the rubber floor mats by scraping off dirt, scrubbing them with a floor mat cleaner, then rinsing them off with clean water. Upholstered floor mats can be cleaned in a similar manner to interior upholstery — remove dirt and debris with a vacuum, use a car upholstery cleaner to scrub the area and wipe dry with a clean towel.
Wipe all hard interior surfaces around the door and your consoles with an all-purpose cleaner or one specifically designed for cars. Before wiping, consider using a can of compressed air to blow out dust and dirt that has made its way into cracks and crevices. There are interior dressings designed specifically to make these areas shine. Don't forget about the interior side of the windows either. Use a glass cleaner and microfiber cloth to wipe them clean.
If you have upholstery that isn't fabric, you'll need a special leather or vinyl cleaner. Apply this solution to each seat and use a leather brush to give it a soft clean with a light touch. Tough stains on any seats may be hard to get off unless you use an appropriate stain remover. Once your interior is dry, you can replace the floor mats and any other objects that belong in the car. As a final step, we recommend putting an air freshener inside.
HOW TO DETAIL A CAR EXTERIOR
Now that the interior is finished, you can move onto the exterior. Similar to when you wash the car, start detailing the wheels first. Get an appropriate cleaner for the type of rims you have — a glass or metal polish for chrome and an acid-based cleaner for alloys. Move onto the windows next with a glass cleaner. For windows that have after-market tinting, you should choose a special window cleaner that won't damage the tint.
One area many car owners may neglect is under the hood. Even though you can't see it at all times, this area needs to be kept clean as well. After covering vulnerable parts of the engine, removing the filters and disconnecting the battery cables, you can spray a degreaser underneath the hood and rinse it off. Soap and water are enough to wash the engine but you can also apply a vinyl or rubber protectant or metal polish to make it shine.
Finally, learning how to wax a car is one skill you'll never regret. After the car is completely dry, dip a cleaning pad into the car wax and apply it to small areas of your exterior. Don't put it on areas like lights or plastics. Make small circles as you move horizontally or vertically around the car. Once it is dry, use a clean, soft towel to buff the surface in small circles again. Then grab your camera — your car now looks better than ever!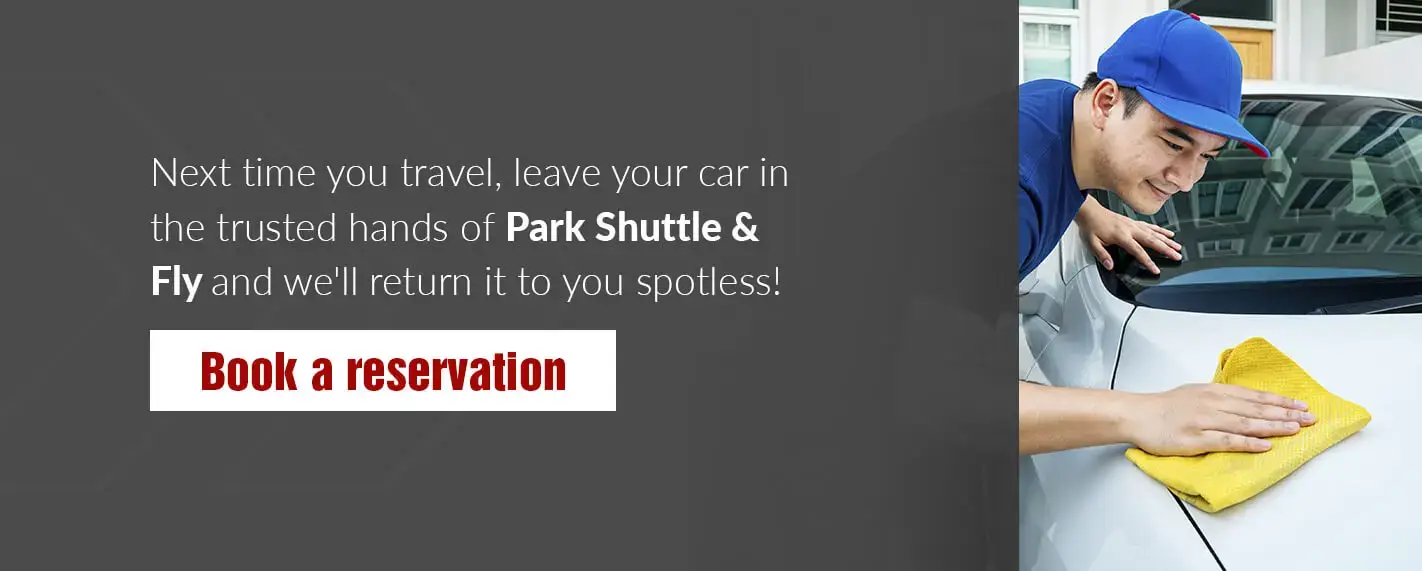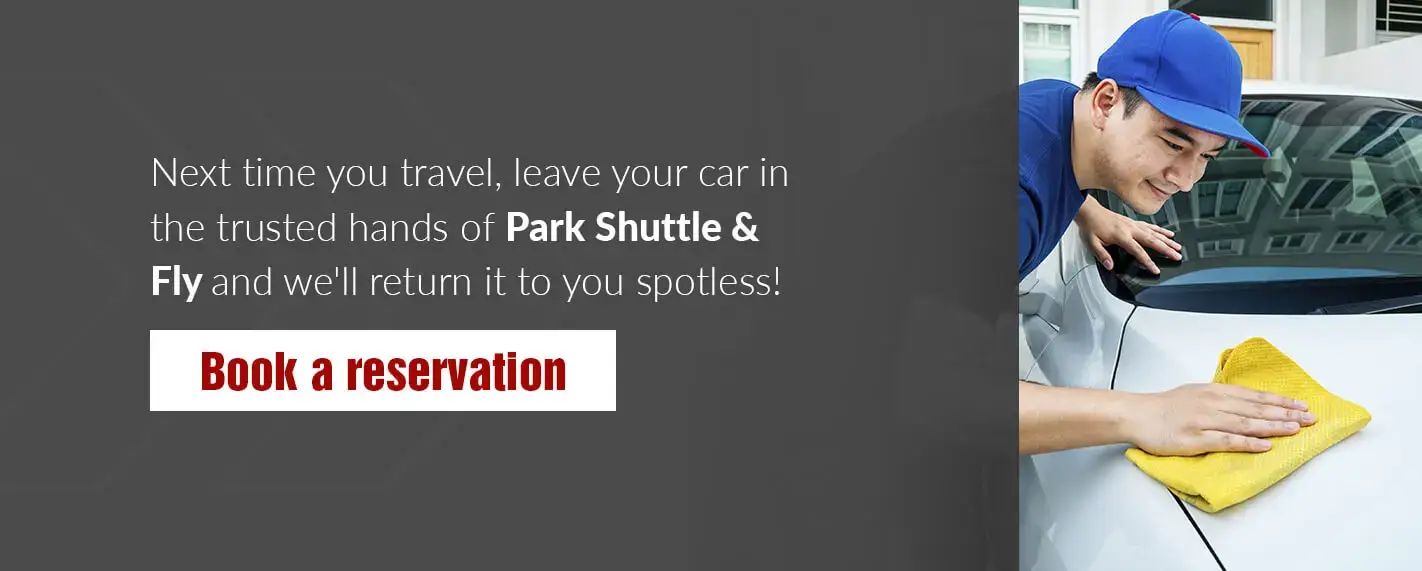 At Park Shuttle & Fly, we know that you don't always have time to give your car the thorough cleaning it needs. Next time you travel, leave your car in the trusted hands of Park Shuttle & Fly and we'll return it to you spotless! Our car care professionals will wash and detail your car inside and out, handing you back the keys to a car that looks like it just left the showroom.
Call today to learn more about our package options and book a reservation for your next flight out of Logan International Airport.