10 THINGS YOU NEED TO DO BEFORE FLYING WITH AN ELDERLY PARENT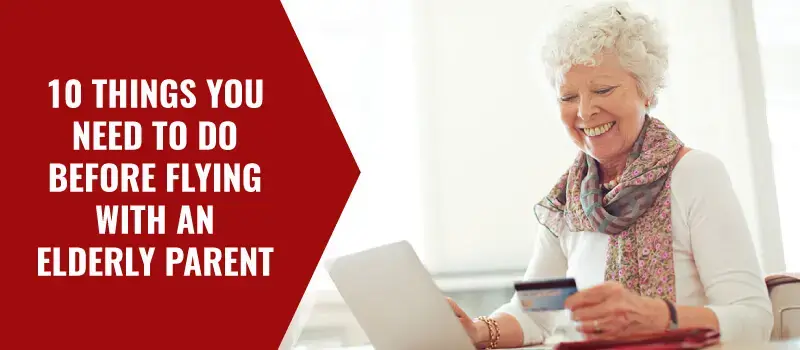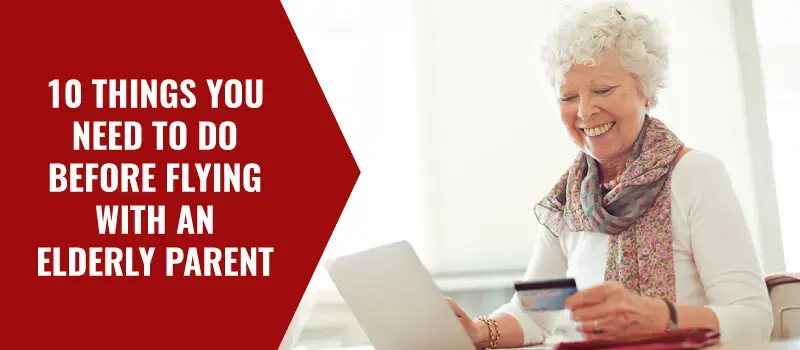 Posted On: May 2nd, 2017 Author: Renee Ciaramella
Is it safe for the elderly to fly? What happens if there's a medical emergency during the flight? Can you take a wheelchair on a plane? How far can you accompany someone in the airport? Traveling with elderly parents is a little different from a normal family vacation. Before you start second guessing your decision, check out our air travel tips for senior citizens to make the flight as smooth as possible.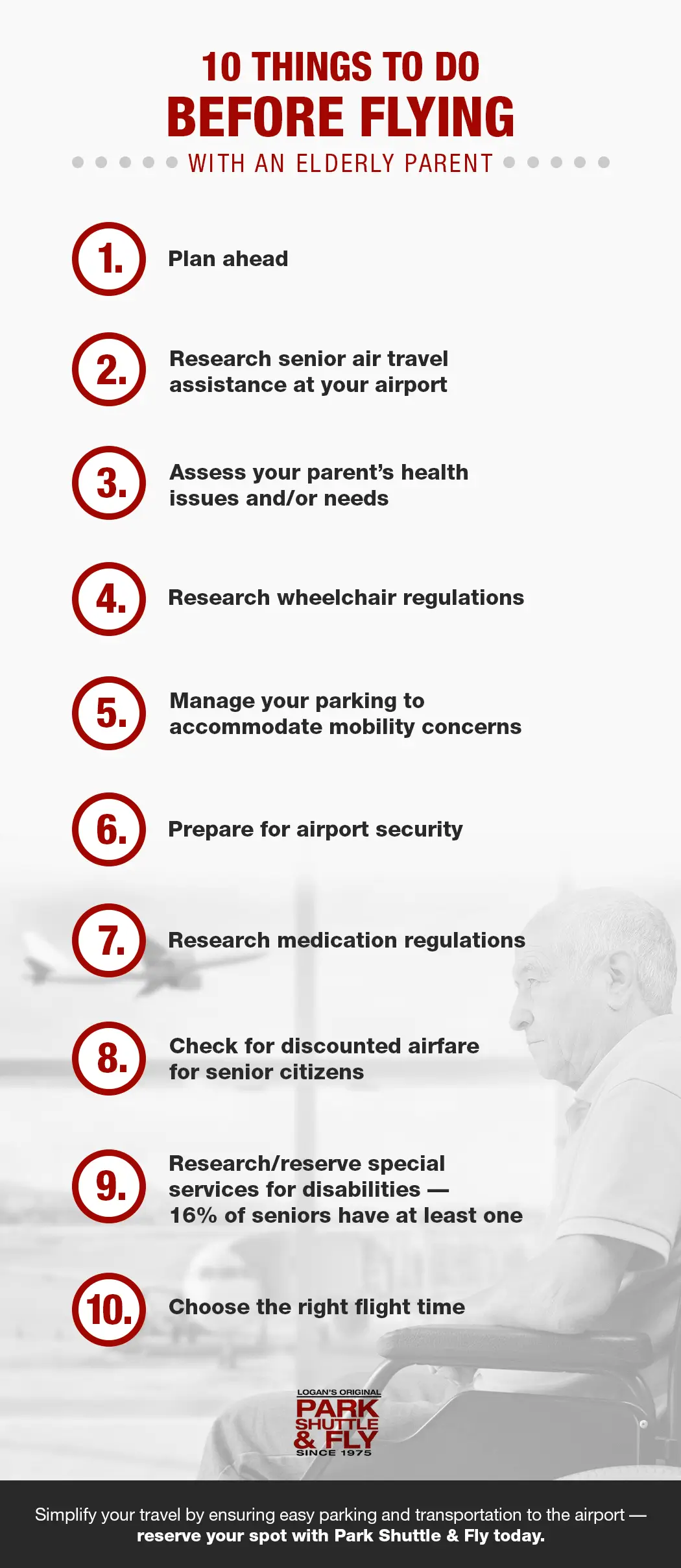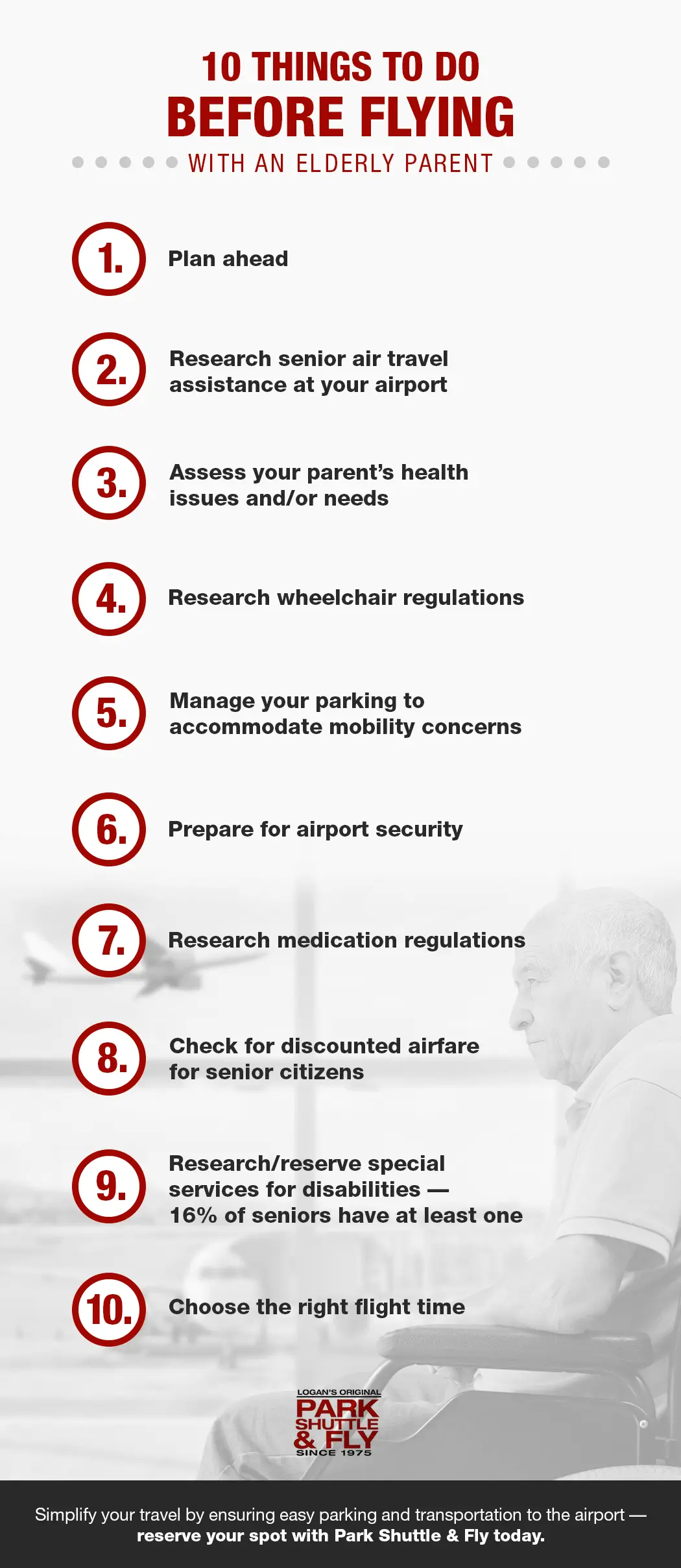 1. PLAN AHEAD
A little research on Logan International Airport, or the airport you're flying out of, and the specific flight you're taking helps you prep to avoid problems. The Air Carrier Access Act requires airlines to disclose information about the flight in advance to travelers with mental or physical disabilities. This information is particularly important if you're flying with a wheelchair-bound person or someone with a disability of any kind. Being armed with information ahead of time allows you to provide airport help for elderly travelers.
What should you find out about the flight? Here are some helpful pieces of information the airline must provide upon request:
Type of lavatory and whether or not it is handicap accessible
Aisle seat locations that have movable armrests
Seats not available to passengers with disabilities, such as an exit row seat
Potential limitations that may affect the ability of the individual to fly on the aircraft
Storage facilities or limitations in those facilities for mobility aids
Call the airline to get this information and any other details you need to make travel decisions for your elderly companion. For example, this information helps you choose a seat with a movable armrest near the accessible restroom. Find out if you need medical forms to bring certain medical equipment on the plane.
2. ABOUT AIR TRAVEL ASSISTANCE FOR SENIORS
If your elderly parent is traveling alone, check into air travel assistance for seniors. The Air Carrier Access Act requires airlines to offer assistance for boarding and deplaning. The airline must also help passengers make connections when necessary. Once on the plane, the airline must continue offering assistance as needed, but that does not include extensive personal services. If your parent needs these more extensive personal services, plan to go along for the flight.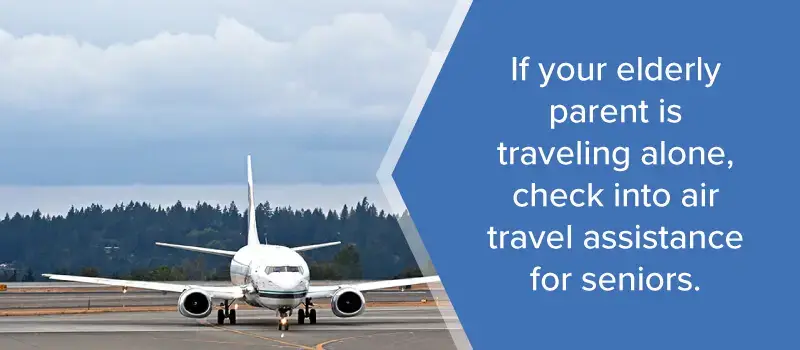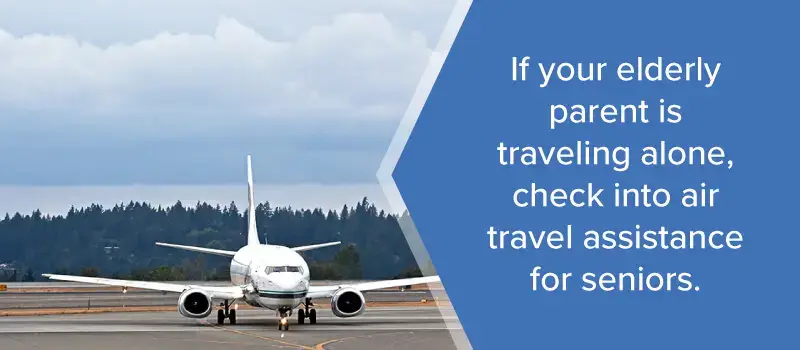 Another option is to hire a concierge service to get your parent through the airport. These services are often available to pick up the passenger at the curb and help them navigate the airport. Keep in mind these services charge fees, which adds to the overall trip cost.
You may also have the option to accompany your elderly parent to the gate, even if you aren't flying. Check at the airline ticket counter to get an escort pass that lets you go through security with your parent. You will need to provide your ID for this option.
If you haven't traveled from an airport like Logan International Airport before, look at a map to get a feel for the layout. Identify restroom locations, food options and other services you or your elderly traveler may need while waiting for the flight. You'll feel a lot more prepared and comfortable with an idea of what to expect. Even with preparation, it's a good idea to show up early so you don't have to rush.
3. ASSESS HEALTH ISSUES
Health issues complicate the travel process, but preparing for medical issues increases the chances of a safe flight. Check with the traveler's doctor before booking the trip. Find out if any medical conditions may make it unsafe to fly. Ask for tips and precautions that can help during the flight. It's also useful to have a medical certificate or document describing any medical conditions in case a medical issue arises during the flight. Keep this document with you or in your elderly companion's travel bag during travel. This thorough preparation ensures a high level of assisted travel for elderly flyers.
Consider the mobility aids, medications and other medical equipment your elderly parent will need at the airport and during the flight.
4. HOW TO FLY WITH A WHEELCHAIR
Flying with a wheelchair is much easier when you know what to expect and how to navigate the logistics. Your parent can travel with a personal wheelchair, or you can use a free wheelchair at the airport. Wheelchair assistance for parents such as the airport wheelchair option is ideal for elderly travelers who can walk but have some mobility issues. If you parent is in a wheelchair all the time, you'll likely bring one from home to have for the duration of the trip.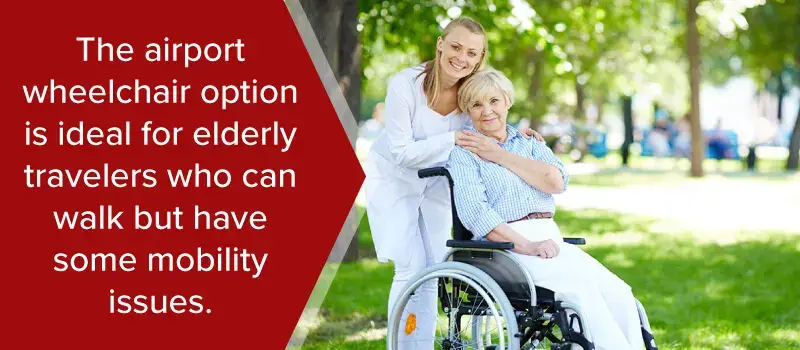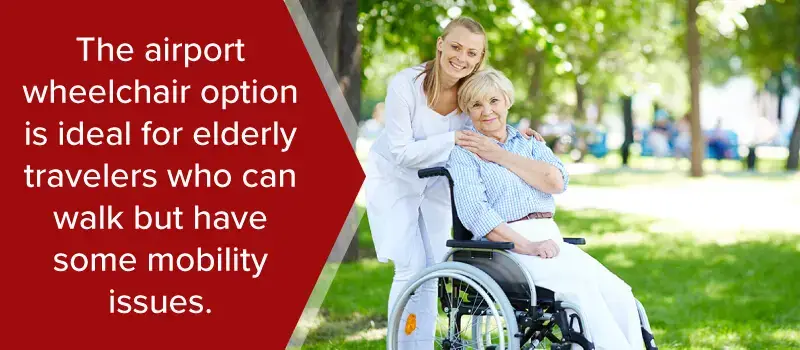 If you borrow a wheelchair, check with your airline to see if you can reserve one in advance. This saves you time and ensures you get a wheelchair. Reserve wheelchairs for the departure airport, any layover airports and the destination airport going both directions.
Airlines are required to allow all wheelchairs on the plane, including battery-powered wheelchairs. The airline provides hazardous materials packaging for the battery if necessary. If your parent uses a collapsible wheelchair or other assistive devices and those items are stored in the cabin, they take priority in storage compartments. The equipment also takes priority in the baggage compartment. In other words, you shouldn't have a problem bringing your travel companion's wheelchair on board the plane.
The Air Carrier Access Act also addresses accessibility to the plane itself. Planes with 19 or more seats must have ramps or mechanical ramps available when the plane does not provide level-entry boarding. This applies at airports with more than 10,000 enplanements each year. Check ahead of time to determine if the flight will offer level-entry boarding.
When traveling with a personal wheelchair, ask to gate check it. This allows your elderly traveler to stay in the wheelchair at the gate. If the plane doesn't have room for the wheelchair in the cabin, it goes into the cargo area. Passengers who cannot walk to their seats transfer from the wheelchair to an aisle chair just before boarding the plane. These special chairs are built to be narrow in order to easily fit down the aisles of airplanes.
Keep these things in mind when flying with a wheelchair:
Include assembly and disassembly instructions on the wheelchair. This makes the process easier for the airline staff if the chair needs to be disassembled for storage during the flight.
Make sure the wheelchair is in good repair before the flight. If the wheelchair is damaged or has problems already, the trip on an airplane may cause additional issues.
Label any detachable parts of the wheelchair with a name and address in case they get separated during the flight.
Remove leg supports and extra seat cushions when possible before the wheelchair goes into the cargo area to prevent those items from falling off or getting damaged.
5. MANAGE PARKING
Before you can begin thinking about navigating the airport, you have to deal with parking. Airport parking is often a hassle, not to mention expensive. Add in an elderly traveler with mobility issues that you need to get from the car to the airport, and you have a major hurdle to clear.
Off-site Logan Airport parking with Park Shuttle & Fly is an airport parking solution when traveling with an elderly parent. Make your reservation online for the duration of the trip. You can prepay for your parking when you make your reservation or choose the regular method to pay when exiting the lot which is 5 minutes from Logan Airport.
When you choose Park Shuttle & Fly, you get the peace of mind of parking your car in a fenced, secure lot with video cameras. Our no-move policy means your car stays where you park it for the duration of your trip. Your car never leaves the fenced lot. Perhaps the best feature is the shuttle to the airport. We take you right to the terminal, and our shuttle picks you up when you return. The shuttle makes it easier to get your elderly parent to the terminal without a lot of walking. With no drawbridge delays, you can travel between your car and the terminal much faster.
6. PREP FOR SECURITY
All passengers must go through screening at the security checkpoint, but you can get some modifications for your elderly passenger. Travelers with disabilities also have additional screening options to match physical needs. It is important to be aware of TSA rules especially for the elderly and those with disabilities. These airport security screening tips for senior travelers make the process easier.
The best thing you can do is inform the TSA officer of any health or medical conditions that may interfere with the regular screening process. Wheelchairs, scooters, walkers, canes and other mobility aids all must go through screening. If an elderly passenger cannot walk through the regular screening devices, a pat-down option is a possibility. This can happen in a seated position or while standing and using the wheelchair for support.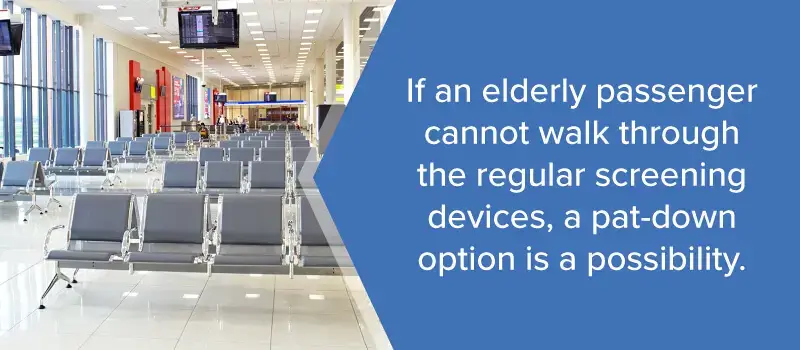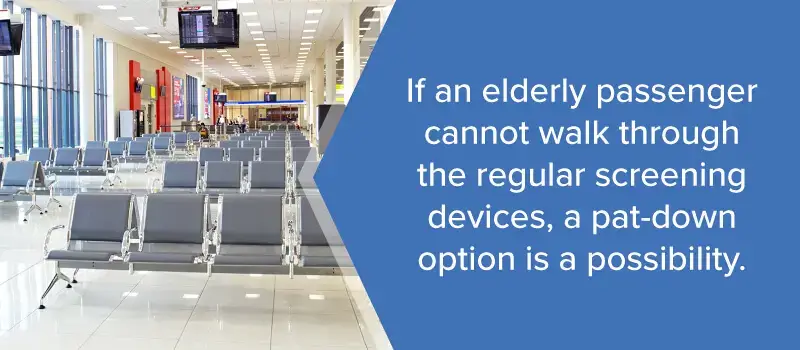 You can expedite the security screening process with the TSA Precheck program. The program requires an application and background check, along with a fee of $85 for a five-year membership. With TSA Precheck, senior citizens and other participants move through the security checkpoint much faster. The wait is usually five minutes or less, which is a huge time-saver for travel with elderly parents.
Participants don't have to remove their shoes, light jackets, laptops, liquids or belts. For an elderly person with mobility issues, this option makes the process much easier and faster.
Passengers who are 75 or older have the option for an expedited screening process similar to the TSA Precheck program. The passenger can leave shoes and light jackets on during the screening. Any alarms during the screening require additional screening, which may require shoe and jacket removal for additional screening or a pat-down.
7. TRAVELING WITH MEDICATION: DO'S AND DONT'S
Medication is often a crucial part of a mature adult's daily routine. Keeping the medication safe during travel is a priority. Use these medication tips when flying:
Pack the medication in a carry-on to make sure it arrives at the destination.
Leave medication in its original packaging with clear labeling.
Label any medically necessary liquids to expedite the security process. Medications, creams and medically necessary liquids are allowed in amounts larger than the usual 3.4-ounce limit in your carry-on. You also don't have to place the liquids in a zip-top bag. Keep in mind, additional screening may be necessary if the liquids set off any security alarms.
Bring a copy of prescriptions and medical statements related to the physical condition of your elderly parent.
Declare all medications and medically necessary liquids before going through the security checkpoint.
Request a reminder if your parent needs to take medication in flight. The staff won't actually administer the medicine, but they can remind your parent to take the medication.
8. CHECK ON DISCOUNTED AIRFARE
Senior discounts on airfare aren't as common these days, but it doesn't hurt to check. Even though some airlines say they offer senior discounts, the fare is often the same as a regular adult ticket. If the discount is available, you may need to book directly through the airline rather than a third-party site.
9. AIRLINE COMMUNICATION
The Air Carrier Access Act states that airlines cannot refuse to let passengers with a disability on a flight unless the medical situation affects the safety of the flight. It also prohibits airlines from requiring advance notice of a passenger with a disability. If you need special accommodations, such as respirator hook-up, the airline may require 48 hours' notice. Plan to give these types of notices in advance to facilitate air travel assistance for elderly flyers.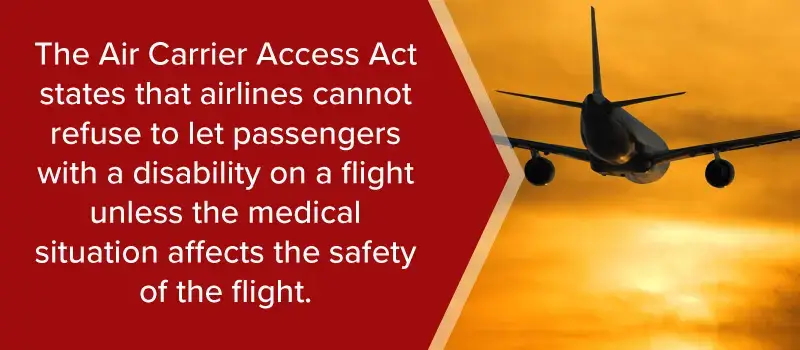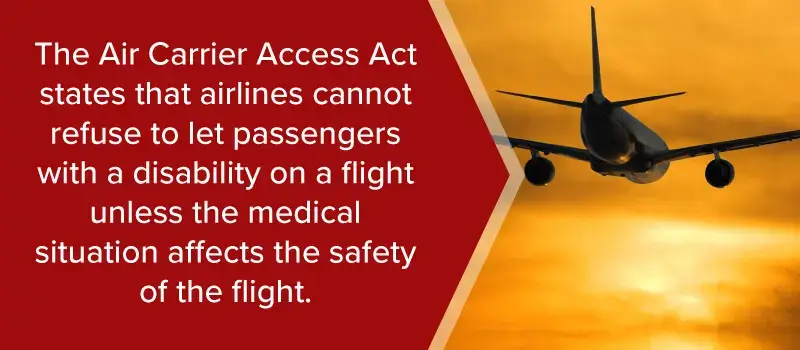 While you aren't required to disclose the disability ahead of time, working with the airline can prevent any issues on travel day. Talk directly to the airline to find out about any special services that make the flight easier for your elderly companion. Ask about seating options reserved for passengers with disabilities. Let them know about mobility aids or medical equipment needed for the passenger, and ask how those situations are typically handled. Your proactive involvement helps enable assisted travel for elderly flyers.
10. RESERVE SPECIAL SERVICES
Schedule or reserve any special services you'll need ahead of time. By securing your reservation, you ensure your loved one gets the necessary support with minimal delays.
When reserving the ticket, request a seat with extra legroom. Early boarding is another possible service that can help your elderly traveler get settled before the plane fills with impatient passengers. For longer flights with meals, check on specialty meals that meet any dietary restrictions.
If you plan to borrow a wheelchair at the airport instead of bringing your own, check on the possibility of reserving one. Some airlines run out of wheelchairs at busy times, so an advanced reservation ensures you get one, even if it's busy.
11. MAKE FLIGHT DECISIONS
Explore the flight options for your elderly parent before you book the trip. The time of day is one important consideration. When does the person feel the most energetic? Are there certain times of day when the person feels unwell or lethargic? Is there a medication or medical treatment schedule to consider? When possible, schedule the flight when your companion feels the best, so the flight is more pleasant and easier to manage.
Another consideration is the number of layovers. Scheduling a direct flight is best, especially if mobility is an issue. Layovers require you to get off and on a plane multiple times with all of the medical equipment in tow. A direct flight makes the trip less exhausting and less difficult for everyone involved.
Take time to choose the best seat possible for your parent. For wheelchair users, an aisle seat with a flip-up armrest is ideal for easier transitions from the wheelchair to the seat.
With these air travel tips for traveling with elderly parents, you can make it through Logan and to your destination with fewer problems. Between personal preparation and elderly flying assistance from the airline, you can rest easy knowing your loved one is in good hands. Reserve your parking spot with Park Shuttle & Fly for a secure, convenient way to park for your flight out of Logan.