For even the most seasoned tourist, flying can sometimes be a challenging mode of travel. With so many people and planes arriving and departing every day, navigating the airport can seem overwhelming, especially to first-time flyers. Being well-prepared can make the difference between an easy and harrowing trip through the airport.
Luckily, we've learned a few tips and tricks that will help you during your next trip out of the airport. From packing hacks for flying to tips for arrival and boarding, these 28 airport hacks you never knew will make the entire airport navigation process easier.
1. APPLY FOR TSA PRE-CHECK
To get through U.S. airports faster, you can apply for TSA pre-check. For a five-year membership, you can get through security without needing to remove your shoes, jacket, belt, liquids or laptop. More than 93% of TSA pre-check passengers waited only five minutes or less.
You can apply online in five minutes and then schedule an appointment at an enrollment center. Your in-person appointment will take about 10 minutes, during which you'll undergo a background check and have your fingerprints taken. Afterward, you can enjoy the convenience of being a TSA pre-check traveler.
2. CHOOSE THE BEST SEATS ON THE PLANE
For extra comfort and convenience, pick the best seat on the plane. Do you need a lot of legroom? Would you prefer a seat near a power outlet or USB port? Research the best seats and amenities of a flight to select the most comfortable and relaxing space for you.
3. FAMILIARIZE YOURSELF WITH YOUR LAYOVER AND DESTINATION AIRPORTS
You may be familiar with your home airport, but what about your layover and destination terminals? If you've never flown out of a particular airport before, you may find navigation challenging or disorienting. Look up the airport maps before you leave and figure out what amenities are available within each terminal. By doing this beforehand, you'll save yourself time when you're trying to locate food, toiletries or restrooms during a short layover. You can also find information about an airport's Wi-Fi, especially if multiple networks are available.
Food on airplanes tends to be full of fat and sodium, which can make flying unpleasant. By doing your research beforehand, you can find which restaurants are located in the airport so you can grab a healthy bite to eat before getting on board.
4. BUY TRAVEL SIZED ITEMS
The TSA has rules about the sizes of many products you may want to bring with you during your travels in your carry-on bag. Luckily, many companies offer travel-sized products and cosmetics. Why toss or pour out the toiletries you've spent your money on when you can buy products that align with the TSA's rules in the first place?
5. PACK A MULTI-PLUG ADAPTER
If you're traveling with companions, pack an adapter that multiple people can plug into. You can even make use of your adapter if traveling along — if every outlet is in use when you arrive at your gate, a fellow traveler may be willing to share with you if you can provide one.
6. BRING A PORTABLE BATTERY CHARGER


In today's world, we want our electronics charged and ready to use at all times. Those who rely on their phones to call for a pick-up once they reach their destination may start to panic when they see a red 10% battery charge in the top corner. To avoid dead cell phones and other electronics, pack a portable battery charger. With a portable charger, you won't have to track down an outlet if your phone's battery dwindles to dangerous levels.
7. PACK BOOZE IN YOUR CARRY-ON OR CHECKED BAGS
As long as you adhere to the TSA's rules, you can bring alcoholic beverages onto your flight. However, according to FAA rules, you can't drink alcohol on your flight that hasn't been served by the airline. So feel free to bring your alcohol on board — just wait until after you've reached your destination before kicking off the celebration.
8. BRING AN EMPTY WATER BOTTLE
You'll want to stay hydrated before, during and after your flight. However, you can't take fluids over the limit through security, and post-security beverages tend to be expensive. To keep hydrated affordably, pack an empty water bottle that you can fill up after you pass through security. On the plane, you can have orange juice or soda to stay refreshed.
9. PACK DRY SNACKS
Airport food is usually costly. To avoid hunger and overspending, pack dry snacks like candy bars, granola bars, pretzels or nuts in your carry-on.
10. BRING ZIPLOC BAGS
Ziploc bags have many uses when traveling. They're great for storing your liquids in one place when you have to take them out at airport security. They can also help you stow snacks and keep electronics like your phone dry. Include a few extras in your luggage for your return trip and future travels.
11. ESTABLISH A SET OUTFIT FOR FLYING
You'll make preparing for your flight much simpler and faster if you already have a designated set of clothes you know you'll be comfortable in. You'll want durable clothes that won't make you too warm or cold. Planes can get chilly, so you may want to pack a light scarf or cardigan that can keep you warm but is also easy to take off if you don't need it.
Choose shoes that you can easily take off and put back on when you go through security as well as a belt that has a plastic buckle — some security agents will let you wear a non-metallic belt. Make sure your travel clothes are clean and ready a couple of days before your date of departure.
12. WEAR GLASSES INSTEAD OF CONTACTS
Our skin and eyes feel drier during flights. Wearing glasses rather than contacts can help keep your eyes from drying out. Adding eye drops and hand lotion to your carry-on checklist can keep your eyes and skin moisturized throughout the flight.
13. BRING HAND SANITIZER AND WET WIPES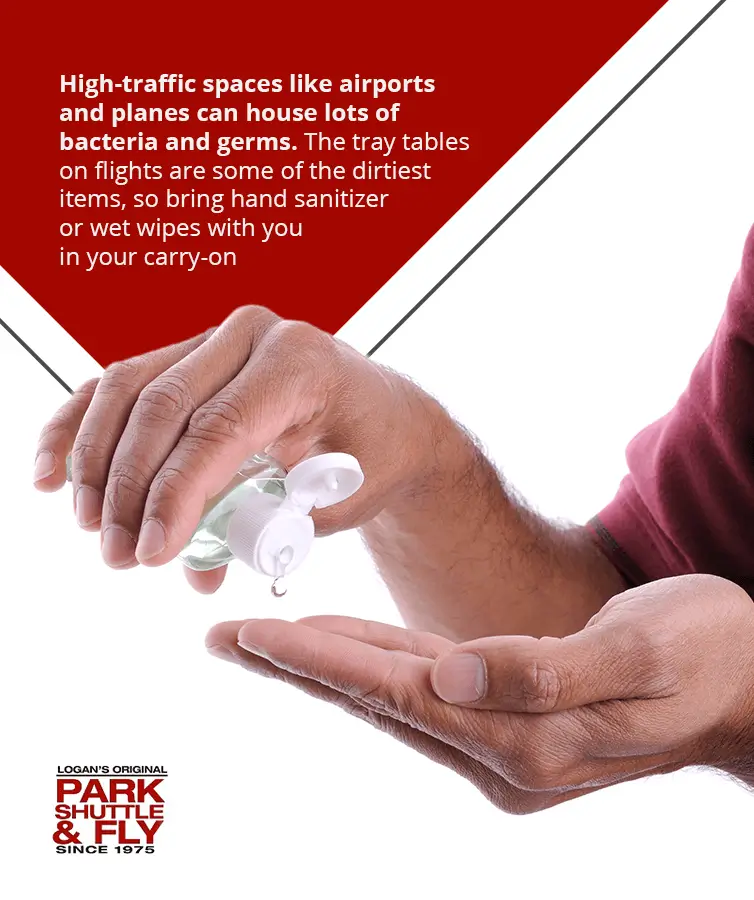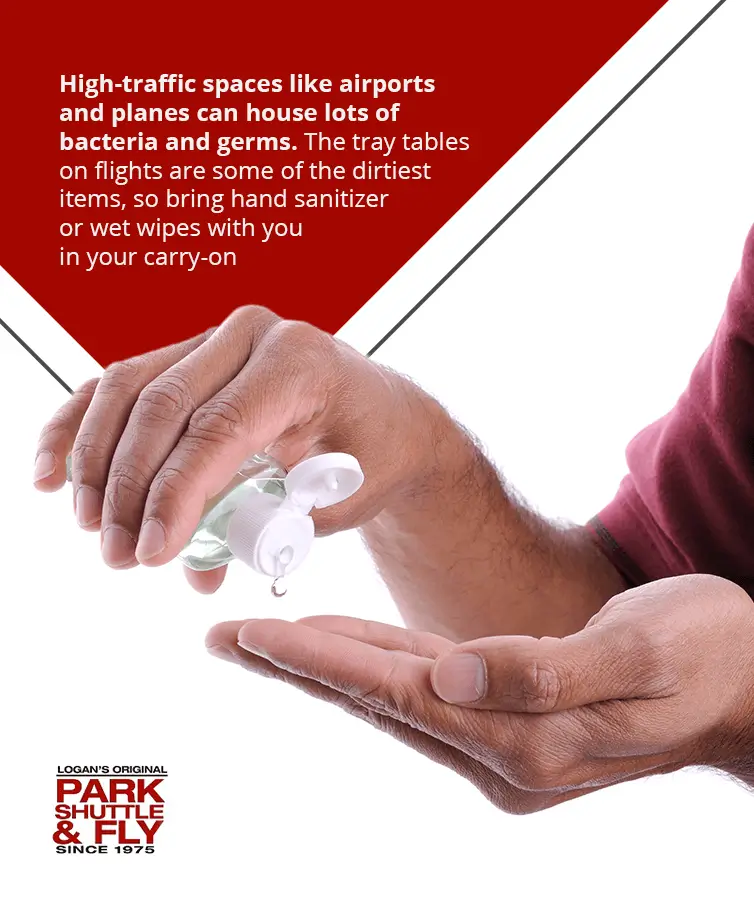 High-traffic spaces like airports and planes can house lots of bacteria and germs. The tray tables on flights are some of the dirtiest items, so bring hand sanitizer or wet wipes with you in your carry-on. This way, you can stay sanitized and clean in both the airport and on board.
14. WEIGH YOUR BAGS BEFORE GOING TO THE AIRPORT
Fees and extra charges can rack up quickly at the airport, especially if you don't come prepared.
Airlines will charge an extra fee for bags that weigh over a specific limit. Weigh your packed suitcase at home to avoid this extra expense. Compare your suitcase's weight to the airline's set limit so that you can keep a little extra money in your pocket. If your bag weighs too much, move belongings to another bag like your carry-on or considering packing a little lighter.
15. WEAR A BULKY ITEM FOR MORE LUGGAGE SPACE
If your bag is close to the weight limit, put a heavy item like a jacket or sweatshirt at the top or in a front pocket. If the airline says your bag is overweight, take the garment out and wear it. Once you get on the plane, you can take off the jacket and put it in the overhead bin. You may also want to utilize this trick on your way home, too, if your bag is heavier after purchasing a few souvenirs.
16. SECURE YOUR LUGGAGE
Many travelers use a bow, ribbon or another simple decoration to distinguish their luggage from others'. However, most simple decorations won't keep your luggage safe. Instead, purchase a crush-proof lock to protect your luggage from theft, or invest in technology like a luggage tracker. Also consider buying luggage with a hard shell, which is sturdier and easy to clean.
17. KEEP ITEMS YOU'LL NEED IN EASY REACH
For your carry-on, keep your boarding pass, ID and other items you'll need through the airport within easy access. You'll also want to keep electronics like your laptop in a place that's easy to access. This way, you won't have to fumble through your bag for your ID or laptop when you're trying to get through security.
18. USE THE MY TSA APP FOR WAIT TIMES
When you plug your airport's information into the My TSA app, you'll find relevant wait time information such as security checkpoint wait times and general departure delays.
19. GET CHEAP PARKING BEFORE HEADING TO THE AIRPORT
Before you leave for the airport, do your research. The airport may offer several parking options, often at drastically different rates. You may be able to pay a third of one parking lot's price for another. You can also schedule nearby parking ahead of time.
20. TAKE A PICTURE OF YOUR PARKING SPACE


Remember where you parked by taking a few pictures of your parking space. Include signage in your pictures that details which section and level you parked in. Having this information on hand will save you time and energy when you return. After all, you'll want to find your car as quickly as possible so that you can get home and relax after your day of traveling. Searching for your car in a multi-level parking garage at the airport isn't the way you want to spend your afternoon.
21. MOVE ITEMS FROM YOUR POCKETS
Rather than fumble with belts, loose change or jewelry at security, transfer any items from your pockets to your carry-on ahead of time. Fewer items to deal with will help you get through security faster and with fewer hassles.
22. TAKE A PICTURE OF YOUR CHECKED BAGGAGE
Though a bright bow or ribbon may help your baggage stand out, having a picture on your phone of your checked luggage can better help airline staff locate it if needed.
23. SNEAK YOUR ITEMS IN A SHOPPING BAG
For travelers having trouble sticking to the limit of one carry-on bag and one personal item, ask for a shopping bag at an airport store when buying snacks and entertainment for the flight. Then, put some of your other stuff inside. Gate agents may not count it against your bag limit.
24. GO TO THE CHECKPOINTS ON THE LEFT
People naturally tend to opt for the right when choosing a side. To go through a shorter line at a security checkpoint, pick a checkpoint on your left.
25. USE LOUNGE AREA AT THE AIRPORT
Frequent travelers with children often prefer to arrive at the airport early to ensure they get through security well before they have to board their flight. For these families, club lounges can be a great place to rest and relax. Parents can grab a drink, and the whole family can enjoy snacks, hot chocolate, Wi-Fi, TV, DVDs and more. Use the lounge as a calming distraction for yourself and your family before the flight.
26. BE CAUTIOUS WHEN USING HEADPHONES
Whether you're listening to music, watching a movie or streaming a podcast, be cautious of your device's volume. If the sound is up too high or you become too engrossed, you may miss important announcements about your gate or flight.
27. ASK FOR A FREE FLIGHT UPGRADE
If you're celebrating a special occasion like a honeymoon or traveling alone, you may be able to get a free upgrade. Ask quietly and politely if higher-class seats are available, and maybe you'll get a flight upgrade at no extra charge — the worst they can do is say no.
28. WAIT UNTIL THE BOARDING LINE SHORTENS
Once boarding begins, most travelers rush to the gate. Avoid waiting in the long line and standing around while people stow their luggage on board. Instead, stay seated until an attendant calls your section or zone. You won't miss the flight, and you'll be able to get to your seat quickly without dealing with the long line.
RESERVE YOUR PARKING WITH PARK SHUTTLE & FLY

If you're flying out of Boston's Logan Airport, Park Shuttle & Fly provides all the transportation services you need to get to and from your terminal. Say goodbye to long walks hauling luggage and delays. Our quick shuttle service will transport you to the terminal within five to 10 minutes. We provide airport parking, valet service, vehicle detailing service, luggage assistance and a rewards program — all with no deposit online reservations.
Don't let stress about transportation and parking keep you from the trip of your dreams. With Park Shuttle & Fly, you can rest assured your needs will be cared for. Ready to reserve your parking with us? Get a quote today from Logan's Original Park Shuttle & Fly Since 1975.