Posted On: April 1st, 2020 Author: Renee Ciaramella
Traveling for an extended time period is a dream for many. Whether you're backpacking around the world, seeing new places, experiencing new cities or tasting new cuisines, long-term travel allows you to see the world and learn more about its people.
As exciting as extended travel can be, it can be just as intimidating to figure out what to pack for a long trip. Travelers have to consider several things before they pack, including the purpose of the trip, the location, the planned activities, the length of their stay and more.
HOW TO PACK FOR A LONG TRIP
Before you pull out your suitcase, decide what category your trip falls under:
Leisure: This is a true vacation where the only thing you have to worry about is what you'll do next.
Business: If you're traveling to complete tasks for your job, your trip is business-focused.
Combination: Your trip may be a combination of leisure and business if you plan to work and vacation at different points. If you work remotely, you may plan this kind of trip to have fun while still earning money.
Once you've established the purpose of your trip, you can focus your attention on the destination and what to pack.
MAKING A LONG-TERM TRAVEL CHECKLIST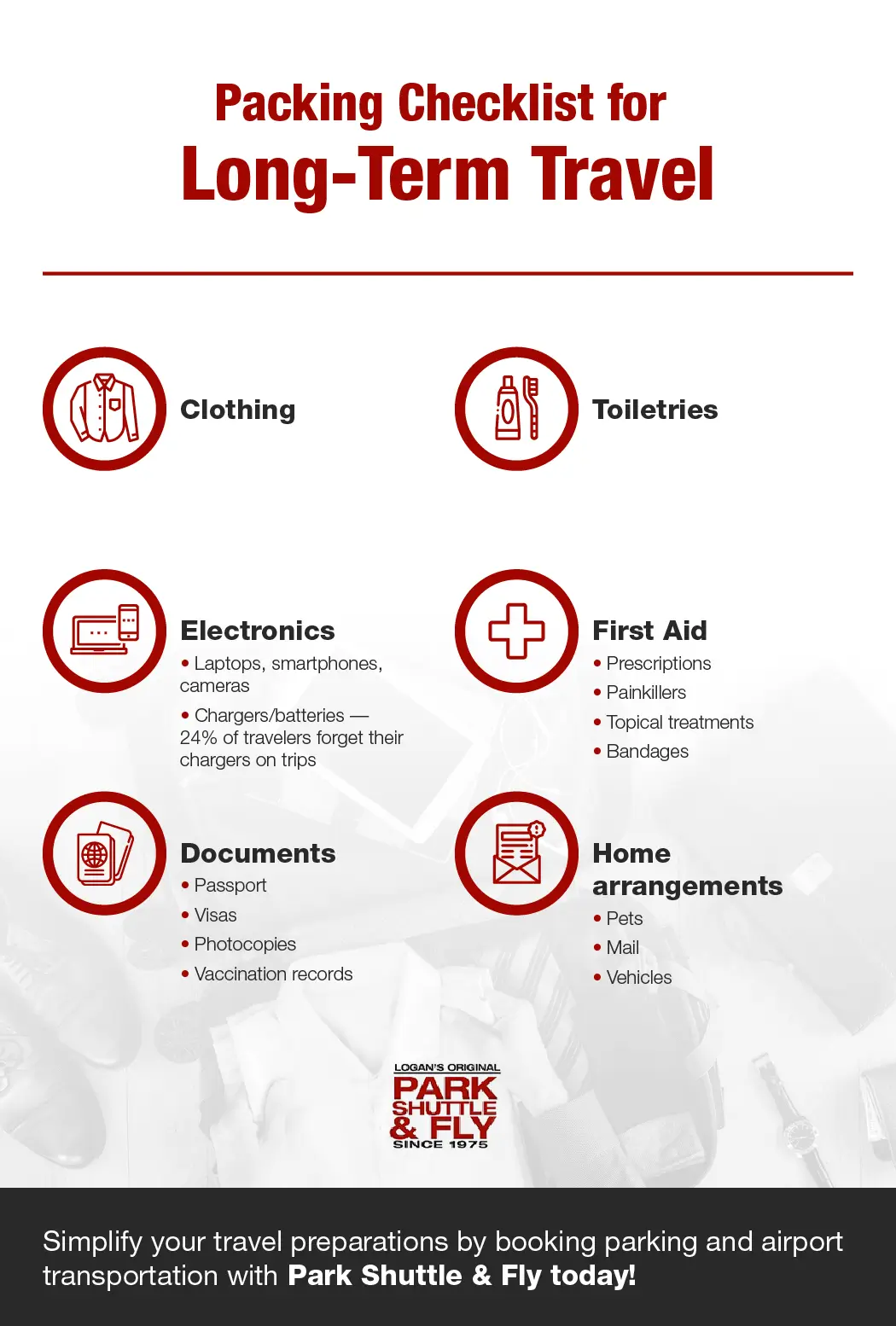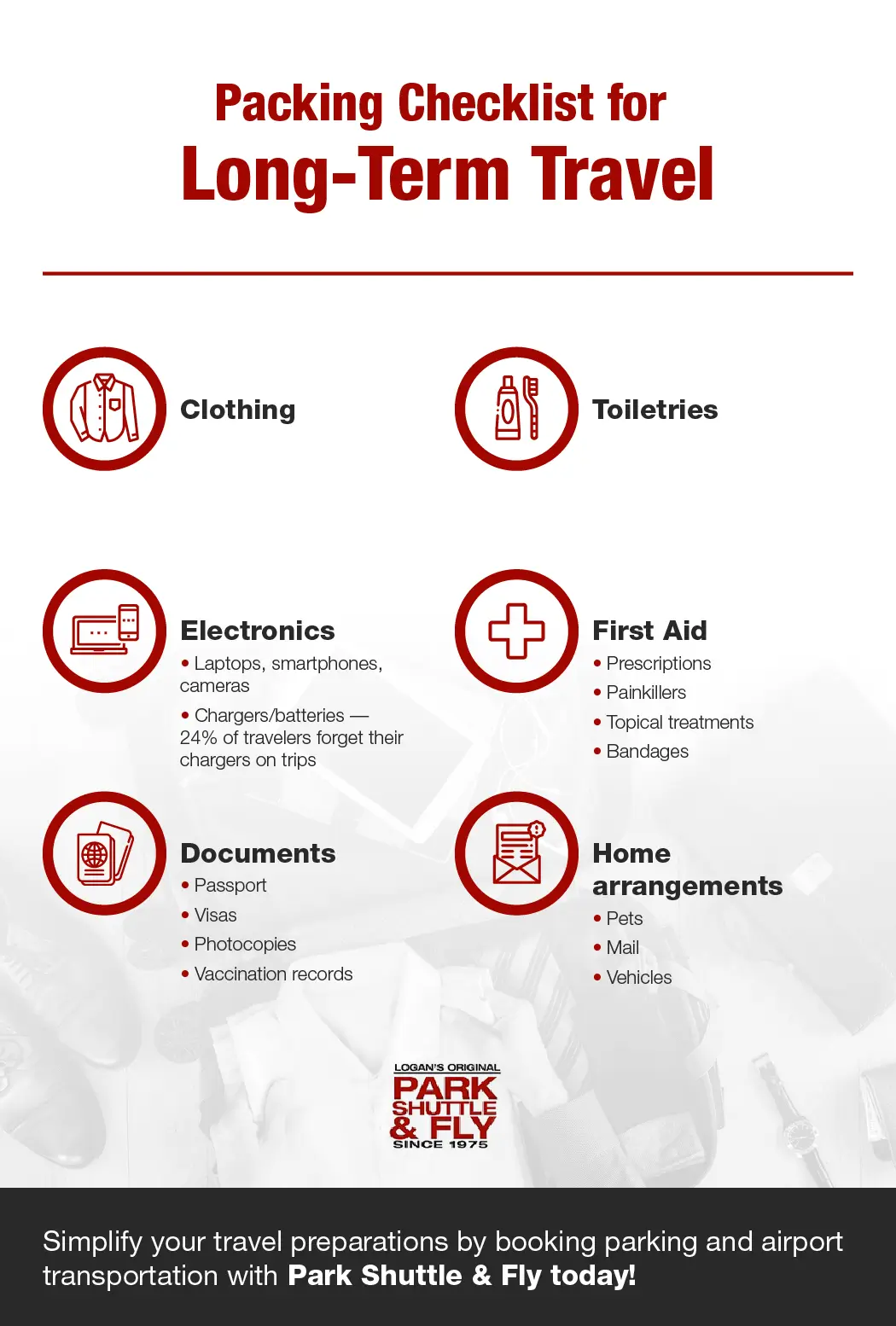 An easy way to sort which items to pack for a long trip is to answer the following three questions:
What will the climate be? Is it going to be extremely hot or cold for the entire trip? Or will the temperature vary? Will it be rainy or windy? You'll need to do some research on the climate and seasonal conditions so you can pack accordingly.
What will you be doing? Are you the outdoorsy type who thrives on activities like hiking or swimming? Or do you prefer more low-key ways to see new cities, like enjoying cafes or exploring museums? What you plan to do on your vacation will greatly influence what you pack and what you leave behind.
How long will you be gone? Are you traveling for a few months or a full year? Even if you're not sure how long you'll be gone, narrowing down an estimated travel length can be helpful.
Once you've answered these questions, you can organize your long-term travel packing list.
WHAT SHOULD YOU PACK FOR A LONG TRIP?
When you have an idea of the climate and activities you can expect on your long holiday, you're ready to pick what you'll take along. The most important thing is to know yourself and what you're able to live without. Necessities vary from person to person, but you'll want to consider these core categories: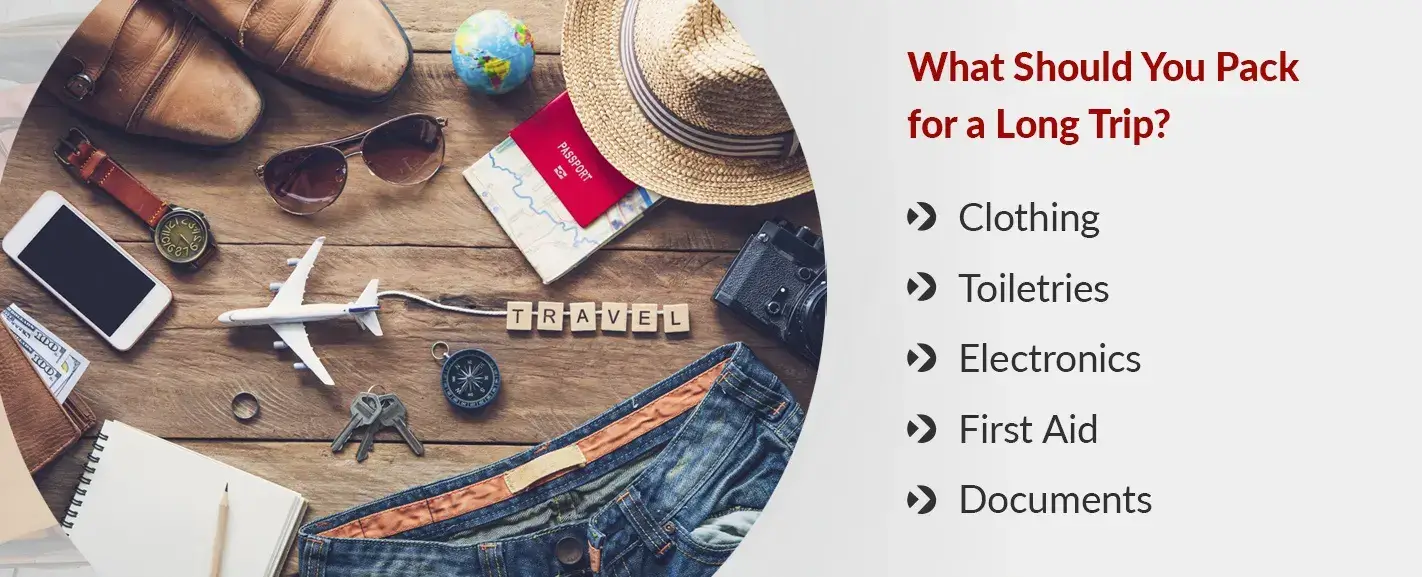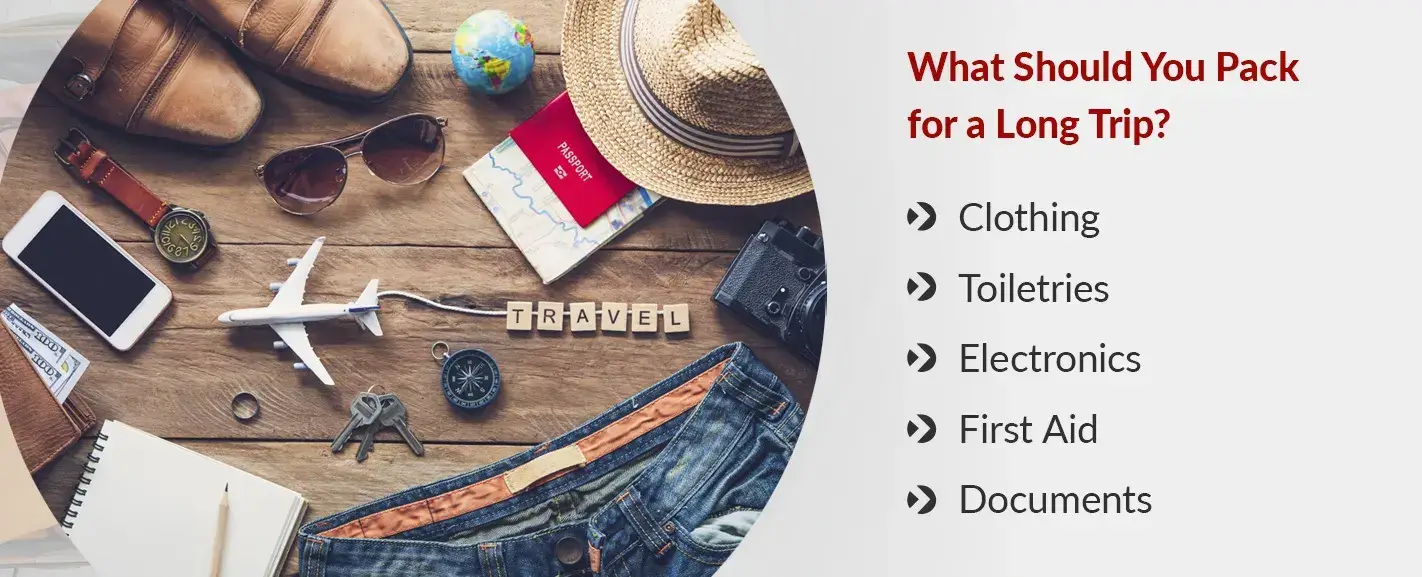 Tailor your long-term trip packing list to the type of travel you'll be doing and your destinations to ensure you have everything you need within these categories.
1. Clothing
Layering is the best practice when it comes to vacation clothes. The following articles of clothing should be the staples of your travel wardrobe:
Three or four T-shirts
Two pairs of long pants
Two pairs of shorts
A light cardigan or sweatshirt
One or two pairs of comfortable and appropriate shoes
From this layering core, you can add or subtract items for your specific vacation. For example, if the climate will be warmer, you may choose to bring a mix of tank tops and t-shirts. If you'll be in a cold climate, you might swap out shorts for thicker pants or thermal leggings. Remember to keep your trip's purpose in mind while selecting clothes. If you're taking a business trip, you'll need to make sure your wardrobe is professional enough for your itinerary.
Consider the clothing items you'll need for one week and whether you will have access to a laundry facility. If you can wash and re-wear your wardrobe each week, you won't have to pack as many clothes. If you'll need to go long stretches without washing clothes, you may want to double the amount of clothing you bring.
2. Toiletries
You know what you need to get ready for the day, but it may not be practical to bring all those supplies with you long-term. Consider whether your accommodations will supply any of these toiletries, or if it would be more convenient to purchase them at your destination.
General toiletries to consider include:
Oral hygiene supplies: Including toothbrushes, toothpaste, dental floss and mouthwash
Body hygiene supplies: Including deodorant, soap, nail clippers, razors, tweezers, hairbrushes and combs
Shower supplies: Including shampoo, conditioner and body wash
Beauty supplies: Including makeup, lotion, hairdryers, curling irons, styling gels, and cologne or perfume
Miscellaneous supplies: Including glasses and case, contacts and case, extra contacts and contact solution
If you have room in your baggage, you can likely save money by bringing your own bath towel instead of renting one from hostels or homeshares that don't provide them.
Including toiletries in your long-term vacation packing list while still following TSA guidelines can take some creative packing strategies. Here are some tips to fulfill your toiletry needs in a travel-friendly way:
Instead of lugging around giant bottles of shampoo or shaving cream, consider buying solid shampoo or conditioner. They work just like a bar of soap and don't take up much room.
Pack a washcloth instead of a loofa.
3. Electronics
Common electronics to consider packing include:
Your laptop — especially if you plan to work remotely
Your smartphone
Rechargeable batteries
Portable chargers
Portable Wi-Fi — depending on your work
Your camera and camera accessories
External hard drives — if relevant for your work
Charging cables for all your electronics
E-readers are great space savers and allow you to carry multiple travel guides at once. They also come in handy for long bus or train rides. And don't forget voltage adapters, without which your electronics may not work. Check if an adapter is necessary for the countries you're planning to travel to or invest in a universal adapter that will work with a variety of outlets.
4. First Aid
Having a small travel first aid kit keeps you prepared for any situation. Stock it with essentials like:
Bandages
Topical antibiotic ointments
Ibuprofen
Anti-nausea pills
Antihistamines
Insect repellent
Antacids
Prescriptions
Regardless of where you travel, having the medications and supplies you need available to you can make a big difference in your comfort and potentially save you any hassles associated with routine care in an unfamiliar location.
5. Documents
If you don't make a list of what to pack for a long holiday, you could easily forget important documents to bring with you. The best way to ensure you have the papers you need is to research what you need and then add those papers to your long-term travel checklist.
Aside from your passport, you should also have:
At least 10 copies of your passport photo in case they are required for visas
A couple of photocopies of the photo pages of your passport, just in case
Your visas
Any relevant vaccination records
Different destinations, especially international destinations, have different paperwork requirements. Double-checking what you'll need for your stay is a crucial travel prep step.
PLAN FOR WHEN YOU'RE AWAY
Another thing to add to your packing list is the items you need to make arrangements for at home, such as:
Pets: Will you have someone look in on your pets? Or will you temporarily re-home them with friends or check them into a pet hotel?
Mail: You can ask the post office to hold your mail, or you can find someone trustworthy to pick it up from your house regularly.
Vehicles: You can put your car in a garage, leave it at home or park it at the airport.
Register for Long-Term Parking at Boston Logan Airport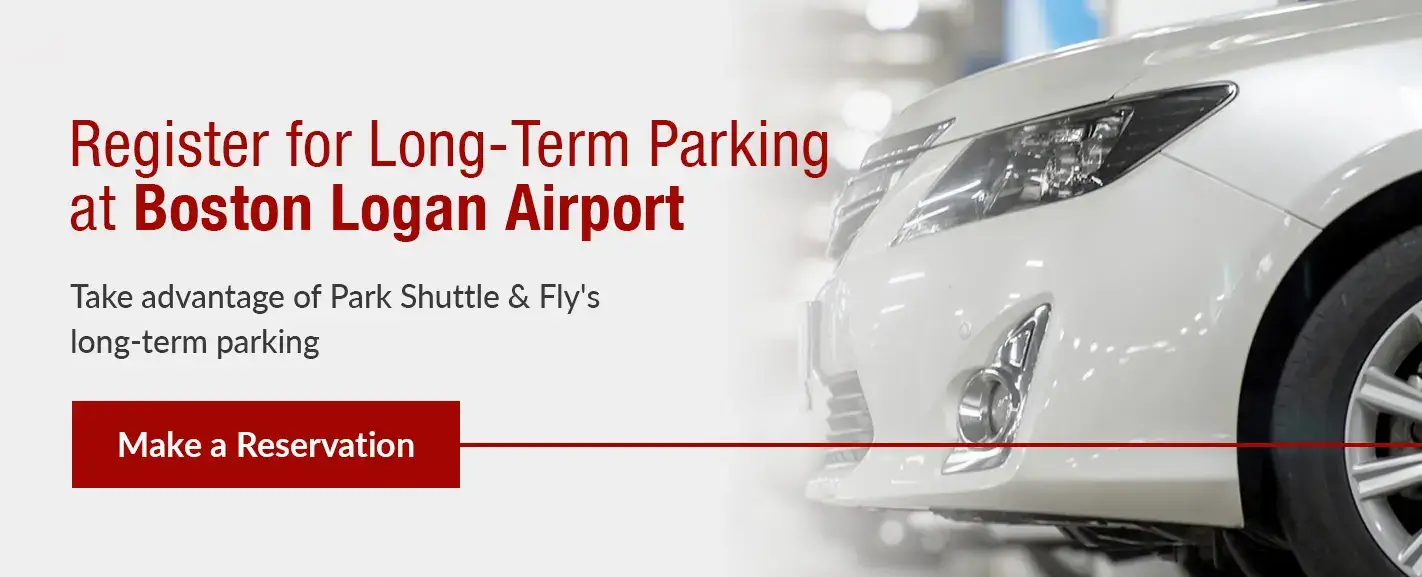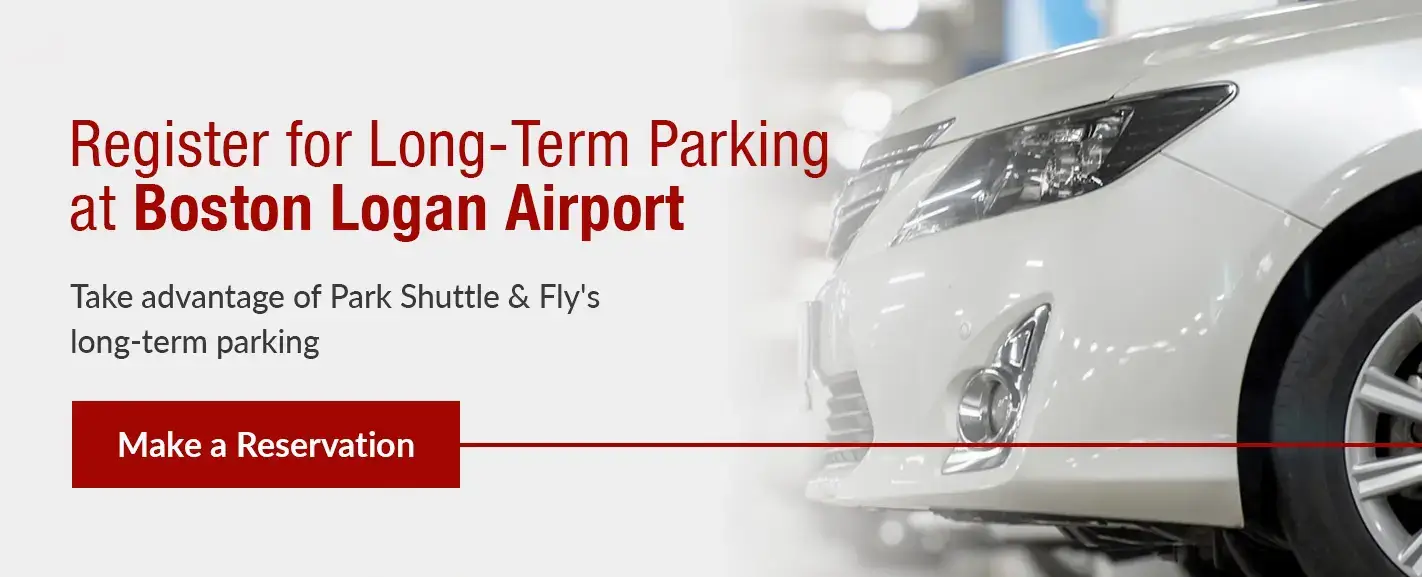 When you're looking forward to traveling, you don't want to worry about the things you're leaving behind, like your home and car. For peace of mind and superior service when you fly out of Boston Logan Airport, take advantage of Park Shuttle & Fly's long-term parking. In addition to secure off-site parking that includes a free shuttle directly to the airport, we also offer car detailing while you're away.
Get in touch for a free quote or to make a reservation today.