Posted On: September 6th, 2019 Author: Renee Ciaramella
One of the best conveniences in modern society is the availability of ridesharing. Competitive pricing means getting to the other end of town won't usually cost a fortune. You're never without a ride if your car breaks down, and you never have to worry about driving under the influence when there's a rideshare nearby. As great as rideshares are, there's one scenario where you shouldn't use a rideshare — going to and from the airport.
At Park Shuttle & Fly, we love the convenience of ridesharing as much as you do — just not for a trip to Logan Airport. Taking a rideshare to any airport in the country can actually be more inconvenient than driving yourself. To help save you time, money and hassle, we've created this quick guide outlining the pros and cons of different transportation options for getting to the airport so you can decide which one is most advantageous for you.
DRIVING YOURSELF VS. RIDESHARING
Going on a trip, for work or for pleasure, is usually enjoyable, but getting to the airport can be a hassle — especially Logan Airport. Record numbers of travelers continue to use this international airport. Naturally, this adds to traffic and congestion, which then impacts your commute to the airport. When you factor in drive time, parking availability, security lines and departure times, the decision on whether to hail a rideshare or drive yourself becomes significant.
Picking between these two options can be difficult, especially if you're used to relying on either of these methods of transportation for other activities. If you use rideshares for work, school and getting around town, it seems like a logical option. If you prefer to be behind the wheel for nearly everywhere you go, the thought of paying for a ride that you could facilitate yourself may seem strange. Of course, there is always a third option — ask a friend for a ride — but that's hardly the middle ground choice.
Generally speaking, there are many pros and cons to choosing a rideshare option. Compared to some other methods of transportation, ridesharing can be an affordable alternative. Because rideshare drivers are performing a service, they may be less likely to speed or drive recklessly. If you get stressed easily in traffic, ridesharing may be a worry-free experience that puts you at ease. Of course, the best rideshare drivers are usually familiar with the area, traffic and timetables, which means they'll do their best to keep you on schedule.


There are some general downsides to ridesharing, however. Two of the biggest drawbacks come from the nature of the industry. Some companies may not have certain standards that other services such as taxis and public transportation do. For instance, their background checks may be less detailed, drivers may not be regulated on their hours, and there may not be a formal training course or other necessary qualifications to become a rideshare driver other than possessing a license and having an acceptable driving record.
Let's dig a little deeper and look into the pros and cons of the rideshare companies themselves.
PROS AND CONS OF UBER
One huge benefit to Uber is its popularity — in the United States and around the world. Nearly 50 countries have Uber in at least one city, which means even when traveling internationally, there's a chance you can still use Uber without your plans getting lost in translation. Simply using Uber anywhere also gives you the opportunity to earn rewards to use on future rides. Uber also has several vehicle options available, from scooters to luxury vehicles — they're even planning air transport in 2023.
There's no denying it — Uber is not a small-town taxi service. But with large corporations come big problems, and Uber is not without its share of drawbacks. There are many reasons not to use Uber, one of which is "surge pricing." This pricing method raises and lowers the fare based on supply and demand. Imagine paying double or triple the price just because your flight is arriving or departing at a particular time of the day.
Of course, Uber also competes with other rideshare services, which at times encourages them to lower their prices. While this may seem like a win for riders, it's actually a loss for drivers. More drivers are added to the pool, creating competition between the drivers themselves. When prices are lowered, it impacts the driver's earnings, forcing them to work longer hours to generate income. No one wants a driver who's tired and stressed out.
PROS AND CONS OF LYFT
Still not as popular as Uber but very much a big presence in the ridesharing market, Lyft can drop off or pick up at Boston Logan Airport. They have a Lyft Rewards program in which riders can earn credits for future rides or even Delta SkyMiles. Lyft rates can be considerably cheaper than Uber at select times of the day and, generally, Lyft drivers receive better compensation rates. Lyft also offers a Lyft Line that enables individual riders traveling the same route to ride together and split the fare.
There are reasons not to use Lyft too, including their own version of surge pricing, called "prime time pricing," which could increase your fare exponentially. This makes it difficult to budget for a ride if your plane were delayed and the arrival time placed you right in the prime time window. The company's limited presence in only 46 states and Canada is another argument against Lyft, as this decreases its widespread availability and forces you to find an alternative method of transportation.
It's also worth noting that Lyft — and Uber or any other ridesharing app — collects data from your smartphones. This means they could potentially track where you are and where you are going. If you link their app to your social media account, this gives them a significant amount of your personal information. Depending on their privacy policy, these ridesharing companies can save, access or send your personal information to third parties. If breached, cyber-criminals can also steal your data.
PROS AND CONS OF TAXIS
Ridesharing is a relatively new phenomenon, but travelers have relied on taxi transportation to the airport for decades. Hiring a taxi cab service for airport transport has similar benefits to Lyft and Uber — ease of travel, freedom to relax while traveling, drivers who know the fastest route and will provide great service. Many people consider taxis to be safer than ridesharing due to most cities' strict driver regulations. Taxis can be cheaper than ridesharing, especially during surge pricing or if you compare standard taxi fare to UberX.
Unfortunately, taxis also have a set of drawbacks too — unsurprisingly, many of which are similar to Uber and Lyft. You're still getting into a car with a driver you do not know and your safety is in their hands. You don't have control over the route and you may have trouble getting reliable, affordable transportation at certain times of the day. Taxi fares can rise quickly, especially in traffic since they can charge by the mile and minute.
PROS AND CONS OF BEING DRIVEN
Getting a ride to or from the airport from a friend or family member is a viable option for many travelers. Knowing that someone you trust is striving to get you to the airport on time and will be waiting to bring you home when you return is a comforting feeling. Even if you give them a few dollars for gas or buy them lunch, it will likely be cheaper than a rideshare.
However, many people don't like asking for rides to and from the airport because they feel like they're inconveniencing their friends or family — especially those who fly frequently. There's also the issue of flight delays and cancellations, most of which will occur suddenly and potentially inconvenience your ride even more. In worst-case scenarios, having your ride cancel on you forces you to scramble for other accommodations, which defeats the purpose of trying to simplify the trip with your own personal ride.
RIDESHARE SAFETY RISKS
"Don't get into a car with strangers."
Who hasn't heard this piece of advice from their parents? With the advent of ridesharing, getting into a vehicle with an unknown driver is the norm. However, there will always be risks involved in ridesharing or even getting into a taxi. Although rideshare services are usually not dangerous for riders, the many instances where riders were put at risk present another argument against Uber and Lyft. If nothing else, there's also a slight chance you may have a rude or unprofessional driver who makes your riding experience unpleasant.


Aside from criminal or inherently dangerous situations which may never happen to most who use ridesharing, there is another safety risk that a large population is faced with — a lack of handicap services. When you request a rideshare, you rarely have the option of requesting special accommodations for disabilities. One report states that there's only a 30% chance that an Uber or Lyft rider can secure a wheelchair-accessible vehicle. For some riders, it's simply impractical to hope for these slim accommodations to become available.
BEWARE OF HIDDEN AIRPORT FEES
Another risk factor with Uber, Lyft and taxis is the added airport fees you pay. Although rates will vary from airport to airport, these fees increase your cost while you essentially reap no benefit. At Logan International Airport, a rideshare user will pay over $3 in fees just to get dropped off at the airport and $2 more to be picked up. These fees may change at any time and significantly increase the cost of your ride.
RIDESHARE PARKING PICKUP MAY HAVE MOVED FARTHER FROM AIRPORT
Like many airports, Boston Logan Airport recently changed the Lyft and Uber pickup location away from the main passenger pickup lanes in front of the terminals. Starting in October 2019, passengers hoping for an easy pickup option will need to walk with their luggage to a specific location in the Central Garage. While airport authorities claim the new location will be better for passengers and drivers, no one should have to drag their luggage from place to place in variable weather conditions just to catch a ride.
PROS AND CONS OF DRIVING YOURSELF TO THE AIRPORT
For some, driving yourself to the airport isn't an attractive option. Whether they're worried about slow shuttle service, leaving their vehicle unattended or simply not being interested in learning about these services, many drivers haven't tried on or off-site airport parking. On-site airport parking can be costly and not every off-site facility is reliable, affordable or convenient for the needs of some travelers. While these are all valid reasons for taking a rideshare, you must remember that there are also many perks to driving yourself to the airport.
When you drive yourself, you drive on your terms. You have full discretion over the route, the time you leave and the various amenities like music and temperature that keep you comfortable. Driving yourself to the airport also eliminates having to wait for a rideshare or contend with others requesting pickups. Although you'll never be able to influence or predict every variable whether you drive your car or hail a rideshare, assuming full responsibility for your ride does offer you more control from point to point.
ADVANTAGES OF USING OFF-SITE AIRPORT PARKING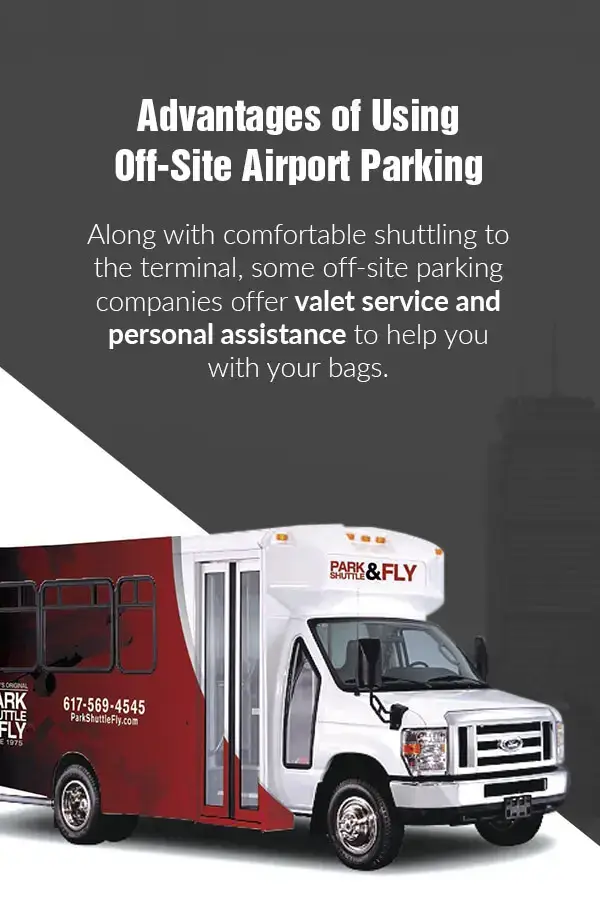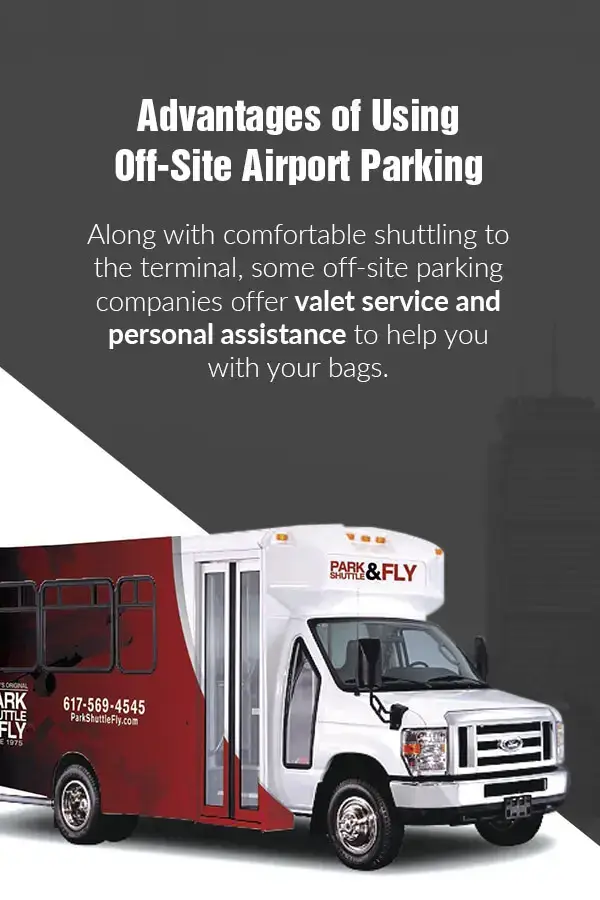 On-site airport parking can be expensive, but thankfully, off-site parking is an affordable alternative that many drivers love. Prices are generally lower than on-site airport parking and some companies even offer coupons or discounts to help you save as much as possible. You can reserve your spot ahead of time, which is perfect for those who want confirmation that there is parking available even on the busiest of travel days.
Another huge perk of off-site airport parking is the service you receive. Many companies go above and beyond to make this a quick, convenient and pleasant experience. Along with comfortable shuttling to the terminal, some off-site parking companies offer valet service and personal assistance to help you with your bags. Their facilities are secure and monitored day and night, ensuring your car stays safe. Great off-site parking lots may also offer packages to wash, wax and even detail your vehicle.


Let's be honest — you have many options when you need to travel to Boston Logan Airport. You can call a friend for a ride and see if they'll be available at the times of your departure and arrival. You could also rideshare or take a taxi, but safety issues, inconsistent pricing and the possibility that one might not be available can complicate your plans. Of all your options, none of them give you the control, comfort and confidence like driving yourself.
When you need an affordable, reliable and easy way to get to Logan International Airport, choose off-site parking at Park Shuttle & Fly. Our convenient airport shuttle service runs 24/7, ensuring that you get to your gate safely and without hassle. We are also the closest off-site parking facility to the airport, enabling us to get you there and back in minutes. Park Shuttle & Fly never charges extra airport fees and always monitors your car within our secure, fenced lot.
Don't gamble with ridesharing woes — keep your drive under your total control and let us get you the rest of the way to Logan Airport. We've provided hassle-free and dependable service for decades and will continue to deliver the top-notch service you deserve. Reserve your spot at Park Shuttle & Fly and eliminate ridesharing risks from your commute.