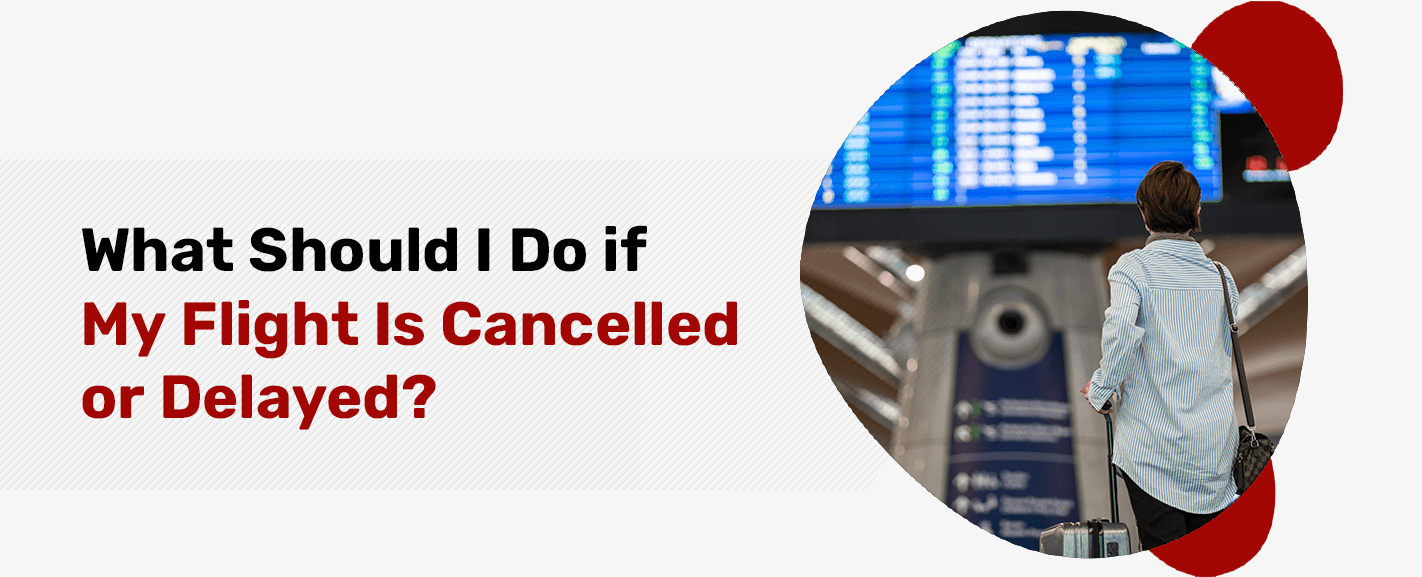 Scheduling flights for a trip can be exciting yet unpredictable. After you've bought your tickets, packed your luggage and checked in at the airport, you may find out that the airport canceled or delayed your flight. When these circumstances arise, you can do a few things to make this process as quick and easy as possible.
Airline flight cancellations and delays are always risks, but you can make the most of your time at the airport. Follow these tips on the best course of action for flight delays and cancellations.
Why Do Airports Cancel or Delay Flights?
Flight delays and cancellations are the results of unexpected complications, including:
Bad weather conditions, such as thunderstorms, high winds and fog that can impact the pilot's vision when flying.
Mechanical issues.
Air traffic delays.
Cargo or passenger changes.
The most important thing to remember during these situations is that you have options! You can reschedule your flight, get the correct refunds, use travel perks or explore the surrounding areas.
What To Do When Your Flight Gets Cancelled or Delayed
Flight showings and statuses can change at any moment. To avoid these unpredictable circumstances, check out the tips below and learn about the benefits you can earn in the process.
Tips for Flight Cancellations
Airline flight cancellations can cause significant changes to your plans and future trips. You can make these circumstances easier by following these tips:
Review the cancelation policy: Depending on the airline, you may be able to get an airfare refund after a canceled flight. Check the cancellation policy on the airline's website to see if you can get a full or partial refund on your ticket.
Speak with an agent for a solution: Travel agents and airline staff will work with you to find an alternative flight so you can reach your destination as quickly as possible.
Look for new tickets: Airport staff can help you find tickets on a new flight with them or similar flights at a different airline. Checking other airline websites can also help you find tickets to the same destination.
Tips for Fight Delays
When bad weather or air traffic complications delay your flight, you can try the following tips to make the most out of your time in the airport:
Sign up for flight notifications: By downloading the airline's app on your phone, you can receive flight status updates as they occur.
Enjoy everything the airport offers while you wait: You can make the most out of your flight delay by exploring different shops, food stalls or other fun areas in the airport. You can find out more about the surrounding area or pick up souvenirs while you wait for flight status updates.
Stay positive: The most important thing to remember in these circumstances is to stay positive. Although a delay might mean long waiting times, you can rest assured that you'll eventually make it where you need to go.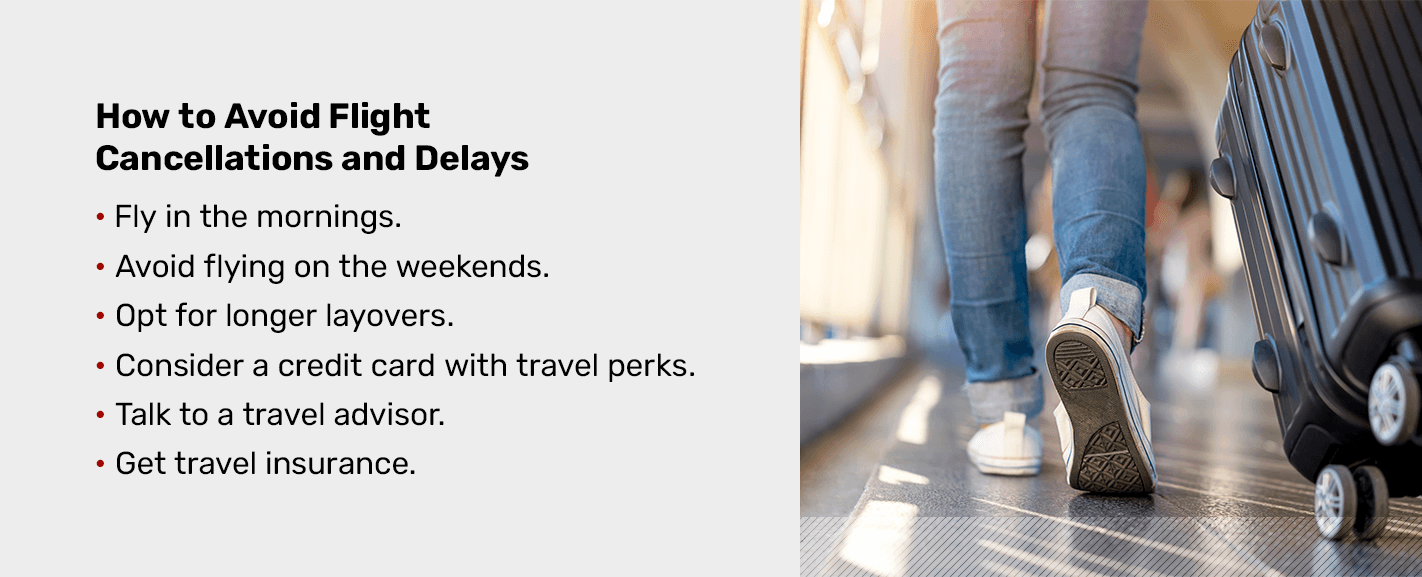 How to Avoid Flight Cancellations and Delays
You can avoid canceled and delayed flights by knowing the best ways to book your tickets. Take a look at the following tips to have a smooth trip to the airport and arrive at your destination on time:
Fly in the mornings.
Avoid flying on the weekends.
Opt for longer layovers.
Consider a credit card with travel perks.
Talk to a travel advisor.
Get travel insurance.
Flight Cancellation and Delay FAQ
Do you have other questions about flight cancellations and delays? Here are a few answers to common questions passengers have before booking a flight.
1. If My Flight Is Canceled, Can My Airline Put Me on Another Airline's Flight?
Yes, most airline staff will be able to find you a separate flight on a different airline that travels to your destination. While airport regulations do not require the staff to find this information for you, you can certainly ask them to take a few minutes to find different flights or additional details about later travels from the same airport.
2. Will the Airline Offer Compensation for a Canceled Flight Like Cab Fare, a Hotel Room or Food Voucher?
A canceled flight doesn't require an airline to cover any additional costs you have outside of the airport. The airline may be able to let you know about nearby hotel rooms and cheaper transportation to make your situation more manageable. However, you will be responsible for any fares, vouchers and fees for external factors.
3. If My Flight Is Canceled, Does an Airline Have to Refund the Cost of My Honeymoon, Wedding, Concert or Other Activity?
Unfortunately, the airline is not responsible for the activities you plan to participate in outside your flight. This rule means they will not reimburse you for any expenses you took out for events or vacations.
4. Can I Get a Refund for My Parking if My Flight Is Canceled or Delayed?
Boston Logan International Airport offers a full refund if you cancel your reservation within one hour of your expected arrival. Refund policies can vary by location, so you should always check with your local airport.
5. How Do I Find How Long My Flight Will Be Delayed?
You can ask the airline staff if they have an estimated time for the delay. While they may not know until they hear from the pilots and air traffic control, they will always be your best source of information.
6. If My Flight Is Delayed, Can I Switch to a Different Flight?
If your original plane cannot leave the airport, the airline may be able to put you on a different flight to your destination. You can check the airline's website or call their customer service line to see if another flight is available. If the airline's staff can transfer your ticket to a new flight, you may not have to pay an additional reservation fee.
7. Am I Entitled to a Refund if My Flight Is Significantly Delayed?
Airlines aren't required to refund passengers for delays. While airlines each have their own policies, your best bet in this situation is typically to see if you can get a free transfer to a later flight.
However, if the Department of Transportation deems your delay as "significant," you are entitled to a refund. While there's no set definition for a significant delay, it's best to keep up to date with any changes in timing so you have a better chance of a refund.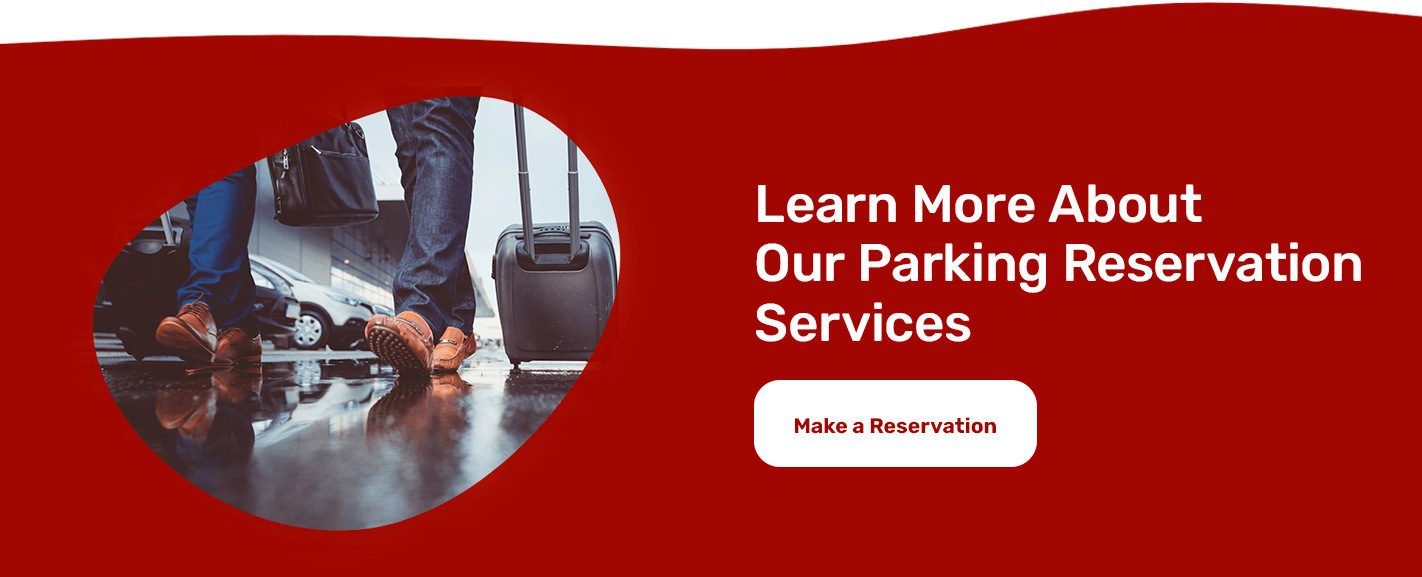 Learn More About Our Parking Reservation Services
When an unexpected cancellation or delay occurs, you can trust Park Shuttle & Fly to reserve your parking space! You'll only pay for the amount of time you park with us — if a flight delay means you don't park as long as you paid for, we'll refund the difference. We also offer shuttle buses to get you to Logan Airport quickly and hassle-free.
At Park Shuttle & Fly, you can benefit from our wide selection of parking options to fit your travel plans. We also offer online reservations, free 24/7 shuttle services with wheelchair accommodations, luggage assistance and many other perks.
Reserve your parking spot today.