Posted On: August 13th, 2019 Author: Renee Ciaramella
Is this your first time flying through Logan International Airport (BOS)? If so, we've compiled various tips so your first time flying in or out of Boston goes as seamlessly as possible. Anyone who has flown on a commercial passenger airline can tell you, there are countless rules — both written and unwritten — that govern how you navigate an airport. Some of these rules are in place to keep us safe while others are simply best practices for navigating air travel with as little stress as possible.
CARRY-ON OR CHECKED LUGGAGE?
One of the first steps to flying on a plane is deciding whether you want to carry your luggage onto the aircraft or check it and have it stored underneath the cabin. There are pros and cons for both, so your choice will depend on how you want to travel. Carry-on luggage has long been the preferred choice for light packers. For one, when you carry-on luggage, you get to avoid the wait at baggage claim at your destination. When you exit the plane, you just make your way straight for the exit, saving valuable time. Many airlines are also starting to charge per checked bag. If you are flying on such an airline, you can save upwards to $100 simply by making sure you only have carry-on luggage.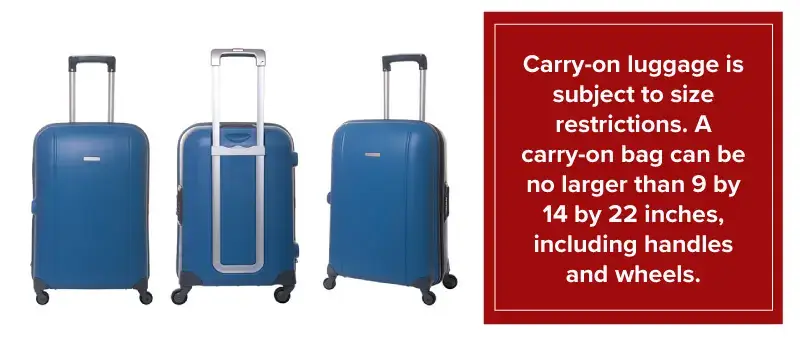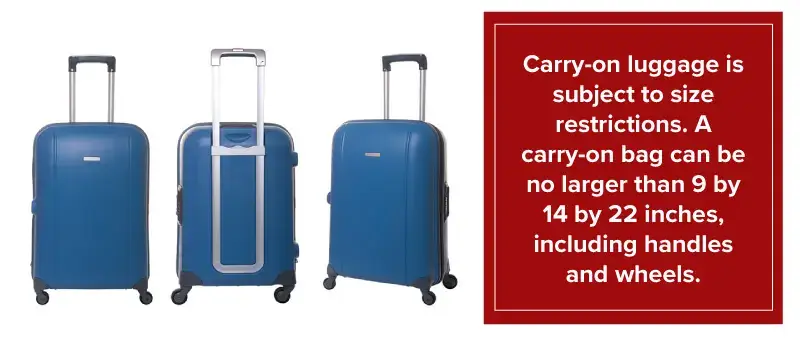 You also avoid losing your luggage when you keep it with you. While airports are generally good at getting checked bags to their proper destinations, they make mistakes every so often. While they will eventually get you your luggage, there will be a significant delay when a checked bag is lost. Finally, if you have a connecting flight, things can get delayed, leaving you stranded in the airport. If you have all of your luggage with you, it will be easier for you to be flexible.
However, carry-on luggage is subject to size restrictions. A carry-on bag can be no larger than 9 by 14 by 22 inches, including handles and wheels. Additionally, you are limited to one carry-on bag and one personal item, such as a purse. Keep in mind, security officials aren't the ones that inspect the size of your carry-on luggage, so if you're oversize, you won't be informed until you get to the gate, meaning you'll experience delays and other inconveniences while boarding. Furthermore, most planes can't transport more than one carry-on item per passenger, meaning even if your item is within the size requirement, you may have to check your bag anyways.
Plus, if you are a heavy packer, you don't have to be as picky if you are checking a bag. Just know that there are weight limits for checked bags. If you go over the weight allotment, you will likely have to pay extra. Finally, restrictions on liquids and other prohibited items are far more lenient with checked luggage. So if you plan on bringing home some souvenirs or you need to take items with you that aren't permitted in the cabin, a checked bag may be your best option. Just make sure to check with your airline ahead of time on what they permit and how certain restricted items need to be stowed. Either way, don't forget any necessary documentation!
GETTING TO BOSTON LOGAN AIRPORT
Now that you have your bags packed and your ticket in either paper or digital form, you need to get to the airport. Thankfully, Logan is an easy airport to travel to. If you are the public transportation type, the T connects Logan Airport to Downtown Boston. Of course, a subway ride will become increasingly more difficult the more luggage you have in tow.
If you're driving, the best route with depend on where you are coming from. If you are coming from Western Mass, the Mass Pike is your most direct route. However, if you're coming from the north, we recommend taking I-93 S to Rt. 1A, taking the Lt. William F. Callahan Tunnel, following the signs to I-90 towards the airport . If you are already on I-95 S, follow the signs to Rt. 1 S to Rt. 1A S to Logan Airport. Finally, if you are coming from the south, take I-93 N until you get to I-90 and again follow the directions towards the airport.
CHECKING IN AT THE COUNTER
Once you get to your airline's counter, you will need to check in. In the past, you'd have to wait in line in order to get your boarding pass. For most airlines, if you are checking a bag, this is still the case. You will meet with an agent at the counter who will check your reservation and tag your checked bags to make sure they get to the proper destination.
However, with the advent of smartphones, checking in has become much easier. Now you can check in before you arrive. You will receive a boarding pass in your email and instead of carrying a paper pass with you to security, you just need to bring your phone with the proper code displayed. The procedures for checking in early depend on the airline, so make sure you do a little investigation with the airline before you arrive.
GET THROUGH BOS SECURITY LIKE A PRO
One of the hardest and most stressful things about any airport travel is getting through security, and Boston Logan is no exception. Of course, security is so thorough because the safety of the passengers and crew is of the upmost importance. In addition, while many passengers and commentators like to criticize security workers at airports, the truth is they do an excellent job. In other words, it could be a lot worse!
To put security in perspective, consider these statistics released by the Transportation Security Administration (TSA), which oversees security at airports. The TSA screened more that 708 million passengers in 2015 alone. That's over 40 million more passengers than the previous year. In the process, they screened over 1.6 billion carry-on bags, while moving 98% of passengers through security in 20 minutes or less.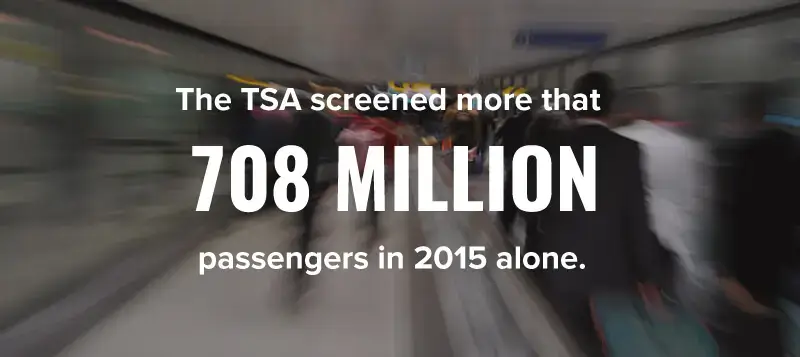 So while security can be stressful, especially during peak travel times, know that TSA employees are working hard and have experience getting passengers through security as quickly and painlessly as possible. What can you do then to make the process easier?
Start by packing with security in mind. There are items that need inspection, so make sure that they are easily accessible. Any liquids that you are keeping in your carry-on bag must be in containers of 3.4 oz or smaller, and all of those liquids must be contained in a single 1 quart transparent bag. If your liquids do not comply with these regulations, they'll be subject to further inspection, meaning you'll be pulled out of line for a longer. And if any liquids are oversized, you WILL NOT be allowed to carry them through, no matter how much you beg.
Additionally, laptops require extra attention, so you may want to consider a laptop bag that designed specifically for security. Otherwise, be prepared to take out your laptop and place it in a bin on its own. Finally, when packing, make sure to leave prohibited items at home. Firearms and other weapons should never be brought through security. If you must travel with one of these items, contact your airline ahead of time to make sure that you are being fully compliant, since violated these rules, even by accident, makes your liable for criminal prosecution.
In addition to packing for security, you also want to dress for it as well. When you go through security, you have to remove your belt, shoes and any other items that might cause a metal detector to go off. So make sure you wear slip on shoes and save extensive jewelry for another time. If you are wearing a jacket, know you will also need to remove it, put it in a bin and send it through the scanner. If you have smaller items — like cell phones and wallets — place them in the pocket of your jacket before you get to the scanner. That way they won't jostle around while scanning.
Lastly, approach security with your proper documentation in hand. Typically this means your boarding pass — which is required for anyone going through security — and a valid ID, such as a driver's license or passport. Nothing is more frustrating for the people behind you in line than a passenger who decides to start searching for their documents the moment they get to the security agent.
KILLING TIME AT LOGAN INTERNATIONAL
Now that you've arrived at the airport, checked in and gotten through security, you may have a few hours to kill. Thankfully, there is plenty to do at the airport once you've gone through security. If you need a bite to eat, there are plenty of restaurant options, from sit down fine dining to fast food. If you're worried about missing the big game while you wait, head over to Game On, an excellent sports bar. If you just need a caffeine boost, there are a number of Starbucks and Peet's Coffees spread around the various terminals. And it wouldn't be New England without Dunkin' Donuts.
If you want to do a little shopping, check out the Best Buy Express, with useful in-flight gadgets. If you're a reader, head over to NewsLink. There are even high-end clothiers like Michael Kors, Johnston & Murphy and Hugo Boss. New England Collections is an excellent place to pick up a gift for someone wherever you go. You can even get a spa treatment while you wait at Be Relax. If you are traveling with kids, check out a Kidport, located at Terminals A, B and C. Logan International designed these play areas to help kids get their wiggles out before they board!
GETTING TO THE RIGHT TERMINAL
Depending on what airline you fly, you'll make your way to one of four terminals. Terminal A is home to three airlines: Delta, Southwest and WestJet. Terminal B houses more airlines. If you are flying Air Canada, American Airlines, PenAir, Spirit, United or Virgin America, you will want to head there. Terminal C is the oldest terminal in the airport. It hosts a wide range of airlines, although JetBlue takes up most of the gates. Additionally, Aer Lingus, Alaska Air, Cape Air, Emirates, Sun Country Airlines and TAP Portugal operate out of Terminal C. As a piece of historical trivia, Terminal C is home to the oldest airport chapel in the United States.
Finally, Terminal E serves as Logan's International terminal. If you're going overseas, this is where you will want to go. Airlines from Aeromexict all the way through Turkish Airlines and WOW Air call Terminal E their home. Note, if an airline offers both international and domestic service, they will have gates in two separate terminals. If you need to get between terminals, thankfully Logan is a very walkable airport. Just follow the signs to other terminals, and the walk time will be 10 minutes, at most.
BOARDING PROCEDURES AT LOGAN AIRPORT
If you are boarding a plane for the first time, the process can be a little confusing. Moreover, boarding procedures vary depending on the airline. However, certain basic rules are common across most airlines. Here are the most common steps to boarding a plane.


Airlines offer perks for frequent flyers (and those who pay extra for special services), so they are usually the ones who board first. If you are on a flight with assigned seats, they will usually then ask those who are sitting in the back to board, moving forward as the plane fills. However, some airlines use boarding groups and don't have assigned seats. In this case, officials assign boarding groups according to who checked in first. The first boarding group gets to pick their preferred seats and so on, until the final passenger boards.
When it is your turn to board, you will have to show your boarding pass, so make sure you have it handy when the attendant calls your boarding group. As you get into the plane, place any carry-on luggage in the best available spot near your seat. If you are boarding towards the end, know that you may not get to place your luggage near you. Also, flight attendants will fill overhead compartments as fully as they can, so don't expect them to treat your bag gingerly.
You will then place any personal items underneath the seat in front of you. Note, all luggage must be stowed prior to take off, so anything that does not fit will have to be checked. Once you have your luggage stowed, buckle your seatbelt, listen to the safety instructions and enjoy your flight!