Posted On: February 4th, 2020 Author: Renee Ciaramella
There's nothing like flying to get where you need to go as quickly as possible. But high-speed travel comes with a price. It can feel frustrating finding affordable flights, whether you're departing from Boston Logan or anywhere in the world. You'll likely find tons of information online suggesting different ways to save money. Who can you trust? Who has the right answer?
The truth is, flight prices vary depending on factors such as customer demand and current competitors' prices. These variables affect airlines' pricing more than anything else. With that in mind, it's still worth taking the advice of experts and seeing what deals you can find. We've put together common questions and answers to make the search as simple as possible. At Park Shuttle & Fly, we're all about helping our customers enjoy an easy, affordable and quick departure from Boston Logan Airport.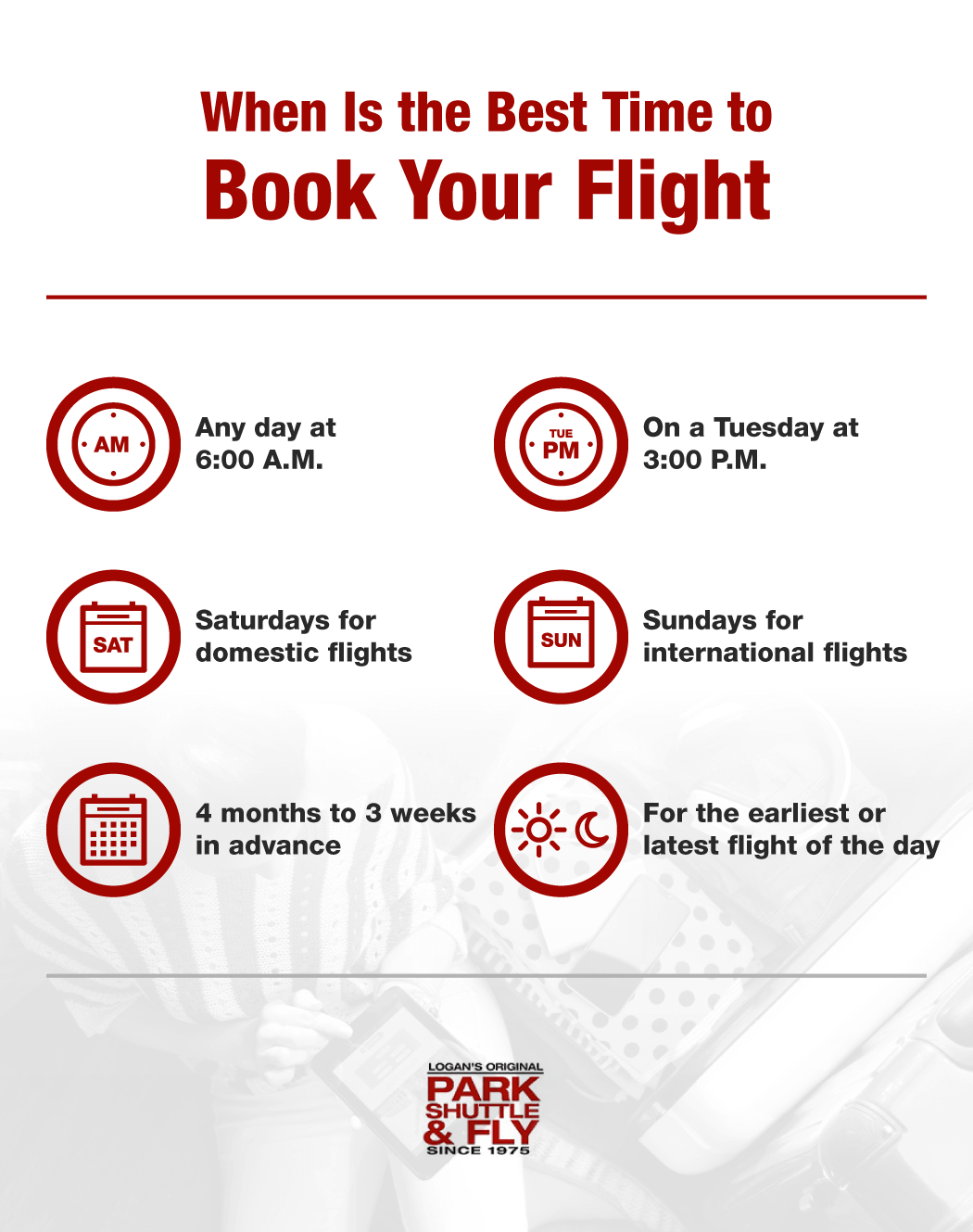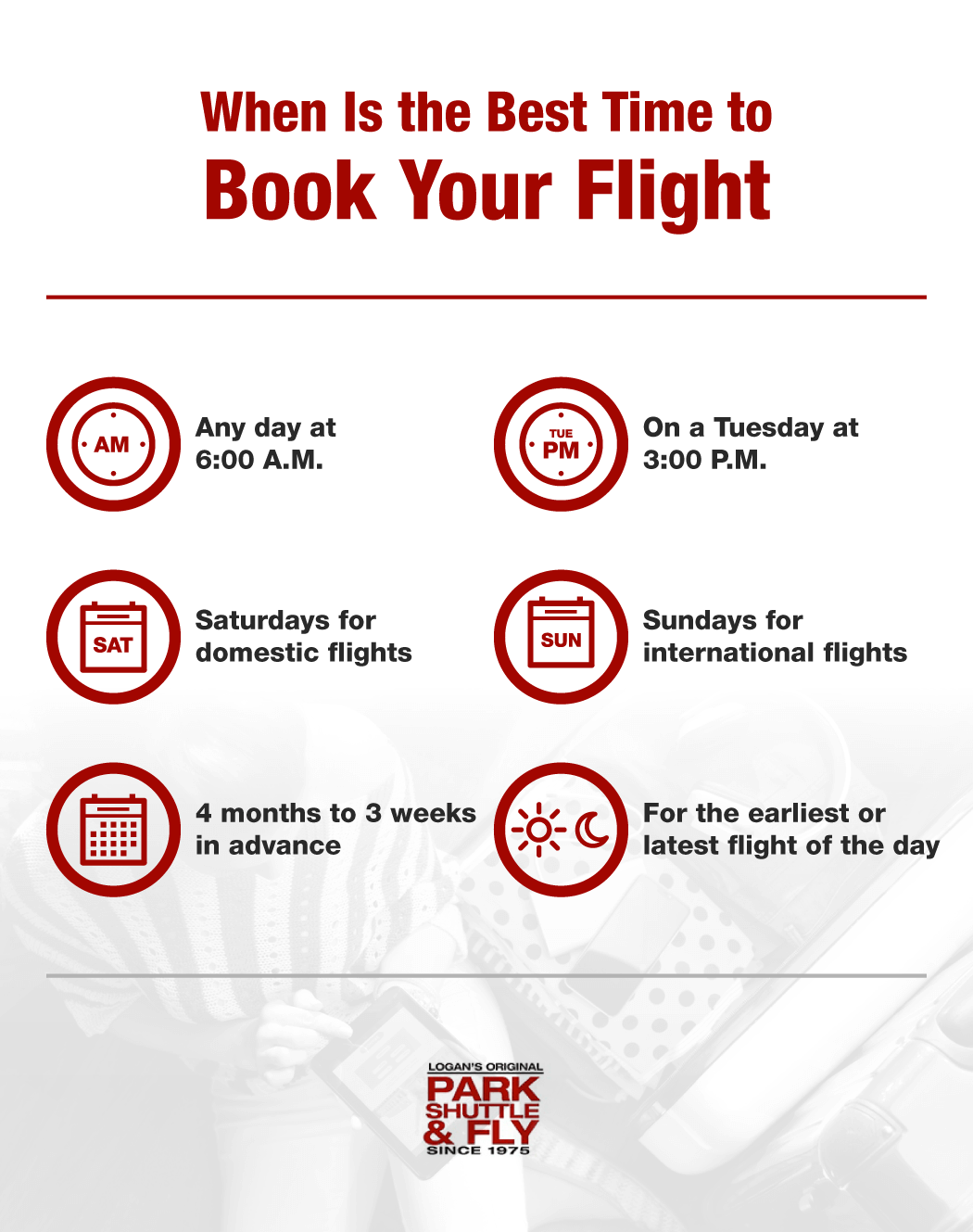 WHAT IS THE BEST DAY OF THE WEEK TO BUY AIRLINE TICKETS?
According to data specialists at ARC and Expedia Group, the best day of the week to book a flight is Sunday. In general, average ticket prices for economy and premium flights tend to be lower when booked on the weekend — usually on a Sunday. Some travelers can save as much as 36% on their ticket price by booking their flight on Sunday.
According to Skyscanner, which analyzed booking data from 2018, the best day to book a domestic flight is Saturday. If you consider the data results from both of these sources, it's fair to say you'll want to book on the weekend.
WHAT IS THE BEST TIME OF DAY TO BOOK FLIGHTS?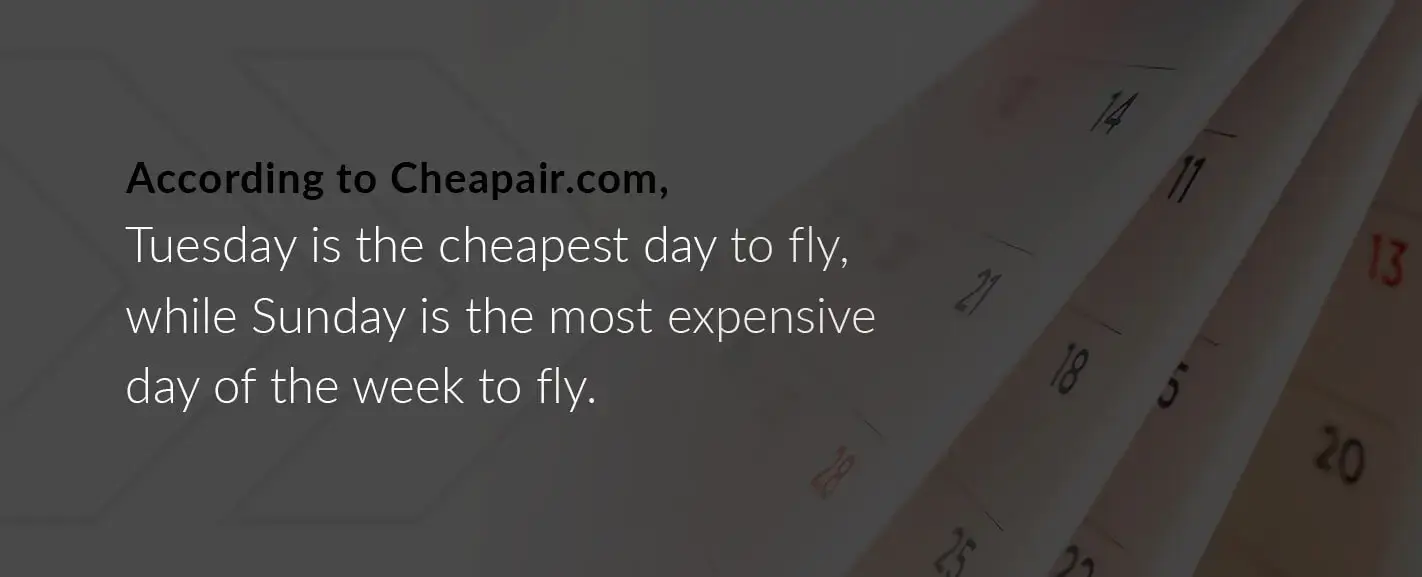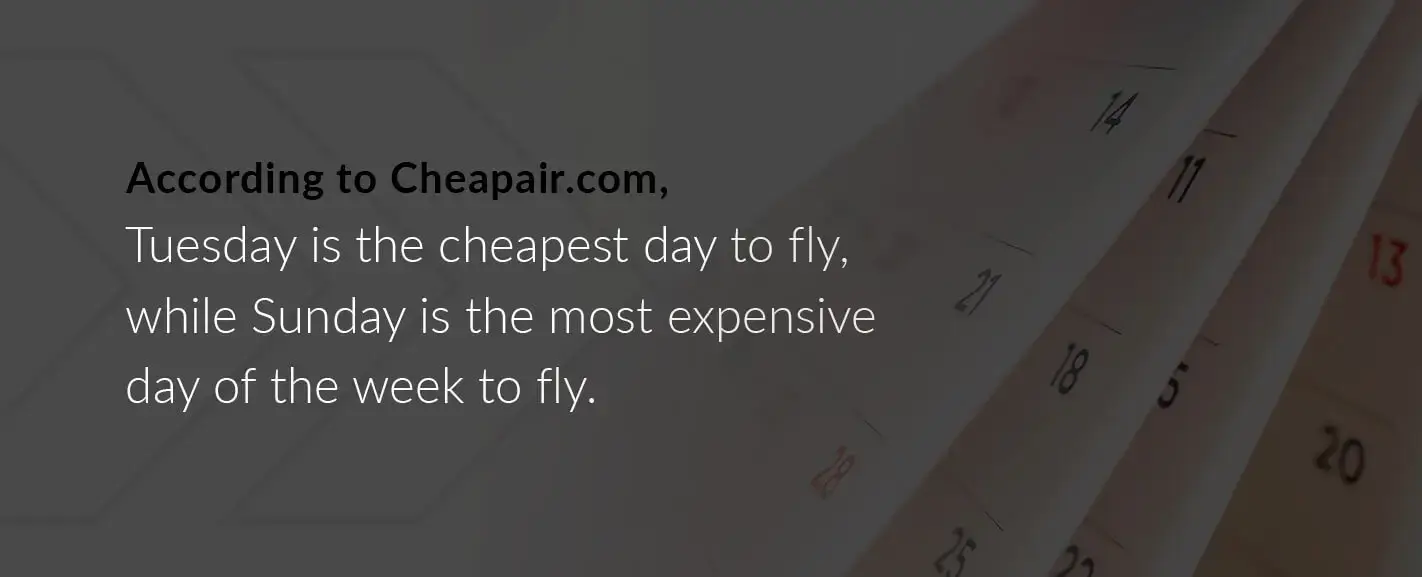 Skyscanner suggests booking your flight at 6 a.m. If you don't find the deal you're looking for in the early morning hours, consider searching for your flight in the afternoon. According to Farecompare.com, Tuesday at around 3 p.m. is the best time to book.
Other experts argue the time of day doesn't matter too much. Airlines determine prices based on demand, season, weather and other factors. It's more important to consider the day of the week you plan to fly, and the season you're flying, as these factors will impact the ticket price more than the day or time you book your flight.
For example, according to Cheapair.com, Tuesday is the cheapest day to fly, while Sunday is the most expensive day of the week to fly. Similarly, it costs more to fly in the winter during the holidays than it does to fly in the fall — except for Thanksgiving week. That doesn't mean you can't find good deals for traveling during these times of the year. It only means you'll need to book your flight further in advance to find less expensive ticket prices.
WHAT IS THE BEST TIME TO BOOK INTERNATIONAL FLIGHTS?
According to Skyscanner, the best day of the week to buy international flights is Sunday. They also suggest booking international flights four months in advance if possible.
HOW FAR IN ADVANCE SHOULD I BOOK A FLIGHT TO GET THE BEST DEAL?
According to ARC and Expedia Group, travelers should aim to book their flight at least three weeks in advance, no matter if they fly economy or premium. Researchers at Cheapair.com agree — four months to three weeks seems to be the sweet spot when it comes to finding the lowest airfare. The take-home message? Don't wait until the last minute to book your flight, if possible.
HOW CAN I GET CHEAP FLIGHTS LAST MINUTE?
If you need to catch an affordable flight at the last minute, either for an emergency or for pleasure, there are few ways to help your search. Here are some tips.
Be flexible: If you're looking for a last-minute getaway, you'll have a better chance of finding a good deal if you're flexible with when and where you go. For example, consider checking your options by using Google Flights. To use Google Flights, click on the map, enter Boston Logan Airport and the date you want to fly, then see what pops up. You'll be sure to find a good deal going somewhere.
Call the airline: Some airlines offer special deals to passengers who need to fly at the last minute for a funeral. You'll need to call the airline to book the flight and get the discount if they offer bereavement fare. For example, Alaska Airlines may offer a 10% discount on airfare as part of their bereavement fare offer.
Fly early in the morning or late at night: Another way to find cheap airfare is to book a flight when no one else wants to fly — during the early-morning hours or late at night. Flights that leave at undesirable hours often have unfilled seats and, therefore, cheaper fare than midday flights.
Book in the middle of the week: If you have any flexibility with your departure date, try to push it back as far as you can, and choose to fly in the middle of the week if possible.
Follow airlines on Twitter: Some airlines post last-minute deals on social media. Consider following Southwest Airlines or American Airlines on Twitter, for example, and keep your eyes peeled.
Cash in your rewards: Do you have airline miles or cash rewards sitting on a credit card? If you can't find any last-minute deals, consider redeeming your rewards.


WHAT ARE THE CHEAPEST AIRLINES OUT OF BOSTON LOGAN AIRPORT?

Budget airlines out of Boston Logan Airport are:

Frontier
Southwest
Spirit
Sun Country Airlines

WHAT ARE SOME OTHER WAYS TO FIND CHEAP FLIGHTS?

Choose to catch the first flight of the morning, which is usually the cheapest.
Check budget airlines on their sites, and don't rely solely on price comparison sites.
Sign up for airfare deal alerts with sites like Google Flights or Kayak.

SAVE MONEY BY PARKING AT PARK SHUTTLE & FLY

Overall, airline ticket prices can change throughout the day. You can use the above tips to help you find the cheapest flights, but don't let the details bog you down too much. One thing you can depend on is saving money with Park Shuttle & Fly.

As the closest off-site parking option to Boston Logan Airport, we offer unbeatable daily or weekly parking rates. You also enjoy a free and convenient online reservation process and a fast shuttle ride from our safe, secure parking lot directly to the airport. If you're a frequent flier, we give you the option to join our rewards program to earn free days of parking. If you want the most convenient and affordable way to park your car and make it to Boston Logan Airport on time, Park Shuttle & Fly makes sense. To learn more, contact us today or reserve your parking spot!